Inisoft Co. Ltd. to Acquire BuyDRM(TM)
Union Creates Fully-Integrated DRM Platform Supporting Encrypted Play-Out Across All Consumer Media Platforms Including PC, Mac, iOS, Android and Connected TVs
(May 24, 2012)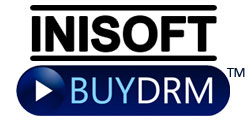 AUSTIN, TX and SEOUL, KOREA -- (Marketwire) -- 05/24/12 -- BuyDRM™, a pioneer in DRM technologies for pay-media operators, announced today that the company has been acquired by Inisoft Co. Ltd. with the terms of the transaction undisclosed. BuyDRM™ CEO, Christopher Levy, will remain as CEO of BuyDRM™ and will focus on market adoption of the integrated product offering.
With the tremendous increase in connected devices, demand for encrypted content playback on these devices has increased dramatically. The combined Inisoft and BuyDRM™ offering is now able to natively address this demand via the BuyDRM™ KeyOS™ platform. Working closely with Inisoft's engineering team, BuyDRM™ will continue to evolve the KeyOS™ Device DRM offering to address today's most popular connected devices, business models and play-out scenarios.
"We are extremely excited to be joining the Inisoft team with demand for DRM services and software at an all-time high," said Christopher Levy, CEO BuyDRM™. "We have spent years building award-winning products and services and the combination of Inisoft's technology with ours will further our lead in our core markets."
"BuyDRM™ is a fantastic company that has made great strides in the entertainment, cable, and telecom verticals," said Taehyun Kim, CEO Inisoft. "Working through BuyDRM™, Inisoft will now offer our DRM technologies for iOS and Android devices as native components within the KeyOS™ platform."
About Inisoft Co. Ltd. :
Inisoft is a privately owned engineering-driven software development company focused on the mobile media opportunity. The company has a long history in deploying popular Android and iOS media players in use by consumers around the world on most of today's popular playback devices. Currently the company supports a variety of consumer DRM technologies including OMA and PlayReady DRM as well as mainstream transport formats including HLS, Smooth Streaming and MPEG-DASH.
For more information, visit http://www.inisoft.tv
About BuyDRM™:
BuyDRM™ is a leading provider of Digital Rights Management and Content Security Services for the entertainment, enterprise and education industries with customers spanning the globe. As the oldest company in the world offering DRM for IP-based media, BuyDRM™ has amassed substantial success stories in the commercial deployment of DRM-related technologies. Television networks, movie studios, cable MSO's, telcos, and premium content distributors use BuyDRM's™ award-winning KeyOS™ DRM Platform to provide robust content security for their IP video offerings to a variety of connected devices. BuyDRM's™ customers include NBC Universal, Fox Filmed Entertainment, Sony Pictures Entertainment, Alliance Films, HBO GO Europe, The BBC, RTL Klub, FotoKem, By Deluxe, Intertrust's SyncTV, SingTel, NVIDIA, SC Johnson, Smith Micro, and Waoo DK.
For more information, visit http://www.buydrm.com
Add to Digg Bookmark with del.icio.us Add to Newsvine
BuyDRM™ PR Contact
Email Contact
(512) 377-1340

Inisoft PR Contact
Email Contact
(512) 377-1340


Copyright @ Marketwire
Page: 1
Related Keywords:
BuyDRM(TM), Broadcast,Management,Streaming,Digital,Prosumer/Consumer,Business,Broadcast Technology,Internet Media,Broadcast,Software,Mac,OS9,OSX,Korea,Marketwire, ,Sony,Television,Computer Science,Business,Entertainment,
---