Infonetics Research: iPad boosts mobile broadband device market; smartphones overtaking mobile phones
(November 11, 2010)

CAMPBELL, CA -- (Marketwire) -- 11/11/10 -- Market research firm Infonetics Research (http://twitter.com/infonetics) today published excerpts from 2 market size, vendor market share, and forecast reports: 2G/3G Mobile, LTE, and WiFi Phones and Subscribers and 2G/3G and LTE Mobile Broadband Devices and Subscribers.
ANALYST NOTE
"The current mobile broadband device and phones market is increasingly driven by embedded devices and smartphones, with injections of growth coming from new touch screen form factors such as the tablet, notably the Apple iPad, and e-readers like the Amazon Kindle. The fierce competition between smartphone operating systems is also pushing the market, with Android and Windows 7 devices showing a strong response to the popularity of the iPhone. As LTE rolls out, these trends will continue, with device competition intensifying around embedded devices and high-end ultra-smartphones," predicts Richard Webb, directing analyst for mobile devices at Infonetics.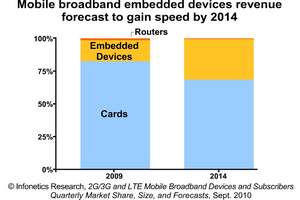 2G/3G AND LTE MOBILE BROADBAND DEVICES AND SUBSCRIBERS
Mobile broadband card sales are expected to grow 21% in 2010 over 2009, driven by the emerging tablet segment (namely the iPad) and continued adoption of HSPA mobile broadband cards
Infonetics forecasts the mobile broadband card market, including PC and embedded cards that enable broadband access via W-CDMA/HSPA, CDMA2000/EV-DO, TD-SCDMA, and LTE mobile networks, to reach $20 billion by 2014
The number of mobile broadband subscribers is expected to hit 1.8 billion by 2014
LTE will be predominantly PC-based (laptops, netbooks, dongles, etc.) for at least the first 5 years of deployment, with a small range of LTE smartphones hitting the market in 2011, limiting 'phone-based' subscribers to a very small minority

An LTE iPhone could rapidly change this forecast
SELECT HIGHLIGHTS: 2G/3G MOBILE, LTE, AND WiFi PHONES AND SUBSCRIBERS
Smartphone revenue grew to 46% of global mobile phone sales in the second quarter of 2010, driven by the popularity of Apple's iPhone and Android and Windows Mobile 7 handsets
The number of mobile subscribers is forecast by Infonetics to hit 6.5 billion by 2014
By the end of 2010, Infonetics expects 1.2 billion standard mobile phones and 3G smartphones will have been sold worldwide
Nokia maintained clear leadership in the mobile phone market in the first half of 2010, although its market share continued to fall, slipping to about a quarter of the global market
ABOUT THE REPORTS
Infonetics' biannual 2G/3G Mobile, LTE, and WiFi Phones and Subscribers market size, market share, and forecast report tracks 3G and LTE smartphones, standard mobile phones (GSM, W-CDMA, CDMA, CDMA2000), dual mode cellular/WiFi phones, enterprise single-mode WiFi phones, and mobile subscribers. Companies tracked include Apple, Cisco, D-Link, HTC, Huawei, LG, Motorola, Nokia, Polycom, RIM, Samsung, Sony-Ericsson, Vocera, ZTE and others. Smartphone operating systems tracked include Android, BlackBerry, iPhone, Linux, Palm, Symbian and Windows Mobile.
Infonetics' quarterly 2G/3G and LTE Mobile Broadband Devices and Subscribers market size, market share, and forecasts report tracks W-CDMA/HSPA, CDMA2000/EV-DO, TD-SCDMA, and LTE mobile broadband PC cards, embedded mobile broadband cards (PC, netbook, handheld mobile Internet device), and phone- and PC-based mobile broadband subscribers. The report also tracks mobile broadband routers and netbooks by operating system (Windows, Mac, Linux, other). Companies tracked include Acer, Asus, D-Link, Dell, HP, Huawei, Kyocera, Lenovo, LG, Motorola, NETGEAR, Novatel, Option, Samsung, Sierra Wireless, SonicWALL, Sony Ericsson, Toshiba, ZTE, and others.
RELATED RESEARCH
RECENT AND UPCOMING MOBILE AND WIRELESS RESEARCH
See MOBILE AND WIRELESS on Infonetics' portal (http://www.infonetics.com/login) for more:
SALES
Infonetics Research is an international market research and consulting firm serving the communications industry since 1990. A leader in defining and tracking emerging and established technologies in all world regions, Infonetics helps clients plan, strategize, and compete more effectively.
Image Available: http://www2.marketwire.com/mw/frame_mw?attachid=1421141

Lead Analyst:
Richard Webb
Directing Analyst, Mobile Devices
Infonetics Research
+1-408-583-3369
Email Contact
http://twitter.com/richardawebb


Copyright @ Marketwire
Page: 1
Related Keywords:
3G phone forecast, Mobile phone forecast, LTE phone forecast, WiFi Phone forecast, mobile Subscribers, Computers/Peripherals,Internet,Notebook/Laptop,OS (Operating System),WiFi/Wireless,Modem,Tablets,Handheld,Broadband,Communications,WiFi,Digital Audio,Web,Smart Phone,PDA,WiFi Routers,iPods,iphone,iPad,Research,Video,Sales,Sales & Marketing,Computer Technology,Internet,Business Issues,Mobile Devices,Handheld,Blackberry,Smartphone,Sales,Sales,Internet/Web,Internet,Broadband,OS (Operating System),Unix,Mac,Linux,OS9,OSX,India,Marketwire,Sony,HP,Apple Computer,Communications Technology,Internet Technology,Computer Science,Internet,india,
---