Infonetics Research: Smartphone sales buck the recession
(March 26, 2009)

LONDON -- (Marketwire) -- 03/26/09 -- Market research firm Infonetics Research released the first edition of its biannual Mobile/WiFi Phones and Subscribers market size, market share, and forecast report this week. Highlights follow.
"Smartphones are evolving quickly, and differentiation is becoming increasingly based on software and OS rather than form factor. Smartphones still compete on hardware features that support key apps like photography or video viewing, but software and applications that enable a user's preferred mobile uses have an increasing influence on device selection -- personalization will be king. For instance, the Android platform may be a work in progress, but the first handset to use it, the G1, is attracting high levels of interest, and future models are likely be optimized for key web applications like social networking. Open source platforms like Android are gaining traction and shaping the new competitive landscape," said Richard Webb, Directing Analyst - WiMAX, Microwave, and Mobile Devices - Infonetics Research.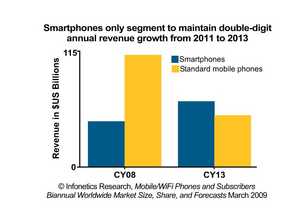 REPORT HIGHLIGHTS
-- The economic recession had a notable impact on the worldwide mobile phones market in the latter half of 2008, ending in flat manufacturer revenue growth for the year ($156 billion), as consumers and enterprises cut device spending -- Infonetics forecasts an 8% drop in the total number of mobile phones sold in 2009, to 1.1 billion worldwide (down from 1.2 billion in 2008), in line with predictions from Nokia, among others -- Smartphones were the best-performing segment of the mobile phones market in 2008 and the only segment to show unit and revenue growth in the second half of the year as the world economy entered recession -- Bucking the general trend, smartphones are expected to out-perform the downturn and show modest growth in 2009, and will be the only mobile phone segment to maintain annual revenue growth over the next five years, and the only to post double-digit annual revenue growth from 2011 through 2013 -- Market penetration of higher-end phones is driven by accelerating HSPA deployments in North America, Western Europe, and developed regions in Asia Pacific -- As a proportion of the total mobile phone market, W-CDMA gained a couple of percentage points in 2008 at the expense of CDMA2000, and GSM remained proportionately flat -- Nokia maintained its clear leadership of total mobile phone market share in 2008, due to its established brand, stability of the newly acquired Symbian OS, and its strong visibility in multiple segments (low- end, high-end/feature phone, smartphone) -- Samsung strengthened its solid second position in 2008, increasing its lead over Sony-Ericsson -- LG overtook Motorola in 2008 to claim fourth spot in worldwide mobile phone revenue market share -- Symbian retains market leadership of the smartphone operating system (OS) market, followed by BlackBerry, which regained its #2 spot after being overtaken by the surge in iPhone units in the third quarter of 2008
REPORT SYNOPSIS
Infonetics' mobile and WiFi phones report provides worldwide and regional market size, market share, analysis, and forecasts through 2013 for standard mobile phones (GSM, W-CDMA, CDMA, CDMA2000), smartphones, dual mode cellular/WiFi phones, enterprise single-mode WiFi phones, and mobile subscribers. Smartphone operating systems tracked include Apple, BlackBerry, Linux, Palm, Symbian, Windows Mobile. The report includes select pivot tables.
Companies tracked in Infonetics' mobile and WiFi phones report include Apple, Cisco, D-Link, HTC, Huawei, LG, Motorola, NETGEAR, Nokia, Polycom, RIM, Samsung, Sony-Ericsson, Vocera, ZTE and others.
Mobile broadband devices are now tracked in Infonetics Research's biannual Mobile Broadband Cards, Routers, Services, and Subscribers report, published March 10 and September 10, 2009.
To download this report if your organization has purchased it, or to download sample data from the report, log on to Infonetics' portal from www.infonetics.com.
For sales, please contact Larry Howard, vice president, at [email protected] or +1 (408) 583-3335.
Infonetics Research is an international market research and consulting firm serving the communications industry since 1990. A leader in defining and tracking emerging and established technologies in all world regions, Infonetics helps clients plan, strategize, and compete more effectively.
Infonetics is now on Twitter; follow us at http://twitter.com/infonetics.
Image Available: http://www2.marketwire.com/mw/frame_mw?attachid=947778

Lead Analyst:
Richard Webb
Directing Analyst - WiMAX, Microwave, and Mobile Devices
Infonetics Research
Email Contact
+1 408.583.3369 or +44 (0) 1689.851.618
http://twitter.com/infonetics


Copyright @ Marketwire
Page: 1
Related Keywords:
mobile phones, smartphones, smart phones, apple, blackberry, nokia, market share, market size, Internet,Broadband,Digital Media Software,Communications,Digital Photography,WiFi,Digital Audio,Web,Smart Phone,PDA,WiFi Routers,iPods,iphone,Applications,Research,Video,Sales,Applications,Sales & Marketing,Networking,Computer Technology,Internet,Business Issues,Hardware,Mobile Devices,Blackberry,Smartphone,Internet Server Applications,Sales,Sales,OS (Operating System),Unix,Linux,Western Europe,Marketwire,Apple Computer,Communications Technology,Internet Technology,Computer Science,Social Networking,
---