Infonetics Research: Mobile security client software market to hit $1.6 billion in 2013
(July 08, 2009)

CAMPBELL, CA -- (Marketwire) -- 07/08/09 -- Communications market research firm Infonetics Research released the 2009 edition of its Security Appliances and Software for Mobile Networks and Devices report. Highlights follow.
ANALYST NOTE
"There is money to be made in the mobile security market for sure. This is a very young market, and our growth projections are explosive, riding the compound wave of smartphone growth, growth in the use of rich Internet applications on smartphones, and hacker interest in developing exploits for phones. For now, hackers continue to focus their energy on the hundreds of millions of desktop computers around the globe, but we forecast over 1.5 billion new smartphones will ship worldwide between 2008 and 2013, providing ample opportunity for financially motivated hacking of smartphones -- and that opportunity grows significantly every year. Consumers and enterprises will have to make significant investments in security client software, and mobile providers are already making huge investments in security infrastructure upgrades," said Jeff Wilson, Infonetics Research's Principal Analyst, Network Security.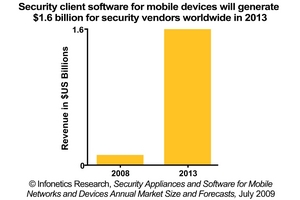 MOBILE SECURITY MARKET RESEARCH HIGHLIGHTS
-- Internet friendly smartphones (iPhones, Windows Mobile phones, Android-based phones, others) make enticing targets for hackers -- Revenue for mobile security client software was up 118% in 2008 from 2007, and is forecast to top $1.6 billion in 2013 -- North America currently lags EMEA (Europe, Middle East, Africa) and Asia Pacific in total smartphone shipments, but leads in adoption for mobile security clients -- Revenue for security appliances and software for mobile networks grew 25% in 2008 -- Growth in this segment is led by IDS/IPS and content security solutions, worldwide revenue for which is increasing at a fast pace (16% and 15% CAGRs from 2008 to 2013, respectively)
REPORT SYNOPSIS
Infonetics' mobile security report provides market size, forecasts, and analysis for security appliances and software sold to mobile service providers for protecting their infrastructure, and mobile security client software sold to consumers and enterprises. Products tracked: mobile security clients (data protection and anti-x clients) and security products for mobile networks, including intrusion detection and prevention (IDS/IPS), content security gateways, and integrated security appliances and software above and below $30,000.
Infonetics' mobile security report tracks appliances and software made by AhnLab, Aladdin, Arbor Networks, Avast!, Avira, Barracuda, BitDefender, Blue Coat, Bluefire, Bullguard, CA, Check Point, Cisco, Citrix, Credant, Dr. Web, Enterasys, F-Secure, GuardianEdge, Huawei, IBM, Intrusion Inc., iPolicy, Juniper, Kaspersky, McAfee, Mobile Armor, Nortel, Nokia, Panda, Secure Computing, Sendio, SMobile, SonicWALL, Sophos, Sourcefire, Symantec, TippingPoint, TopLayer, Trend Micro, Websense, and many others.
Related research:
-- Enterprises relying on smartphone OS for security may be vulnerable to Internet threats
-- Smartphone sales buck the recession
-- SaaS drives breakout growth in managed security market
-- Content security market maintains growth in a quarter that decimated many IT segments
-- Mobile backhaul equipment market growing fast, with no letup in sight
-- Hike in telecom carrier capex expected in 2H09, though overall capex still down in 2009
FOR MORE INFORMATION
Members: http://www.infonetics.com/login
New to Infonetics: http://www.infonetics.com/cgp/newaccounts.asp
From the portal, go to RESEARCH, then NETWORK SECURITY.
SALES:
-- Larry Howard, Vice President: larry@infonetics.com, +1 (408) 583-3335 -- Scott Coyne, Senior Account Director, Eastern North America, Europe, Middle East: scott@infonetics.com, +1 408.583.3395
Infonetics Research is an international market research and consulting firm serving the communications industry since 1990. A leader in defining and tracking emerging and established technologies in all world regions, Infonetics helps clients plan, strategize, and compete more effectively.
Follow Infonetics on Twitter: http://twitter.com/infonetics.
Image Available: http://www2.marketwire.com/mw/frame_mw?attachid=1018906

Lead Analyst:
Jeff Wilson
Principal Analyst, Network Security
Infonetics Research
(408) 583-3337
Email Contact
http://twitter.com/securityjeff


Copyright @ Marketwire
Page: 1
Related Keywords:
mobile security, smartphone, smart phones, security for mobile phones, network security, iphone, ips, ids, Computers/Peripherals, Internet, OS (Operating System), Digital Media Software, Communications, Digital Audio, Web, Smart Phone, iPods, iphone, Applications, Security, Research, Office Equipment, Sales, Applications, Computers, Phones, Sales & Marketing, Security, Computer Technology, Internet, Business Issues, Mobile Devices, Smartphone, Security, Internet Server Applications, Sales, Sales, Computers/Peripherals, Internet/Web, Network (LAN), Internet, Web, OS (Operating System), Marketwire, Inc., IT (Information Technology), Security, Apple Computer, Appliances, Internet Technology, Internet, middle east,
---