Infonetics Research: Mobile backhaul equipment market growing fast, with no letup in sight
(May 27, 2009)

CAMPBELL, CA -- (Marketwire) -- 05/27/09 -- Market research firm Infonetics Research recently released its Mobile Backhaul Equipment and Services report, which tracks mobile backhaul equipment, connections, cell sites, and service charges.
Highlights from the market research report follow, and clients are invited to participate in an analyst-led telebriefing this week (see https://infonetics.webex.com for times).
"Data usage on mobile networks is causing a traffic explosion on backhaul networks, exacerbated by the popularity of bandwidth-hungry mobile phone applications. An AT&T executive this month said 50% of the data traffic on AT&T's mobile backhaul network is iPhone-generated, despite the fact that only a few million of their 78 million cellular subscribers are iPhone users. Pretty soon, likely by 2010, data traffic will surpass voice traffic on mobile networks. Carriers everywhere are increasing the bandwidth on their backhaul networks to handle this exploding IP data traffic, and the most efficient, cost-effective way to do that is to transition from TDM to packet IP/Ethernet, which is driving the mobile backhaul equipment market," said Michael Howard, Principal Analyst - Optical, Routing, Switching, and Ethernet - Infonetics Research.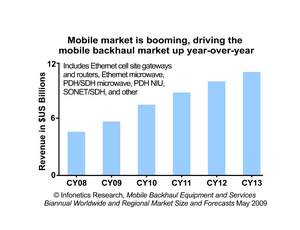 "Roughly 60% of backhaul cell site connections are microwave in most regions of the world and this is increasing, making microwave the largest and fastest growing piece of the mobile backhaul market. Even North America, a lesser adopter of microwave, is increasingly deploying it. Microwave's scalability of both economics and bandwidth has made it the dominant backhaul solution -- and often the only viable one -- for addressing the capacity imperative for mobile backhaul," said Richard Webb, Directing Analyst - WiMAX, Microwave, and Mobile Devices - Infonetics Research.
-- Mobile backhaul equipment investments jumped a healthy 19% in 2008 to $4.6 billion worldwide, and revenue is set to explode over the next 5 years and beyond -- Many factors are driving the shift to IP Ethernet backhaul; chief among them: -- Backhaul costs are rising -- The number of mobile broadband phone subscribers continues to increase, and is expected to pass the 1 billion mark in 2010 -- Bandwidth usage is surging via EDGE, EV-DO, and HSPA, and will continue ramping with the coming new wave of HSPA+ upgrades, WiMAX, and LTE, each allowing mobile e-mail, calendar, data, and Internet access to popular applications like YouTube driving mobile video downloads, MP3 files, online gaming on handsets, application downloads, and P2P traffic -- The most quickly changing technologies between 2008 and 2013 are Ethernet microwave and Ethernet copper and fiber -- In all the major world regions, operators will gradually shift to Ethernet backhaul, although it will be a slower shift in Asia Pacific and Central/Latin America, as a higher proportion of overall mobile traffic remains voice for a longer period
REPORT SYNOPSIS
Infonetics' mobile backhaul report provides worldwide and regional market size and forecasts through 2013 for mobile backhaul equipment, mobile backhaul connections, mobile backhaul cell sites, and mobile backhaul service charges. The report includes regional and category analysis, mobile operator strategies, technology roadmaps, market drivers, and more.
Equipment tracked: PDH NIU; ATM terminals, cell site gateways and switches; SONET/SDH; Ethernet cell site gateways and routers; DSL modems and DSLAMs; EPON and GPON ONTs and OLTs; coax cable modems and CMTS; microwave radio (Ethernet and dual TDM/Ethernet microwave, and PDH/SDH microwave); WiMAX base stations, satellite modems and routers; and pseudowire and non-pseudowire enabled IP mobile backhaul equipment.
If you're already a member of the Infonetics online portal, log in at http://www.infonetics.com/login. Or create a new account here: http://www.infonetics.com/cgp/newaccounts.asp.
Once on the portal, go to Download Research or Download Sales Lit, then select MOBILE BACKHAUL AND MICROWAVE.

For sales, please contact:
-- Larry Howard, Vice President: larry@infonetics.com, +1 (408) 583-3335 -- Scott Coyne, Senior Account Director, Eastern North America, Europe, Middle East: scott@infonetics.com, +1 (408) 583-3395
Infonetics Research is an international market research and consulting firm serving the communications industry since 1990. A leader in defining and tracking emerging and established technologies in all world regions, Infonetics helps clients plan, strategize, and compete more effectively.
Infonetics is now on Twitter; follow us at http://twitter.com/infonetics.
Join Infonetics' online research portal to access free content and more at: http://www.infonetics.com/cgp/newaccounts.asp
Image Available: http://www2.marketwire.com/mw/frame_mw?attachid=990401

Lead Analysts:

Michael Howard
Co-founder and Principal Analyst
Optical, Routing, Switching, and Ethernet
Infonetics Research
(408) 583-3351
Email Contact

Richard Webb
Directing Analyst
WiMAX, Microwave, and Mobile Devices
Infonetics Research
(408) 583-3369
Email Contact


Copyright @ Marketwire
Page: 1
Related Keywords:
mobile backhaul, mobile backhaul forecast, mobile backhaul report, mobile backhaul equipment market, Internet/Web, Internet, Streaming Media, Broadband, MP3, Streaming/Webcast, Mobile Video, Marketwire, Apple Computer, Copper, Communications Technology, Internet Technology, Internet,
---