Infonetics Research: Millions opting into shared data plans represent huge opportunity for mobile operators
(October 25, 2011)

CHICAGO, IL -- (Marketwire) -- 10/25/11 -- 4G WORLD -- New research in a whitepaper published this week by Infonetics Research indicates that the number of active mobile broadband devices on a shared data plan will soar from a few million in 2011 to more than a quarter of a billion by 2015, representing an important opportunity for mobile operators.
In the 10-page white paper, All in the Family: The New Requirements of Shared Data Plans, which can be downloaded at http://www.infonetics.com/whitepapers.asp, Infonetics analysts Shira Levine and Richard Webb discuss how data plans shared among multiple devices and/or multiple users can help drive device adoption, improve subscriber loyalty, and encourage the uptake of new services.
"Customers are showing a clear appetite for expanding the range of devices owned, but they don't necessarily want a separate data plan for each device," notes Webb, co-author of the paper and directing analyst for microwave and small cells at Infonetics. "Having a single data plan that shares a data allowance across devices provides the user with usage flexibility, as well as bill clarity, and we believe that these shared data plans will be a significant factor in mobile broadband device growth over the next few years."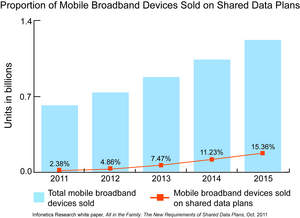 However, to take advantage of the opportunity presented by shared data plans, operators must consider the capabilities of the operational systems required to support them -- and too often their existing systems come up short. "While it has become clear to operators that they need to move away from unprofitable all-you-can-eat models for data pricing, many of the new and innovative service models they're considering, including shared data plans, necessitate some significant changes within the control plane, which will drive investment in solutions like policy management, subscriber data management, and Diameter signaling," expects Levine, directing analyst for next gen OSS and policy at Infonetics and co-author of the whitepaper.
Topics in Infonetics' shared data plans whitepaper:
One Device Is No Longer Enough

Worldwide Mobile Broadband Device Forecast

3G/4G-Connected Consumer Device Trends: The End of Flat-Rate Data Drives Shared Plans
Operator Strategies for Shared Data Plans: More Flexibility for Users
The Impact of Shared Data Plans on Device Adoption: Device Growth Boosted by Shared Data Offers

Proportion of Mobile Broadband Devices Sold on Shared Data Plans
Growth of Mobile Broadband Devices Sold on Shared Plans

Adding Intelligence to the Control Plane
Download the free white paper at www.infonetics.com in the Whitepapers section, or directly at http://www.infonetics.com/whitepapers.asp.
RELATED EVENTS
RELATED MARKET RESEARCH
UPCOMING RESEARCH
Download report highlights, prospectuses, tables of contents, etc. at http://www.infonetics.com/login (see NEXT GEN OSS AND POLICY or MOBILE AND WIRELESS).
SALES
Infonetics Research is an international market research and consulting firm serving the communications industry since 1990. A leader in defining and tracking emerging and established technologies in all world regions, Infonetics helps clients plan, strategize, and compete more effectively.
Image Available: http://www2.marketwire.com/mw/frame_mw?attachid=1777719

Lead Analysts:

Shira Levine
Directing Analyst, Next Gen OSS & Policy
Infonetics Research
+1 (408) 583-3381
Email Contact
http://twitter.com/shiralevine

Richard Webb
Directing Analyst, Microwave & Small Cells
Infonetics Research
+44 (0) 1689-851-618
+1 (408) 583-3369
Email Contact


Copyright @ Marketwire
Page: 1
Related Keywords:
infonetics whitepaper, shared data plans forecast, shared data plans white paper, data sharing research, Digital Media Software, Communications, Web, Smart Phone, Research, Sales, Sales & Marketing, Business Issues, Management, Sales, Sales, Data Management, Prosumer/Consumer, Handheld PC/PDA, Marketwire, ,
---