Infonetics Research: Ethernet microwave spending surges as operators upgrade mobile backhaul networks
(November 06, 2008)

CAMPBELL, CA -- (Marketwire) -- 11/06/08 -- In the cutthroat mobile world, in today's economic climate it is more critical than ever that mobile operators protect their revenue and hold on to their subscribers, which is why many operators are turning to newer mobile backhaul solutions, particularly Ethernet microwave, says Infonetics Research in a new report.
According to the report, Mobile Backhaul Equipment, Installed Base, and Services, mobile operators around the world face ever increasing mobile backhaul costs as rapidly increasing numbers of mobile subscribers access the Internet and watch and send video and photos over their mobile phones, spurred in part by the popularity of the iPhone and its clones. This in turn is forcing mobile operators to invest in higher-capacity backhaul networks to prevent service degradation and offer subscribers bigger bandwidth packages.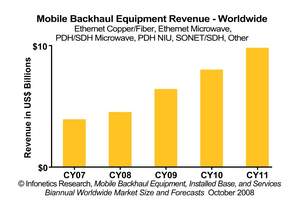 Worldwide, mobile operators and backhaul transport providers are increasing their mobile backhaul equipment spending 15% from 2007, reaching $4.5 billion in 2008. Of the new mobile backhaul connections being added worldwide, Ethernet microwave connections are growing the fastest, jumping from 27% of all new connections in 2007 to 43% in 2008, and ramping quickly over the next few years.
Microwave is the most prevalent mobile backhaul technology worldwide, used in 53% of installed mobile backhaul connections in 2007, although it varies widely by geography, with Europe, the Middle East, Africa (EMEA), Asia Pacific, and Central and Latin America (CALA) rich in microwave connections, and North America ripe for growth. In already dense microwave areas, operators are beginning to upgrade to Ethernet microwave.
"In the last 6 months there has been a shift in the mobile backhaul market, with a surge in spending on Ethernet microwave in North America and a considerable uptick in EFM (Ethernet in the first mile) bonded copper equipment used in conjunction with mid-band Ethernet services in both Europe and North America. Ethernet microwave is an attractive option for operators because it can be used to implement a hybrid approach or a single packet backhaul approach, using either dual (concurrent) radios or pure packet radios (with pseudowires). Both approaches can save operators millions in annual service charges, which, in today's environment, could make or break an operator," said Michael Howard, principal analyst of Infonetics Research and lead analyst of the report.
More highlights from the report:
-- By 2011, service providers using PDH, ATM over PDH, or SONET/SDH for their mobile backhaul connections will be paying roughly 3 to 30 times as much in service charges per connection as those using Ethernet, DSL, coax cable, or PON -- New cell site backhaul connections, which drive equipment spending, will grow at a 27% compound annual growth rate (CAGR) from 2007 to 2011 -- Rapidly expanding HSPA is a trigger point driving operators to move to IP/Ethernet backhaul -- The IP/Ethernet portion of worldwide mobile backhaul equipment revenue is forecast to grow at a 57% CAGR from 2007 to 2011
Infonetics' report provides worldwide and regional market size and forecasts through 2011 for mobile backhaul equipment, connections, and service charges for PDH, ATM over PDH, Ethernet copper and fiber, SONET/SDH, DSL, PON, coax cable, PDH/SDH microwave, Ethernet microwave, WiMAX, and satellite. The report includes in-depth analysis, vendor and service provider activity and analysis, technology roadmap, market drivers, and more.
Download report highlights by logging in to Infonetics' online portal from www.infonetics.com (see Mobile Backhaul and Microwave area). For sales, contact Larry Howard, vice president, at [email protected] or +1 (408) 583-3335.
Infonetics Research (www.infonetics.com) is an international market research and consulting firm serving the communications industry since 1990. A leader in defining and tracking emerging and established technologies in all world regions, Infonetics helps clients plan, strategize, and compete more effectively.
Image Available: http://www2.marketwire.com/mw/frame_mw?attachid=869552

Press Contact:
Michael Howard
Principal Analyst and Co-Founder
Infonetics Research
+1 (408) 583-3351
Email Contact


Copyright @ Marketwire
Page: 1
Related Keywords:
mobile backhaul, backhaul, mobile backhaul forecast, mobile backhaul equipment, Ethernet microwave, Internet,Communications,WiFi,Digital Audio,Web,iPods,iphone,Research,Video,Africa,Marketwire,Apple Computer,Copper,Communications Technology,Internet Technology,Internet,middle east,
---