IneoQuest Introduces iVMS(TM) 5 for Advanced End-to-End Video Management and Performance Assurance
With End-to-End Monitoring, Providers Can Achieve the New Industry-Recommended Practice of High Program Availability, Control Operational Costs and Comply With Service Level Agreements
(March 23, 2010)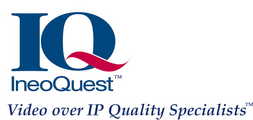 MANSFIELD, MA -- (Marketwire) -- 03/23/10 -- IneoQuest Technologies, Inc., the global provider of advanced video quality and service assurance solutions, today announced the availability of iVMS™ 5, a new intelligent video management system that provides real-time visibility into the health of an entire video distribution network, including the new industry recommended performance indicator, program availability. With enhanced performance features and simplified configuration, iVMS 5 gives providers the ability to streamline their operations and reduce the mean time to repair issues, improving their quality of service (QoS) and subscriber quality of experience (QoE) while controlling operational costs and complying with service level agreements (SLA).
iVMS 5 incorporates program availability, the key performance indicator for video distribution as described in the recently published Society of Cable Telecommunications Engineers (SCTE) 168-6 2010 "Recommended Practice for Monitoring Multimedia Distribution Quality" standard. As the first company to incorporate program availability into its end-to-end solutions, IneoQuest developed iVMS 5 to display real-time and historical program availability data, enabling providers to understand the subscriber experience over time at any point in the delivery network. As a result, providers can set their own availability objective or leverage the SCTE recommended benchmark for high program availability, which requires that a subscriber not experience any more than six (HD) to 24 (SD) seconds of errors in a program for a 24-hour period.
To assist providers with achieving high program availability, iVMS 5 provides end-to-end video quality monitoring on a per program basis at multiple, simultaneous strategic locations. iVMS 5 leverages IneoQuest's enhanced probing technology, including the Singulus™, Geminus™ and Cricket™ probe families, and IneoQuest content management software, to provide monitoring and aggregation of video quality data along the network, which is then displayed into a single, real-time view. As the only product that provides end-to-end video quality monitoring for QoS and QoE, iVMS 5 enables providers to view a comprehensive snapshot of the delivery performance of the transport and content planes. For further assistance, iVMS provides automated, scheduled reports, which includes channel summaries, program availability and many other performance-related data. With this information, providers can efficiently troubleshoot faults and solve systematic issues to improve their overall network health.
Answering customer need for streamlined operations and faster diagnosis, the iVMS 5 user interface includes comprehensive views, tools and menu structure for simplified navigation. Vast amounts of information can be easily accessible from any single real-time view with just the right click of a mouse. Its centralized management allows NOC operators to pinpoint issues and assign the appropriate resources to minimize excess truck rolls, thereby controlling operating costs. Additionally, the iVMS-enriched alarm management removes metric and alarm complexities to give operators an easy way to digest the information and prioritize actions that need to be taken. All of these capabilities have been packaged into a fully-supported appliance that simplifies configuration to eliminate system administration duties from the IT department, making iVMS 5 a secure and controlled platform.
"Providers continue to look for ways to control operational expenses and management teams are tasked with enhancing network performance to improve QoE and QoS," said Calvin Harrison, vice president of business development at IneoQuest. "IneoQuest's key goal when developing iVMS 5 was to simplify the overall user experience. This was accomplished through a variety of new features, as well as by incorporating the SCTE's easy-to-understand program availability metric for ensuring video quality, all while maintaining data integrity. This type of customer-driven enhancement is what IneoQuest strives for and we plan to continue listening to users and developing solutions that best fit their needs."
In addition to its enhanced performance features and simplified operations, iVMS 5 allows providers the option of adding modules, which can be added to the basic platform as needed to meet specific user needs. As a result, providers can reduce unnecessary costs by investing only in the features and functionality they need to enhance their network health and operation. With iVMS 5, IneoQuest introduces several new modules to its suite of options already available, including Alarm Manager and Program Lineup Manager (PLM), with additional module availability coming throughout the year. In addition, to meet the need for remote access of network monitoring, providers can implement IneoQuest's iVMS™ Mobile iPhone™ application in iVMS 5, the industry's first Apple® iPhone application to allow service providers to monitor and improve digital video quality remotely.
IneoQuest will be demonstrating iVMS 5 for the first time at the IPTV World Forum, March 23-25, 2010 in London. To see demonstrations and learn more about this new product, as well as IneoQuest's entire family digital video quality assurance solutions, please visit IneoQuest's booth (#93).
About IneoQuest Technologies
Recognized as one of the fastest growing companies in North America by Deloitte LLP for the third year in a row and receiving numerous awards for its product innovation, IneoQuest understands the needs of providers to offer subscribers the highest level of program availability possible across multiple devices, including television, Internet and mobile. To help its customers achieve this industry recommended practice, IneoQuest has developed industry-first quality and service assurance solutions for both legacy video network delivery and leading-edge offerings like switched digital video (SDV), IPTV and video-on-demand (VOD). The company enables its customers to design, build, deploy and manage digital video networks with unique combinations of hardware, software and services.
IneoQuest has been providing the cable, broadcast, satellite, telecommunications providers and equipment manufacturers with pioneering methods and metrics for ensuring quality of service (QoS) and quality of experience (QoE), including those that address the three planes of video delivery networks. The company contributed toward the development of the SCTE 168-6 2010 Recommended Practice and also developed the patented Media Delivery Index (MDI), which is a set of measurements utilized by operators worldwide in their diagnostic strategy. To deliver custom and complete solutions to its customer base, IneoQuest leverages a premier partner network, which includes Cisco Systems Inc., Microsoft® and Spirent® Communications. Headquartered in Mansfield, Massachusetts, IneoQuest has sales operations in the North American, European, Asian and Latin American regions. More information is available at www.IneoQuest.com.
Press Contact:
SHIFT Communications
Amanda Munroe
Phone: 617-779-1816
Email: Email Contact


Copyright @ Marketwire
Page: 1
Related Keywords:
IneoQuest Technologies, Broadcast,Management,Digital,Internet/Web,Display,Business,Internet,Broadcast Technology,Broadcast,DTV,Hardware,Software,IPTV,Marketwire, Inc.,Apple Computer,Television,Internet Technology,Business,Internet,Family,Other,
---