IneoQuest Develops the First and Only Solutions for Monitoring, Analyzing and Reporting the Quality of Streaming Video to the iPhone(TM)
Family of Products Now Support Apple(R) HTTP Live Streaming Protocol for End-to-End Video and Transport Quality Management; IneoQuest to Demonstrate Solutions at Streaming Media West 2009
(November 04, 2009)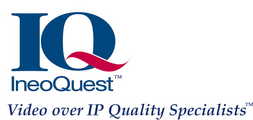 MANSFIELD, MA -- (Marketwire) -- 11/04/09 -- IneoQuest Technologies, Inc., the global provider of advanced quality and service assurance solutions for digital video, today announced the availability of the first and only solutions for real-time monitoring, analyzing and reporting of the quality of streaming content to the Apple® iPhone(TM). Supporting Apple's unique HTTP Live Streaming protocol, the Cricket(TM) HLS probes and the IQSegVue iPhone application join IneoQuest's family of products for end-to-end monitoring and troubleshooting capabilities to help content providers and mobile network operators ensure quality performance of live or pre-recorded entertainment and efficiently manage the network.
Unlike traditional video delivery methods, Apple's new HTTP Live Streaming protocol requires video to the iPhone to be segmented into small clips and then downloaded in correct sequence, increasing the complexity and need for real-time video and transport monitoring. To assist providers looking to deliver quality content to the iPhone, IneoQuest has extended its award-winning Cricket(TM) probes and iPhone application knowledge to support this new protocol and enable complete visibility of traffic flows throughout the entire transport process.
Today, broadcasters and service providers are already using IneoQuest's Geminus(TM) and Cricket probes to monitor and test the MPEG transport stream for video quality issues. Now, Cricket HLS probes are available to act as a mirror to the subscriber's iPhone by monitoring the video transport stream across multiple locations, both regionally and nationally, after the HTTP segmentation and before and after subscriber distribution, capturing traditional and HTTP-transport metrics, such as HTTP-based file loss, bitrates and outages, as well as audio quality issues. The data about the video and transport stream before and after HTTP segmentation are delivered to IneoQuest's iVMS(TM) management system for integrated analysis and reporting, enabling providers to pinpoint the exact location of a failure and promptly troubleshoot before the subscriber is impacted.
Integrating the data gathered by the Geminus, Cricket and new Cricket HLS probes into IneoQuest's iVMS management system also enables providers to complete long-term performance analysis to understand locations, devices, channels or network inefficiencies that are impacting business. As a result, content providers can solve systematic failures and efficiently manage the network, improving their Quality of Service (QoS) and subscriber Quality of Experience (QoE).
For field troubleshooting, content providers can also leverage the IQSegVue to monitor the quality of streaming video at the delivery point. The IQSegVue serves as a video player on an iPhone or iPod touch® and allows field technicians to display live video broadcast sessions to evaluate QoE in real time. With a few clicks, real-time statistics and measurement data about video quality metrics can be shown. Using this information, providers can pinpoint failures from the field and remotely troubleshoot issues.
"The number of iPhone users is skyrocketing and subscribers are increasingly demanding additional content delivery to these mobile devices. For content providers, this offers an entire new revenue stream and an additional opportunity to reach viewers," said Calvin Harrison, vice president of marketing and business development at IneoQuest. "Working with forward-thinking content providers, our research and development team has expanded our family of products to help harness the power of Apple's ground-breaking HTTP Live Streaming protocol and benefit from this new approach. The Cricket HLS probes and IQSegVue measurement of live video traffic helps improve the business aspects of video services and mobile content."
IneoQuest is working with leading content providers to assess their current network architectures and design the most effective deployment strategy of IneoQuest equipment and services for iPhone video delivery, be it standalone Cricket HLS units to full end-to-end deployments. IneoQuest is providing a limited time $1,500 introductory offer to providers for deployments of individual Cricket HLS units.
To see a live demonstration of the Cricket HLS probe and IQSegVue, visit IneoQuest at booth #420 at Streaming Media West 2009, November 17-19, 2009 at the San José McEnery Convention Center, San José, CA.
About IneoQuest Technologies
Recognized as one of the fastest growing companies in North America by Deloitte LLP for the third year in a row and receiving numerous awards for its product innovation, IneoQuest has a rich heritage of developing industry-first video test and measurement solutions for both legacy video network delivery and leading-edge offerings like switched digital video (SDV), IPTV and video on demand (VOD). The company enables its customers to design, build, deploy and manage digital video networks with unique combinations of hardware, software and services.
IneoQuest has been providing the cable, broadcast, satellite, telecommunications providers and equipment manufacturers with forward-thinking concepts and metrics for ensuring Quality of Service and Quality of Experience, including the three planes of video delivery networks, High Program Availability, the patented Media Delivery Index (MDI) and other patent-pending technologies. To deliver custom and complete solutions to its customer base, IneoQuest leverages a premier partner network, which includes Cisco Systems Inc., Microsoft® and Spirent® Communications. Headquartered in Mansfield, Massachusetts, IneoQuest has sales operations in the North American, European, Asian and Latin American regions. More information is available at www.IneoQuest.com.
Apple, the Apple logo, iPod, and iTunes are trademarks of Apple Inc., registered in the U.S. and other countries. iPhone is a trademark of Apple Inc.
Press Contact:
SHIFT Communications
Amanda Munroe
Phone: 617-779-1816
Email: Email Contact


Copyright @ Marketwire
Page: 1
Related Keywords:
IneoQuest Technologies, Broadcast, Management, Streaming, Digital, Display, Business, Marketing, Broadcast Technology, Streaming/Webcast, Broadcast, Hardware, Software, IPTV, IPTV, USA, Marketwire, Inc., Apple Computer, Business, Entertainment, Streaming Media, Family, Other,
---