InFocus Introduces New HD Projectors Providing Complete Installation Flexibility
New IN5316HD and IN5318 Projectors Deliver Installation Flexibility for Larger Conference Rooms, Classrooms and Medium Sized Venues
(December 07, 2011)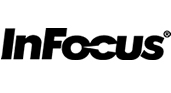 PORTLAND, OR -- (Marketwire) -- 12/07/11 -- InFocus Corp., a digital display technology leader and visual collaboration champion, today announced the release of two new high-definition installation projectors in the IN5300 series. With a new compact form factor, the InFocus IN5300 projectors provide complete installation flexibility, high brightness, and incredibly sharp images for a variety of venues, including large conference rooms, classrooms and medium sized venues.
Ultra High Definition
Consumers have become accustomed to full 1080 high definition televisions at home, and as more businesses use video, it becomes essential for them to also have HD capabilities. In addition, highly detailed documents, such as spreadsheets, require an HD projector in order to be viewed properly. InFocus's IN5300 projectors provide ultra high-definition at a competitive price, making HD projectors accessible for corporate boardrooms and large classrooms. With lumens ranging from 4000-4500, these projectors provide high brightness with colors and images popping off the screen even in high ambient light.
Powerful Flexibility
The new compact form factor of the InFocus IN5300 series provides incredible installation flexibility, including fitting into a 2x2 ceiling tile. With three lens options (standard and optional short-throw and long-throw zoom), the IN5300 projectors can easily be configured for any environment. In addition, lens shift enables the projector to be mounted off-center, providing even greater flexibility in installation. All lenses can be used through the entire range of the horizontal and vertical lens shift.
The new projectors are:
IN5316HD
The new InFocus IN5316HD DLP projector combines high-definition 1080 resolution with the most advanced digital connectivity, featuring HDMI digital inputs and DisplayPort, the most powerful display connection to date.
IN5318
The new InFocus IN5318 DLP projector offers ultra-high WUXGA (1920 x 1200) resolution with high brightness at 4000 lumens. DisplayPort technology provides compatibility with the newest connection types, such as Thunderbolt.
For more information about the IN5300 series, visit http://www.infocus.com/projectors/large-venue-projectors/infocus-in5300-projector-series
"Our newest projectors, the IN5316HD and IN5318, offer the brightest and sharpest images available, at the lowest price yet for this level of HD," said Dave Duncan, InFocus Product Marketing Manager. "In addition, these projectors provide incredible flexibility in installation options to fit nearly any environment, while continuing to deliver the solid performance and longevity that our customers have come to expect from InFocus projectors."
Availability
The IN5300 series projectors are available through authorized resellers or online at InFocusstore.com.
About InFocus Corp.
InFocus is a digital display technology leader and visual collaboration champion. InFocus digital displays empower and inspire people located anywhere (in the room, down the hall, across the campus or around the world) to turn their bright ideas into brilliant results. Backed by more than 20 years of experience and innovation in digital displays, InFocus is dedicated to setting the industry standard for large format visual displays. The company is based in Portland, Ore. For more information, visit the company's website at www.infocus.com, on Facebook at www.facebook.com/InFocusCorp, or follow InFocus on Twitter at @InFocusCorp and @InFocusEDU.
InFocus, In Focus, INFOCUS (stylized) and Mondopad are either registered trademarks or trademarks of InFocus Corp. in the U.S. and abroad. All other trademarks are used for identification purposes only and are the property of their respective owners in this and other countries. All rights reserved.
Copyright @ Marketwire
Page: 1
Related Keywords:
projectors, HD, high definition, digital display, presentations, new product, brightness, lumens, Pro AV,Presentors,Display,Projector,Broadcast Technology,Business Issues,HDTV,Presentation,Marketing,Corporate/Company,People,USA,Marketwire, ,Other,
---