In a New Era of Estate Planning Rocket Lawyer(TM) Survey Shows That Only Half of Adults Have a Will
Rocket Lawyer Introduces Digital Asset Trusts, Domestic Partnership Agreements and Pet Provisions to Provide Estate Planning for the Way Families Live Today
(March 28, 2012)

SAN FRANCISCO, CA -- (Marketwire) -- 03/28/12 -- Almost half of Americans are taking a big risk with their family's future by not having a Last Will. The death of a loved one can wreak emotional havoc on a family -- but when there's no Last Will, it can create a crisis that even time may not heal. Court battles over child custody, assets, and even memorial decisions can divide families in their time of grief. Yet almost half of Americans are leaving their families unprotected, citing procrastination, a belief that they don't need one and cost as the top three reasons for not having a Will, according to a new survey from Rocket Lawyer™, the fastest growing online legal service. During Make a Will month this April, everyone can create this simple, yet essential document for free, and join more than 60,000 people who create their Last Wills every month with Rocket Lawyer.
There's a common misconception that a Will is just about distributing financial assets, but there are other crucial reasons to create a Will. For example, Joe Burger, a Rocket Lawyer customer in Columbus, Ohio, will marry his high school sweetheart this October. His wife-to-be, Amber, also has a six-year-old son, Zander. When Joe proposed on Valentine's Day in 2011, he and Amber knew immediately that he should not only be her husband, but also Zander's guardian. They filled out adoption papers, but because adoption can take a while -- and so can an engagement -- the couple turned to Rocket Lawyer to ensure their wishes for Zander would be handled appropriately and legally in the interim. They both completed a Last Will and used Rocket Lawyer to structure a complete estate plan for their unique needs.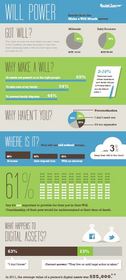 Mr. Burger added, "I feel good knowing that we're not leaving things up to chance now and we can focus on building our lives together without worrying about what could happen. I've saved at least $300 by using Rocket Lawyer, but most importantly I'm not worrying about the future of my family anymore."
A complete estate plan generally includes a Will, Living Will, and Power of Attorney. But families come in all shapes and sizes, and so do estate plans. Non-traditional families often need to take a few extra steps, and the Rocket Lawyer survey revealed that many Americans aren't prepared:
Half of respondents with children (50 percent) do not have a Will to protect their family.
Forty-one percent of baby boomers (age 55-64) do not have a Will.
In a new era of estate planning, protecting digital assets (Facebook account, online photos, passwords) is essential, yet 63 percent of respondents don't know what happens to their digital assets when they pass.
The majority of Americans (61 percent) don't believe it's important to provide for a pet in their Will. In reality, it's crucial to designate a pet guardian in a Will, or that beloved pet could end up at an animal shelter.
The top three most important reasons for creating a Will include: ensuring assets pass on to the right people (69 percent), "to be sure my family is taken care of" (54 percent) and "to prevent family disputes" (44 percent).
"When someone dies without a Will, state law dictates how assets are distributed and the court decides who gets custody of minor children," said Charley Moore, Founder and Executive Chairman of Rocket Lawyer. "No one should leave big decisions like that to the government and chance."
Domestic Partners
Many families have unique estate planning needs. For example, when a couple is living together in a domestic partnership, the laws in the state may not match up with the wishes of the couple, especially if the relationship is not legally recognized. It is essential to make these wishes known by getting them in writing so that loved ones are protected. Domestic partners may need a Domestic Partnership Agreement, to legally define the relationship, in addition to their other estate planning documents. It's smart to find a lawyer in these instances to make sure every outcome is planned for.
Digital Assets
As laws evolve in the digital era, even people with estate plans may need to revisit them. Although many people know that a Will covers physical assets, like a house, a car or grandma's photo albums, it should also address digital photos, emails, and files, not to mention social media profiles. Most people (63 percent) don't know what happens to these digital assets after death. At the same time, people in the U.S. value their digital assets at nearly $55,000, a recent McAfee study showed. When creating a Will with Rocket Lawyer, it's easy to appoint a digital executor (a person who will handle these digital assets after death). Those who already have a Will may use a Codicil document to update it with these new provisions. In addition, Rocket Lawyer has introduced a Digital Asset Trust document, an even more thorough way to create a plan for the digital aspects of life.
Pet Provisions
Although few people would envision their pet as a beneficiary, they may not know that a Will is also used to appoint guardianship, including directions for who will take care of beloved Fido. Families should not only consider what assets to include in their Will, but also who to include; it was not surprising to find that 61 percent of people left their pet (aka "Fido") out, according to the Rocket Lawyer survey. Rocket Lawyer's pet provisions are available in all estate planning documents, and act to protect the family pet no matter what happens.
To get a Free Last Will and learn more about creating a complete estate plan, visit the Rocket Lawyer Estate Planning Center.
About the Survey
This survey was conducted by Rocket Lawyer using Survey Monkey between March 12 - 16, 2012 among a nationwide cross section of 600 consumers and small business owners who are Rocket Lawyer members or have used Rocket Lawyer's services. The margin of error is +/- 4 percent.
About Rocket Lawyer™
At Rocket Lawyer, we believe everyone deserves easy and affordable legal services. Since 2008 we've helped over 20 million families and small businesses find the best solutions to their legal matters -- so they can focus on what really matters. From free legal documents to discounted rates with outstanding attorneys, we're there to help every step of the way. For more information on Rocket Lawyer, please visit http://www.rocketlawyer.com and follow Rocket Lawyer on Twitter, Facebook and Google+.
PDF Attachment Available: http://media.marketwire.com/attachments/201203/42720_Rocket_Lawyer_Will_Power_Infographic.pdf
Image Available: http://www2.marketwire.com/mw/frame_mw?attachid=1930997

Add to Digg Bookmark with del.icio.us Add to Newsvine
Copyright @ Marketwire
Page: 1
Related Keywords:
Rocket Lawyer, USA, Marketwire, , Financial, Business, Adults, Family, Children, Other,
---