Impetus to Demonstrate Cutting-Edge Mobile & Wireless Solutions at GSMA Mobile World Congress 2010
(February 12, 2010)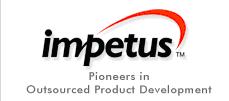 SAN JOSE, CA -- (Marketwire) -- 02/12/10 -- Impetus Technologies (www.impetus.com), an award-winning software product engineering company serving customers ranging from large technology companies to aggressive startups to develop innovative software products, announced today that it will demonstrate its state-of-the-art mobile and wireless solutions at the Mobile World Congress in Barcelona from February 15 through February 19. Impetus will be at the RIM Blackberry Developer stand 7 B26, Hall 7.
Impetus will have on display its innovative solutions for offering Extended Mobility, Enterprise Mobility, Mobile Application Development, Consumer Mobility, Mobile Healthcare, Banking & Payments, Mobile Social Networking & Audience Measurement and Location, Touch, Gesture based applications, etc., developed by its R&D labs for Mobile and Wireless, 'mLabs' (http://www.impetus.com/mLabs).
Among Impetus' avant-garde offerings this year will be its Extended Mobility (eX-Mobility) solutions. eX-Mobility's frameworks enable faster Development, Porting and Testing of mobile applications across all technologies. It facilitates secured integration of a mobile application with an existing network infrastructure and data centers of enterprises and enables seamless data exchange, reducing application development time, costs and efforts.
Impetus mLabs has extensive experience across all the mobile platform technologies including Blackberry, Windows Mobile, Symbian, iPhone, Android, Web OS, J2ME and BREW. The group comprises architects and technology experts who specialize in mobile devices, application development, porting, testing and certification.
Impetus' CTO, Pankaj Mittal, said, "The Mobile World Congress gives an excellent opportunity to showcase our cutting-edge work in the mobile domain, and we are happy to be associated with this event third year in a row, and will demonstrate our in-depth mobile and wireless domain expertise and services."
The Mobile World Congress is the world's largest exhibition for the mobile industry with more than 1,300 exhibitors and over 47,000 visitors.
About Impetus
Impetus Technologies provides software product design, R&D and related services to leading global software product companies. Impetus works on cutting-edge technologies to develop a variety of next-generation products for a range of vertical domains. From enterprise applications that optimize supply chains and credit portfolios, to solutions for the emerging rich media and digital content verticals; and from products for wireless networks and mobile handsets to software for network forensics and communication monitoring, Impetus' emphasis on continuous innovation adds significant value to its clients' technology initiatives.
For more information, visit www.impetus.com or write to [email protected]
Add to Digg Bookmark with del.icio.us Add to Newsvine
Contact:
Impetus Technologies, Inc.
Email Contact
www.impetus.com


Copyright @ Marketwire
Page: 1
Related Keywords:
Impetus Technologies, Applications,Productivity Applications,Networking,Internet,Business Issues,Software Development,Desktop Operating Systems,Other Applications,Windows,Engineering/Scientific Software,Internet Server Applications,Methodology,Design,Testing,Marketwire,IT (Information Technology),Enterprise Applications,Networking,Apple Computer,healthcare,Internet Technology,Social Networking,
---