Ignite Sales Introduces iPad, Smartphone and Kiosk Support for Anywhere, Anytime Personalized Bank Shopping Experience
Banks Can Easily and Automatically Bundle, Upsell and Cross Sell Products
(November 07, 2011)

DALLAS, TX -- (Marketwire) -- 11/07/11 -- Ignite Sales, the premier provider of intelligent, customer-centric bank product sales and marketing solutions, today introduced Ignite Recommendation Guides 5.0, enabling banks to create a multi-channel personalized banking experience anywhere, at any time, on any device. The Recommendation Guides are now available on mobile devices such as iPads, smartphones and kiosks giving banks the ability to easily and cost effectively reach their customers to upsell and cross-sell products while increasing customer satisfaction.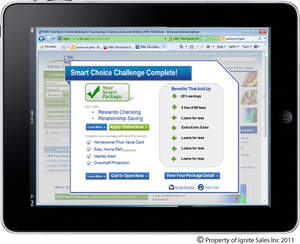 The Ignite Sales Product Recommendation Guide solution matches in real-time the most relevant bank product set based on a customer's specific needs. It is an automated process that eliminates the complexity of choosing the right bank product and guides customers, via a short interactive questionnaire, to a personalized recommendation of the best product bundles for their particular needs. It brings a personalized shopping experience for customers that is highly relevant, trustworthy and that adapts to changing customer preferences. Branch networks can now provide a consistent customer experience with the right product bundle for customers every time.
"Retail banks have never had a true customer-centric sales model. Most banks offer on average over 100 financial products and services which are generally complex to sell. As a result, frontline employees can only master between six to eight products and customers have trouble determining which products are relevant to their needs," said Mitchell Orlowsky, president and CEO at Ignite Sales. "Because of product complexity, product management also has difficulty establishing bundling strategies and identifying product gaps based on true interactive data. Ignite Sales solves these problems using predictive analytics to create an automated customized sales guide, as well as provide in-depth customer insight that will help banks sell more product while increasing their customer satisfaction. While there is much talk about what banks will be doing in the future for customer acquisition and retention, our bank customers are doing this today."
With this new release, Banks can use the Recommendation Guide solution on any channel of their choice:
Bank's website, transforming from brochure-ware into a revenue generation center
Bank's branch/tablet/kiosk, as a relationship management tool, arming their sales team with the tools necessary to offer a high-touch, customer-centric sales experience to build long lasting relationships
Bank's call center or from any mobile device such as an iPad, iPhone or BlackBerry
Ignite's patented process profiles and targets customers for product matching, bringing unprecedented business intelligence and predictive analytics to the sales process. It combines extensive banking customer knowledge data repository, patented rules, decision engine and analytical reporting to automatically recommend product bundles as well as provide in depth insight into customer behavior.
About Ignite Sales
Ignite Sales delivers customer-centric sales and marketing solutions to drive revenue opportunities for the banking industry. Using patented predictive analytics based on years of scientific behavioral data, Ignite Sales fundamentally changes the way banks sell the optimal products across all of their sales channels, improve customer loyalty and drive competitive advantage. Ignites customers include many of the leading U.S. retail banking institutions such as Citigroup, Sovereign Bancorp, Fifth Third Bancorp and Wells Fargo & Co. For more information, go to www.ignitesales.com
All logos, company and product names may be trademarks or registered trademarks of their respective
Image Available: http://www2.marketwire.com/mw/frame_mw?attachid=1790245

Add to Digg Bookmark with del.icio.us Add to Newsvine
Dana Harris
Red Javelin Communications
(978) 440-8392
Email Contact


Copyright @ Marketwire
Page: 1
Related Keywords:
bank product marketing, bank sales, peronalized banking , Communications, Digital Audio, Smart Phone, iPods, iphone, iPad, Sales, Marketing, Sales & Marketing, Business Issues, IT Management, Management, Sales, CEO/CFO, Sales, Business, Marketing, PDA/Smartphone, USA, Marketwire, , Apple Computer, Financial, Business,
---