Iconosys Launches Feature-Rich SMS Replier Pro(TM) to Solve Texting While Driving
Revolutionary App Solves the Safety Problem of Texting While Driving
(May 25, 2010)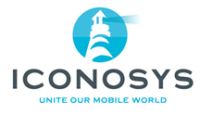 ORANGE COUNTY, CA -- (Marketwire) -- 05/25/10 -- Iconosys, Inc., a leader in the development of innovative mobile and stationary telecommunications applications and technologies, announced today the introduction of SMS Replier Pro™ for smartphones featuring the company's proprietary DriveReply™ technology. SMS Replier™ is a responsible solution to the deadly texting-while-driving social epidemic.
SMS Replier Pro™ works by enhancing the existing and exponentially growing global SMS network, by joining it with new services that are now available on the most popular smartphone platforms; including real time traffic, mapping and GPS. Users can download SMS Replier Pro™ to their smartphone via the company's website at www.smsreplier.com or by visiting the Android marketplace or the marketplace for their smartphone platform. SMS Replier Pro™ is available today for Android phones (HTC Eris, Cliq, Droid Incredible, Motorola Droid, Devour, Samsung M900, G1, Hero, Desire, T-mobile myTouch 3G, Sprint Samsung Moment, Zepplin, and the MB 300), and versions of the same app for Windows Mobile and BlackBerry are also scheduled for release this week. An iPhone-compatible version is scheduled for release shortly (e.g. in mid-Summer). Users can pre-register for their iPhone and Palm webOS platforms at www.smsreplier.com.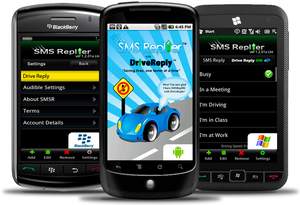 When enabled, the SMS Replier Pro™ with DriveReply™ will automatically send a response to inbound calls and text messages independently. SMS Replier Pro™ contains numerous value-added and rich features, such as unlimited custom messages, editable pre-loaded default messages, noreply/blocklist, white list enhancements, spam and shortcode filtering, and even allows for unique differentiation between callers and texters.
Said Wayne Irving II, CEO of Iconosys and co-inventor of the SMS Replier™ application, "The SMS Replier™ is designed to enhance the mobile communication lifestyles of our users without the inconvenience and cost of competitor products, and allows drivers to safely take advantage of the latest Smartphone technology while remaining focused on driving."
Texting while driving (TWD) continues to be one of the most dangerous threats on our nation's freeways, yet at any given time, over 800,000 people are engaged in this practice. When on the road, the smart technology in SMS Replier™ triggers the automatic text message response whenever a call or text arrives; the default reply similar to "I'm Driving, I'll call or text you back as soon as I arrive at my destination."
"Our user base has asked for a solution, and we have listened and responded, by incorporating highly sought after and technologically advanced features in today's smartphones," said Irving.
While at school, students can focus on their studies, and not worry about missing a call or text -- with just one click, an auto-response can say, "I'm in class, I'll call/text you later." or "I'm doing homework, get back to you in a bit.... " SMS Replier Pro™ comes with up to 26 pre-set convenience messages with timers that are useful in a variety of situations, allowing users to choose between automatically select easy pre-loaded text message responses for calls and texts, or creating a virtually unlimited amount of totally customizable responses as well.
SMS Replier Pro™ is available for download for $9.95 and comes with free upgrades for 1 full year from the date of purchase.
For further information about Iconosys, Inc., the SMS Replier™ for Android or for interviews with Iconosys, Inc. CEO Wayne Irving II, please contact Adam Mazur at 212-843-8073 or [email protected]. Follow SMS Replier™ on twitter : @smsreplier
About Iconosys, Inc.
Iconosys, Inc. is developing a series of technologies designed to make mobile applications better, faster, easier, and ultimately safer to use. Iconosys' flagship product, SMS Replier™, is a revolutionary mobile phone application designed to address the problem of communicating safely while driving. Iconosys' CEO Wayne Irving, a pioneer in next-generation telecom concepts, has led the drive to take advantage of WiFi and other technologies to build lifesaving and life-enhancing products, and to create new and better tools for wireless platforms and operating systems. For more information on Iconosys, Inc., please visit: http://www.iconosys.com or http://www.smsreplier.com.
Image Available: http://www2.marketwire.com/mw/frame_mw?attachid=1260899

Add to Digg Bookmark with del.icio.us Add to Newsvine
Contact:
Rubenstein Public Relations
Adam Mazur
212-843-8073
Email Contact


Copyright @ Marketwire
Page: 1
Related Keywords:
Iconosys, Inc., Communications,WiFi,Digital Audio,Smart Phone,PDA,Home Networks,iPods,iphone,Applications,Computer Technology,Business Issues,Mobile Devices,Blackberry,Smartphone,Marketwire, Inc.,Apple Computer,Communications Technology,Internet Technology,Computer Science,Spam,Other,
---