'IceWEB: Nailing Unified Storage' With Clear Differentiation According to Industry Analyst Firm Taneja Group, Inc.
Experts Acclaim IceWEB's 'Enterprise-Grade Storage Subsystem' and 'Highly Polished Interface That Looks More Sophisticated Than a Lot of the Other Stuff That Has Been Coming to the Market'
(April 19, 2012)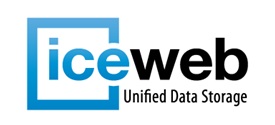 STERLING, VA -- (Marketwire) -- 04/19/12 -- IceWEB, Inc.™ (OTCBB: IWEB), www.IceWEB.com, a leading provider of Unified Data Storage appliances for cloud and virtual environments, announced today industry analyst firm Taneja Group, Inc. has published a report on IceWEB's differentiation and superiority in unified data storage amidst a crowded market of traditional storage vendors.
Authored by Jeff Boles, Taneja Group Sr. Analyst / Director - Validation Services, the report underscores the industry's movement toward unified storage systems, and portrays IceWEB as one standout vendor due in part to the company's enterprise grade storage systems and IceSTORM Operating System.
A full reproduction of the report follows:
IceWEB: Nailing Unified Storage
IceWEB is a unified storage player that has been in the market for a number of years, with a big footprint in federal government. But the market is awash in new primary storage offerings, many of them focused on unified storage. NetApp obviously held the reigns for a long time, but a few representative recent contenders include Scale Computing, Nexsan's E5000, Dell's Fluid File System offerings, companies like Nimbus, and more. This newly crowded market means that even established unified storage companies have to have concrete differentiators from their competitors, or they'll lose out to more attractive new offerings.
IceWEB seems to have some clear differentiators including an enterprise-grade storage subsystem and a user interface that is more user-friendly than many we've seen. These two differentiators should help IceWEB to go further than competitors in delivering both infrastructure and operational efficiency.
The underlying storage subsystem seems to be built for enterprise-class primary use, and is architected for better workload isolation and more granular performance tiering (including across SSD) than many products in the market.
A highly polished interface that looks more sophisticated than a lot of the other stuff that has been coming to the market. At first glance an interface may not seem like a real thrill. But a highly useable interface is conducive to better user adoption and comfort, which in turn makes a unified storage offering even more attractive and marketable.
It seems like IceWEB has something to show off, and I'm personally looking forward to putting their product under the magnifying glass to see if the efficiency factors really surface. Perhaps we'll see them in the Taneja Group Lab in the near future.
"Taneja Group's publication on IceWEB today places the latest building block in the industry's growing consensus of IceWEB's value and differentiation in unified data storage," said Steven Toole, IceWEB's CMO. "In the rapidly evolving information technology sector where yesterday's leaders can quickly fall from grace, it's independent industry experts such as Taneja Group who keenly spot the next rising stars on the horizon. Enterprise IT decision makers expecting more from storage vendors will look to this analyst expertise to guide their buying decisions."
To read the full article, visit http://tanejagroup.com/news/blog/iceweb-nailing-unified-storage.
About Jeff Boles
Sr. Analyst / Director - Validation Services
Jeff joins Taneja Group from a broad background of hands-on operational IT management and infrastructure engineering, bringing to the group over 20 years of deep experience within the trenches of practicing IT. Jeff's experience crosses the gamut of operational IT encompassing IT governance, operations management, project management, infrastructure architecture, SAN engineering, and process re-engineering in financial, healthcare, professional services, and government sectors. Following a position as a director of an infrastructure and application consulting practice at CIBER, Jeff most recently worked as an IT Manager with a special focus on storage management at the City of Mesa, near Phoenix, Arizona. Today, Jeff performs analyst work for the Taneja Group and coordinates the Technology Validation Service, designed to objectively evaluate storage solutions in the real world.
About Taneja Group, Inc.
Taneja Group's mission is to provide analysis and consulting for the storage industry, storage-related aspects of the server industry, and eDiscovery. For the storage industry we cover all aspects including hardware and software, and from components to complete systems. For the server industry we cover server blades, server virtualization and various technologies such as InfiniBand, iWARP and RDMA over IP that will potentially play a major role in the next generation data center. We also specialize in application appliances for databases and business intelligence and storage/networking technologies, such as Wide Area Data services, that automate remote offices of larger enterprises. For the eDiscovery industry we cover all aspects of the litigation workflow as well as related business processes including governance, compliance, records management, and data retention management.
About IceWEB, Inc.
Headquartered just outside of Washington, D.C., IceWEB manufactures award-winning, high performance unified data storage products with enterprise storage management capabilities at a fraction of the price of traditional providers. Through thin provisioning, target deduplication and inline compression, IceWEB's unified storage arrays enable standardization, consolidation and optimized storage utilization for virtual and cloud environments, saving up to 90% of storage costs, while reducing space, power and cooling requirements and simplifying storage management. For more information please call 800-465-4637 or visit www.iceweb.com.
This press release may contain forward-looking statements, which are made pursuant to the safe harbor provisions of the Private Securities Litigation Reform Act of 1995. In some cases you can identify those so-called "forward looking statements" by words such as "may," "will," "should," "expects," "plans," "targets," "believes," "anticipates," "estimates," "predicts," "potential," or "continue" or the negative of those words and other comparable words. These forward looking statements are subject to risks and uncertainties, product tests, commercialization risks, availability of financing and results of financing efforts that could cause actual results to differ materially from historical results or those anticipated. Further information regarding these and other risks is described from time to time in the Company's filings with the SEC, which are available on its website at: http://www.sec.gov. We assume no obligation to update or alter our forward-looking statements made in this release or in any periodic report filed by us under the Securities Exchange Act of 1934, as amended, or any other document, whether as a result of new information, future events or otherwise, except as otherwise required by applicable federal securities laws.
Contact:
IceWEB, Inc.
Investor Relations
571.287.2400
[email protected]
or
Stephen D. Axelrod, CFA
212.370.4500
[email protected]
Wolfe Axelrod Weinberger Associates, LLC.


Copyright @ Marketwire
Page: 1
Related Keywords:
Unified Data Storage, Server Consolidation, Cloud storage, Thin Provisioning, Data deduplication, Storage, Business Issues, Hardware, Cloud Computing, Services, Software, Misc, Compression, IT Management, Project Management, infrastructure, Cloud storage, Management, CMO, Business, OS (Operating System), Storage, Marketwire, Inc., , IT (Information Technology), Financial, Appliances, Computer Science, Business, Other,
---