IceWEB Positions Itself for Rapid Growth
(May 29, 2012)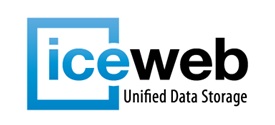 STERLING, VA -- (Marketwire) -- 05/29/12 -- On Friday May 25, the Board of Directors of IceWEB Storage Corporation (OTCBB: IWEB) solemnly announced the appointment of Hal Compton as IceWEB's Chairman of the Board and interim CEO, and IceWEB's CFO Mark Lucky as interim COO in the wake of the sudden passing of IceWEB's former CEO John Signorello. While the Board, IceWEB's Executive Team and employees mourn the loss of their visionary, coach and champion, they have committed themselves to carry John's charge forward and bring his dream of building a premier data storage company to fruition and drive shareholders value. The team that Mr. Signorello has assembled, along with their full commitment, will allow John's legacy to be realized in the months to follow. Mr. Compton has strongly supported John and IceWEB as the Lead Director on the Board since 2005, and brings his NASDAQ and NYSE experience as former CompUSA CEO and current Director of Maidenform Brands, Inc. to IceWEB's senior team.
IceWEB today released additional details supporting its irrefutable position of strength and rapid growth potential in the $100 billion data storage market. The Company has made significant advancements in key areas of the business over the past six months, including sales and marketing, hardware and software product development, customer support, strategic partnerships and finance. These advancements uniquely position IceWEB as a competitive threat to traditional vendor market share, and to yield unprecedented topline and bottom line financial growth in the near term.
The pillars of IceWEB's unstoppable market penetration -- in a market long overdue for liberation from a small group of over-dominant players -- include the following:
Product Development - IceWEB now offers a full range of unified data storage systems from the 4-terabyte IceWEB 2000 systems affordably priced under $7,000 for the 96,000 mid-market organizations; to its 1.8-petabyte IceWEB 7000, which has been recently deployed by enterprises scaling into the Global 50. IceWEB's products not only beat traditional storage vendors on performance, features and price, but are also in fact replacing traditional vendors in many cases due to IceWEB's lab-tested 71,000 IOPs, IceCAP SSD tiering, award-winning replication and countless other key factors. IceWEB's R&D efforts are now led by Mr. Gaurang Mehta, who was recently appointed CTO, and came from LeftHand Networks (acquired by HP for $360M), and Promark Technology Group (an IceWEB distribution partner).
Software Development - At the beginning of 2012, IceWEB announced that all IceWEB Unified Storage systems ship with IceWEB's own 128-bit IceSTORM proprietary Operating System, giving IceWEB additional competitive advantage, strategic flexibility and control, product differentiation, price flexibility, margin protection, and an annual maintenance recurring revenue stream. IceSTORM includes enterprise management capabilities that are superior to alternative products, and unlike traditional vendors, it comes standard on all IceWEB systems at no additional cost or per-terabyte licensing structures. IceSTORM was also developed with an API structure that opens IceWEB up to an entire market of potential OEM agreements, a number of which are in discussions at this time.
Marketing - In January 2012, IceWEB appointed 20 year technology marketing veteran Steven Toole as Chief Marketing Officer to rapidly brand IceWEB, drive immediate demand, and position IceWEB as a highly differentiated challenger solution against longstanding incumbents. Toole's longstanding history of driving rapid growth for emerging technology companies has led to multiple successful exits by Veritas Software, Symantec, Deltek, and most recently, Dell Computer with its acquisition of AppAssure following its 5x revenue growth during Toole's impactful two-year term there.
Sales and Distribution - IceWEB has received a surge in orders since the beginning of 2012, including a Global 50 electronics manufacturer, several federal, state and local government procurements; and a spike in mid-market commercial customers for IceWEB's multi-tiered, unified storage systems. IceWEB channel partner commitment has strengthened, with renewed interest from channel partners such as DataSpan, CloudFront Group, DST, Navigate Storage, AR Consultant Group, Promark Technology Solutions, and numerous others due to rising demand and bolstered pipelines for IceWEB's differentiated solutions. IceWEB's channel sales veteran Tim McNamee has spearheaded IceWEB's channel strategy and relationships, greatly reenergized this year due to IceWEB's product and marketing developments.
Service and Support - To deliver world class service and support for its expanding community of customers, IceWEB announced its "Ice/24" support infrastructure, delivering 24 hour support, an online self-service portal, next day onsite support, and advance shipment of replacement parts. IceWEB also announced its "IceTIME" guarantee, standing behind its claims as the easiest unified storage system to implement in the market today, with a five minute setup time guaranteed.
Technology Alliances - IceWEB recently drove two competitive wedges into its product differentiation, with the announcements of OCZ SSD drive and Microsoft Active Directory integration. Additional technology alliances are currently underway and anticipated to be announced throughout the year.
Financial - IceWEB reported its second consecutive quarter of double-digit revenue growth earlier this month, with a 49% topline increase quarter-over-quarter. The company is on a solid financial foundation to sustain its current operations and continued growth.
Third Party Industry Validation - in 2012 IceWEB has received numerous independent, non-paid expert validations from highly reputable sources including Storage Switzerland, CRN, Taneja Group, Storage Strategies Now, Data Center Journal, StorageReview.com, StorageNewsletter.com, TMCNet, IT Business Edge, and Enterprise Strategy Group, among others. In addition, IceWEB's products received Best in Class for Replication by DCIG, and most recently, Data Storage Hardware Product of the Year 2012 by the Data Centre Solutions Awards, as voted on by the storage user community at large.
IceWEB is in a strong position for growth in a large market which itself continues to grow at an astounding rate. IDC estimates that the world market for storage software alone was a record $14.16 billion in 2011, growing 11.6% per year. IceWEB's systems include both software and hardware, as a comprehensive solution. The world market for storage hardware, IDC also estimates, will exceed $106 billion in 2012 and hit $126 billion in 2015. Despite several storage company acquisitions by traditional vendors over the past 5 years totaling over $4 billion in combined valuation, IceWEB still delivers a differentiated product that's unmatched in the spectrum of storage systems.
In a market dominated by a small number of large traditional vendors -- against all of which IceWEB can effectively compete and win -- IceWEB bears tremendous potential in the years ahead. The facts outlined above serve to remind IceWEB followers, partners, customers, and competitors of the unprecedented strength behind IceWEB and its ability to execute on its strategy to become a dominant player in the world market for data storage systems.
About IceWEB, Inc.
Headquartered just outside of Washington, D.C., IceWEB manufactures award-winning, high performance unified data storage appliances with enterprise storage management capabilities at a fraction of the price of traditional providers. Through thin provisioning, target deduplication and inline compression, IceWEB's unified storage arrays enable standardization, consolidation and optimized storage utilization for virtual and cloud environments, saving up to 90% of storage costs, while reducing space, power and cooling requirements and simplifying storage management. For more information please call 800-465-4637 or visit www.iceweb.com.
This press release may contain forward-looking statements, which are made pursuant to the safe harbor provisions of the Private Securities Litigation Reform Act of 1995. In some cases you can identify those so-called "forward looking statements" by words such as "may," "will," "should," "expects," "plans," "targets," "believes," "anticipates," "estimates," "predicts," "potential," or "continue" or the negative of those words and other comparable words. These forward looking statements are subject to risks and uncertainties, product tests, commercialization risks, availability of financing and results of financing efforts that could cause actual results to differ materially from historical results or those anticipated. Further information regarding these and other risks is described from time to time in the Company's filings with the SEC, which are available on its website at: http://www.sec.gov. We assume no obligation to update or alter our forward-looking statements made in this release or in any periodic report filed by us under the Securities Exchange Act of 1934, as amended, or any other document, whether as a result of new information, future events or otherwise, except as otherwise required by applicable federal securities laws.
Contact:
IceWEB, Inc.
Investor Relations
571.287.2400
investor@iceweb.com
or
Mr. Steven M. Toole
IceWEB CMO
smtoole@iceweb.com


Copyright @ Marketwire
Page: 1
Related Keywords:
Unified Data Storage, Server Consolidation, Cloud storage, Thin Provisioning, Data duplication, Business, Marketing, Storage, Cloud, Marketwire, Inc., , HP, Financial, Appliances, Business, Other,
---