IceWEB Announces the Fastest and Easiest Integration With Microsoft Active Directory on All IceWEB Unified Storage Systems
First and Only Searchable and Dynamic Native Active Directory Integration on Unified Systems Streamlines Share Rights Management and Authentication
(May 22, 2012)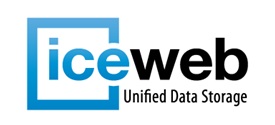 STERLING, VA -- (Marketwire) -- 05/22/12 -- IceWEB, Inc.™ (OTCBB: IWEB), www.IceWEB.com, a leading provider of Unified Data Storage appliances for cloud and virtual environments, announced today that its IceSTORM Operating System now natively integrates with Microsoft Active Directory, providing IT administrators with the fastest and easiest way to manage and authenticate user access rights for storage shares on IceWEB unified storage systems.
Active Directory is Microsoft's standard system for assigning user and group access to assets and devices on a company's network infrastructure. Devices running a Windows Operating System such as a SQL or Exchange server come standard with Microsoft Active Directory integration. Until now, unified storage devices have not been able to natively and dynamically search Active Directory, since unified devices typically ship with the manufacturer's own non-Windows operating system.
Through innovation in its software product development, IceWEB has created functionality that enables IceSTORM to natively port Microsoft Active Directory rights management policies, users, and groups directly into the IceSTORM Operating System, saving IT administrators time without having to manually assign users and groups with rights to write, access, and/or change objects in a shared directory on IceWEB's unified storage systems.
"Virtualized environments and cloud deployments add a layer of management complexity to an overburdened IT administrator in organizations, particularly in the mid-market," said Amita Potnis, Senior Research Analyst within IDC's Storage Systems program. "IceWEB's approach was to simplify user and group access management by integrating Active Directory in its IceSTORM Operating System, thus reducing the burden of an IT organization that is juggling multiple disparate management protocols."
"Part of IceWEB's commitment to providing the absolute best unified storage system available, is identifying and removing any workflow speed bumps that cause friction in managing the ever-growing storage that IT admins must face every day," said Gaurang Mehta, IceWEB's CTO. "Natively integrating with Microsoft Active Directory has been one of those speedbumps left unaddressed by even the largest vendors of unified storage systems. We're happy to be the first vendor to simplify and expedite unified storage management yet again with the innovation announced today."
About IceWEB, Inc.
Headquartered just outside of Washington, D.C., IceWEB manufactures award-winning, high performance unified data storage products with enterprise storage management capabilities at a fraction of the price of traditional providers. Through thin provisioning, target deduplication and inline compression, IceWEB's unified storage arrays enable standardization, consolidation and optimized storage utilization for virtual and cloud environments, saving up to 90% of storage costs, while reducing space, power and cooling requirements and simplifying storage management. For more information please call 800-465-4637 or visit www.iceweb.com.
This press release may contain forward-looking statements, which are made pursuant to the safe harbor provisions of the Private Securities Litigation Reform Act of 1995. In some cases you can identify those so-called "forward looking statements" by words such as "may," "will," "should," "expects," "plans," "targets," "believes," "anticipates," "estimates," "predicts," "potential," or "continue" or the negative of those words and other comparable words. These forward looking statements are subject to risks and uncertainties, product tests, commercialization risks, availability of financing and results of financing efforts that could cause actual results to differ materially from historical results or those anticipated. Further information regarding these and other risks is described from time to time in the Company's filings with the SEC, which are available on its website at: http://www.sec.gov. We assume no obligation to update or alter our forward-looking statements made in this release or in any periodic report filed by us under the Securities Exchange Act of 1934, as amended, or any other document, whether as a result of new information, future events or otherwise, except as otherwise required by applicable federal securities laws.
Contact:
IceWEB, Inc.
Investor Relations
800-465-4637
investor@iceweb.com


Copyright @ Marketwire
Page: 1
Related Keywords:
storage, cloud, microsoft active directory, unified storage, iceweb, iweb, virtualization, big data, OS (Operating System), Storage, Marketwire, , Appliances, Other,
---