IceWEB Announces Second Quarter 2012 Financial Results
Revenues Increased 49% Quarter Over Quarter, Posting Its Second Consecutive Quarter of Double Digit Revenue Growth
(May 15, 2012)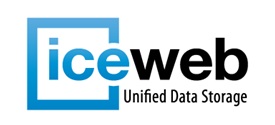 STERLING, VA -- (Marketwire) -- 05/15/12 -- IceWEB, Inc.™ (OTCBB: IWEB), www.IceWEB.com, a leading provider of Unified Data Storage appliances for cloud and virtual environments, announced today results for the fiscal 2012 second quarter period ended March 31, 2012.
Highlights and Recent Developments
IceWEB launched its enterprise-class product line, the IceWEB 7000 Unified Data Storage System -- a highly redundant and scalable storage system to support mission critical applications and unstructured data in the data center and in remote cloud storage environments.
IceWEB began shipping its IceSTORM Proprietary Operating System on all Unified Storage Appliances.
IceWEB hired Mr. Steven Toole as Chief Marketing Officer who has dramatically increased our sales channel partners.
IceWEB hired Mr. Gaurang Mehta as Chief Technology Officer who is now spearheading our entire staff of programmers that will continue developing our world class product line.
IceWEB expanded its marketing and sales channels, strengthening and growing its network of qualified reseller partners.
IceWEB received the "Best in Class" Replication Midrange Array Product of the Year award from DCIG.
IceWEB was chosen as a finalist in the Storage Hardware Product of the Year category in the 2012 Data Centre Solutions Award.
Financial Highlights
For the three months ended March 31, 2012 IceWEB reported revenues of $1,132,958 as compared to revenues of $758,898 for the three months ended December 31, 2011, an increase of $374,060 or approximately a gain of 49%.
Operating expenses were $1,019,168 in the three months ending March 31, 2012 as compared to $741,254 for the quarter ended December 31, 2011, an increase of just $277,914, or 37%. The increase is due in large part to building a sales and support organization to handle the increase in revenues over the next year and beyond. IceWEB has assembled their entire management team in order to handle the ongoing sales demand for their entire product line. In addition, approximately $200,000 of the net increase in operating expenses was non-cash related expenses.
John R. Signorello, Chairman and CEO, stated, "We have defined our second quarter of this year as a major inflection point for the business. During this time, we implemented four very key building blocks to grow and scale the business for the remainder of the current fiscal year and beyond. We now have world-class sales and marketing, technology development and support, enterprise-class unified storage systems, and our own feature-rich IceSTORM Proprietary Operating System shipping standard on every system. The investment into product and software development is starting to provide an ROI that is truly noteworthy. As we continue to expand our top line, our market share and brand awareness, we believe these investments into software development will play a key role in increasing IceWEB's competitive position in the marketplace. These relatively modest investments in Q2 drove immediate return, with a 49% increase in topline revenues over the prior quarter which we expect to continue. We are excited about early success indicators and remain optimistic about continued growth in successive quarters this fiscal year as we aggressively expand our digital footprint, even at the expense of near term margin to be in turn expanded over time. As a company, we believe the inherent value of our portfolio of current and future products, our competitiveness in the marketplace, and our ability to increase revenue and become cash flow positive will be directly related to the investment in our software development, our personnel upgrades and hard work by our direct and indirect sales channels. IceWEB has worked diligently since completing a small capital raise in late 2011, and will continue to work even harder to increase shareholder value in 2012 and beyond. Finally, I would like to thank our shareholders, our management team and our partners for their patience, dedication and hard work to make IceWEB a world-class organization."
About IceWEB, Inc.
Headquartered just outside of Washington, D.C., IceWEB manufactures award-winning, high performance unified data storage appliances with enterprise storage management capabilities at a fraction of the price of traditional providers. Through thin provisioning, target deduplication and inline compression, IceWEB's unified storage arrays enable standardization, consolidation and optimized storage utilization for virtual and cloud environments, saving up to 90% of storage costs, while reducing space, power and cooling requirements and simplifying storage management. For more information please call 800-465-4637 or visit www.iceweb.com.
This press release may contain forward-looking statements, which are made pursuant to the safe harbor provisions of the Private Securities Litigation Reform Act of 1995. In some cases you can identify those so-called "forward-looking statements" by words such as "may," "will," "should," "expects," "plans," "targets," "believes," "anticipates," "estimates," "predicts," "potential," or "continue" or the negative of those words and other comparable words. These forward-looking statements are subject to risks and uncertainties, product tests, commercialization risks, availability of financing and results of financing efforts that could cause actual results to differ materially from historical results or those anticipated. Further information regarding these and other risks is described from time to time in the Company's filings with the SEC, which are available on its website at: http://www.sec.gov. We assume no obligation to update or alter our forward-looking statements made in this release or in any periodic report filed by us under the Securities Exchange Act of 1934, as amended, or any other document, whether as a result of new information, future events or otherwise, except as otherwise required by applicable federal securities laws.
Contact:
IceWEB, Inc.
Investor Relations
571.287.2400
[email protected]

or

Stephen D. Axelrod, CFA
212.370.4500
[email protected]
Wolfe Axelrod Weinberger Associates, LLC


Copyright @ Marketwire
Page: 1
Related Keywords:
Unified Data Storage, Server Consolidation, Cloud storage, Thin Provisioning, Data deduplication, Business, Marketing, OS (Operating System), Storage, Cloud, Marketwire, , Financial, Appliances, Shipping, Computer Science, Business, Other,
---