IceWEB Announces Major Enhancements to IceSTORM Unified Storage Operating System
Additional Differentiators Increase Performance, Usability, Flexibility, Security and Data Integrity
(June 22, 2012)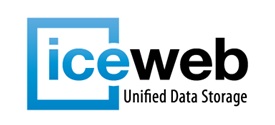 STERLING, VA -- (Marketwire) -- 06/22/12 -- IceWEB, Inc.™ (OTCBB: IWEB), www.IceWEB.com, a leading provider of Unified Data Storage appliances for cloud and virtual environments, today announced a major upgrade to its IceSTORM Operating System, with several new features and enhancements designed to provide greater value to mid-enterprise organizations. The release further strengthens IceWEB's competitive differentiation with the most robust and flexible operating system for unified storage systems available today.
New features and enhancements of IceSTORM include the following:
One-click configuration of Fibre Channel and Fibre Channel over Ethernet (FCoE) storage provisioning within the IceSTORM interface
Bolstered security with SSL communication between the IceSTORM Operating System and IceWEB Unified Storage Appliances
Increased data integrity and alerting with visual drive-fault notification and disk pool degradation repair directly within the IceSTORM interface
Enhanced speed and performance with IP multipathing capabilities
In addition, IceWEB made more than 50 minor enhancements throughout the operating system to increase performance, speed and usability. IceWEB customers will receive the new version of IceSTORM at no additional cost via IceWEB's Auto-Update capability, as part of IceWEB's strong commitment to providing world class customer service to its installed base.
"Even with an award-winning system such as IceSTORM, we're continuously identifying ways to take our system to the next level and maintain a strong competitive distance in the marketplace," said Steven Toole, Chief Marketing Officer at IceWEB. "These enhancements come from surveying our customers to help uncover additional ways for IceWEB to simplify the management of ever-growing data storage in today's mid-enterprise organizations."
About IceWEB, Inc.
Headquartered just outside of Washington, D.C., IceWEB manufactures award-winning, high performance unified data storage products with enterprise storage management capabilities at a fraction of the price of traditional providers. Through thin provisioning, target deduplication and inline compression, IceWEB's unified storage arrays enable standardization, consolidation and optimized storage utilization for virtual and cloud environments, saving up to 90% of storage costs, while reducing space, power and cooling requirements and simplifying storage management. For more information please call 800-465-4637 or visit www.iceweb.com.
This press release may contain forward-looking statements, which are made pursuant to the safe harbor provisions of the Private Securities Litigation Reform Act of 1995. In some cases you can identify those so-called "forward looking statements" by words such as "may," "will," "should," "expects," "plans," "targets," "believes," "anticipates," "estimates," "predicts," "potential," or "continue" or the negative of those words and other comparable words. These forward looking statements are subject to risks and uncertainties, product tests, commercialization risks, availability of financing and results of financing efforts that could cause actual results to differ materially from historical results or those anticipated. Further information regarding these and other risks is described from time to time in the Company's filings with the SEC, which are available on its website at: http://www.sec.gov. We assume no obligation to update or alter our forward-looking statements made in this release or in any periodic report filed by us under the Securities Exchange Act of 1934, as amended, or any other document, whether as a result of new information, future events or otherwise, except as otherwise required by applicable federal securities laws.
Contact:
IceWEB, Inc.
Investor Relations
800-465-4637
investor@iceweb.com


Copyright @ Marketwire
Page: 1
Related Keywords:
IceWEB, Inc., OS (Operating System), Storage, Marketwire, Inc., Appliances, Other,
---