IceWEB Announces IceKAST On Demand E-Learning Portal for Customer and Partner Education, Training and Self-Service Support
Initial Series Illustrates Ease-of-Use for Primary Unified Storage Management Capabilities With IceWEB's IceSTORM Operating System
(June 11, 2012)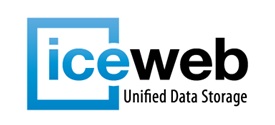 STERLING, VA -- (Marketwire) -- 06/11/12 -- IceWEB, Inc.™ (OTCBB: IWEB), www.IceWEB.com, a leading provider of Unified Data Storage appliances for cloud and virtual environments, announced today the launch of its IceKAST™ On Demand E-Learning Portal on www.iceweb.com/IceKAST. IceKAST On Demand provides IceWEB customers and partners with interactive, on-demand web demonstrations of IceWEB's IceSTORM Operating System for training, education and support purposes.
The initial series launched today includes several short videos exemplifying the robust unified storage management capabilities and ease-of-use customers experience with IceWEB's IceSTORM Operating System, which ships standard on all IceWEB unified storage systems at no additional cost. These topics include:
Creating iSCSI Initiator Target Volume and Groups with IceWEB's IceSTORM Unified Storage System
Mounting iSCSI Volume to Windows Server with IceWEB's IceSTORM Unified Storage System
Creating NFS and CIFS Shares with IceWEB's IceSTORM Unified Storage System
Creating Mirror and Raid5 Sets with IceWEB's IceSTORM Unified Storage System
Configuring IceWEB's Unified Data Storage Network Interface (Single, Aggregate & VLAN Alias)
IceKAST On Demand is also available for qualified IceWEB channel partners to easily use and deploy on the web properties of IceWEB's network of channel and OEM partners by simply using IceKAST On Demand component codes, available on the IceWEB Partner Portal at http://partner.iceweb.com.
"IceWEB's IceSTORM Operating System is feature-rich yet incredibly user-friendly and intuitive," said Charles Bass, VP of Strategic Alliances at Promark Technology Group. "IceKAST On Demand is a powerful resource for demonstrating the system's ease-of-use for end users and channel partners alike. We are pleased to be the first IceWEB partner to integrate the IceKAST On Demand assets into our own web property so that thousands of Promark channel partners can see firsthand why so many organizations are choosing IceWEB over traditional storage vendors."
To view IceKAST On Demand on Promark website, visit http://www.promarktech.com/iceweb_vendor_store.asp
"As we grow and scale the business, it's critical that we leverage available technology to expand our reach to our valued customers and partners," said Steven Toole, IceWEB's Chief Marketing Officer. "IceKAST On Demand gives customers and partners instant visibility into the robust and intuitive capabilities of our IceSTORM Operating system. Potential customers and partners can instantly see the many ways IceWEB stands apart from its competition, while current customers and partners can use IceKAST On Demand for training, education and support any time of day or night. Porting this content out to our channel partner web properties gives the IceWEB channel community additional marketing muscle in conveying the IceWEB value proposition to their customers as well."
About IceWEB, Inc.
Headquartered just outside of Washington, D.C., IceWEB manufactures award-winning, high performance unified data storage products with enterprise storage management capabilities at a fraction of the price of traditional providers. Through thin provisioning, target deduplication and inline compression, IceWEB's unified storage arrays enable standardization, consolidation and optimized storage utilization for virtual and cloud environments, saving up to 90% of storage costs, while reducing space, power and cooling requirements and simplifying storage management. For more information please call 800-465-4637 or visit www.iceweb.com.
This press release may contain forward-looking statements, which are made pursuant to the safe harbor provisions of the Private Securities Litigation Reform Act of 1995. In some cases you can identify those so-called "forward looking statements" by words such as "may," "will," "should," "expects," "plans," "targets," "believes," "anticipates," "estimates," "predicts," "potential," or "continue" or the negative of those words and other comparable words. These forward looking statements are subject to risks and uncertainties, product tests, commercialization risks, availability of financing and results of financing efforts that could cause actual results to differ materially from historical results or those anticipated. Further information regarding these and other risks is described from time to time in the Company's filings with the SEC, which are available on its website at: http://www.sec.gov. We assume no obligation to update or alter our forward-looking statements made in this release or in any periodic report filed by us under the Securities Exchange Act of 1934, as amended, or any other document, whether as a result of new information, future events or otherwise, except as otherwise required by applicable federal securities laws.
Contact:
IceWEB, Inc.
Investor Relations
800-465-4637
investor@iceweb.com


Copyright @ Marketwire
Page: 1
Related Keywords:
Unified Data Storage, Server Consolidation, Cloud storage, Thin Provisioning, Data deduplication, Business, Marketing, OS (Operating System), Storage, Cloud, Marketwire, Appliances, Internet Technology, Business, Other,
---