IZEA Joins With Lenovo in First Sponsored Photo Campaign on Staree
(June 13, 2012)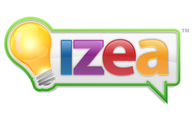 ORLANDO, FL -- (Marketwire) -- 06/13/12 -- IZEA, Inc. (OTCQB: IZEA) (PINKSHEETS: IZEA), the world leader in Social Media Sponsorship, today shares that Lenovo is the first brand to launch a sponsored photo campaign through its Staree platform.
Lenovo is a $US30-billion dollar personal technology company, serving customers in more than 160 countries. They are pioneers with a unique global footprint, expanding and introducing new products such as tablets, smart phones, smart TVs and of course PCs. This approach has made Lenovo the second largest PC company in the world.
"We have joined with IZEA on several social media sponsorship campaigns, using Sponsored Tweets and SocialSpark to connect with bloggers and tweeters. We are excited by the launch of Staree and the new opportunities to visually display our products through sponsored photos and videos," said Lewis Broadnax, executive director, Web Sales and Marketing, Lenovo. "In this latest campaign, we used Staree's celebrity network to highlight our M0520 Speakers. Through Staree we were able to bring the experience of using our speakers to celebrity followers and friends."
The Lenovo campaign combined multiple forms of advertising. A sponsored tweet was used to drive traffic to the Staree page, and the page contained a photo with the Lenovo speakers, surrounded by an oversized display-advertising unit for desktop visitors or mobile optimized advertisement for smart phones.
"Staree allows us to fully integrate a social media sponsorship across multiple mediums and platforms," said Ted Murphy, Founder and Chief Executive Officer, IZEA. "We believe we can provide maximum continuity and affinity for brands, which in turn helps create additional opportunities for our social media influencers."
Unveiled to the public earlier this month, Staree lets users post photos and videos from their mobile device or desktop, and share them with friends through Facebook and Twitter. Users earn money from display advertising targeted to their content and product placement in photos and videos.
Hundreds of celebrities have joined Staree and it continues to add to its roster every day. Richard Janes of Social Media Studio Fanology, which represents a large number of Hollywood celebrities, said, "For some of our clients this is a great way for them to get involved with products and share their experiences using them in a very organic way. The results and feedback so far have been great!"
Sponsored photos and videos, like those Lenovo and celebrity partners, are available to high-profile celebrities and stars. Soon, an automated platform will be introduced to open up opportunities for everyone using Staree. "Users will be able to earn money for taking a picture with their favorite beverage, car or other product," continued Ted. "Staree represents the continued evolution of social media sponsorships."
Individuals interested in applying for inclusion in Staree can visit www.staree.com.
About IZEA
IZEA, Inc. ("IZEA") is the world leader in social media sponsorship, operating multiple marketplaces including Staree, WeReward, SponsoredTweets and SocialSpark. IZEA connects advertisers with social media publishers, helping them monetize their social media presence. The company has completed over three million social media sponsorships for customers ranging from small local businesses to Fortune 50 organizations. For more information about IZEA, visit www.izea.com.
Safe Harbor Statement
This press release contains forward-looking statements within the meaning of Section 21E of the Securities Exchange Act of 1934. These forward-looking statements are based largely on IZEA's expectations and are subject to a number of risks and uncertainties, certain of which are beyond IZEA's control. Actual results could differ materially from these forward-looking statements as a result of, among other factors, competitive conditions in the social media sponsorship segment in which IZEA operates, failure to popularize one or more of the marketplace platforms of IZEA and general economic conditions that are less favorable than expected. In light of these risks and uncertainties, there can be no assurance that the forward-looking information contained in this respect will in fact occur. Please read the full statement and disclosures here: http://izea.com/safe-harbor-statement/.
Add to Digg Bookmark with del.icio.us Add to Newsvine
IZEA, Inc.
Jennifer P. Brown
Email Contact
248-376-8079


Copyright @ Marketwire
Page: 1
Related Keywords:
IZEA, Displays, Internet, Web, Social Media, Marketwire, Inc., Internet Technology, Biology, Other,
---