IZEA Announces Record First Quarter Revenue; Q1 Gross Profit Margin Increases to 60%
(May 16, 2012)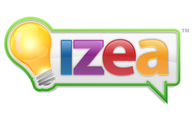 ORLANDO, FL -- (Marketwire) -- 05/16/12 -- IZEA, Inc. (OTCQB: IZEA) (PINKSHEETS: IZEA), the world leader in Social Media Sponsorship, today announced results for its first quarter 2012 performance. The first quarter of 2012 was IZEA's best revenue quarter in company history. Revenues for the three months ended March 31, 2012, were $1,645,367, an increase of $722,589, or 78.3%, compared to the same period in 2011.
"We credit our revenue growth to several factors," said Donna Mackenzie, Chief Financial Officer, IZEA. "A strong sales pipeline, the introduction of a localized sales strategy, and investments in new and existing social media sponsorship platforms."
Gross profit for the three months ended March 31, 2012 was $986,086, an increase of $504,843, or 104.9%, compared to the same period in 2011. The company's gross profit margin increased to 60% in Q1, up from 52% for the same period in 2011. This increase was fueled by the optimization of existing platforms and increased demand for managed services.
IZEA's operating expenses rose to $1.97 million, resulting in a net loss of $917,190, which was lower than expected. The increase was primarily attributable to additional payroll expenses, professional fees, costs of being a public company and investments in sales and marketing.
"I am very pleased with our Q1 results," said Ted Murphy, Founder and Chief Executive Officer, IZEA. "As our sales team grows it is building momentum, while our operations and engineering teams simultaneously optimize our service offerings to maximize margin. We are executing on our plan and the first quarter aligns nicely with our previous guidance for 2012."
Later this week, IZEA will formally unveil a new product deigned to monetize social photo and video sharing on Twitter and Facebook. The company will continue investing heavily in sales and marketing, with plans to hire an additional 8-10 domestic sales team members this year.
IZEA will host an investor update call on Thursday, May 17, at 8:00 a.m. ET. Interested investors and media can email [email protected] for details.
Prospective investors who would like to learn more about IZEA can visit http://izea.com/investors/.
About IZEA
IZEA, Inc. is the world leader in social media sponsorship, operating multiple marketplaces including, WeReward, Sponsored Tweets and SocialSpark. IZEA connects advertisers with social media influencers, helping them monetize their social media presence. The company has completed over three million social media sponsorships for customers ranging from small local businesses to Fortune 50 organizations. For more information about IZEA, visit www.izea.com.
Safe Harbor Statement
This press release contains forward-looking statements within the meaning of Section 21E of the Securities Exchange Act of 1934. These forward-looking statements are based largely on IZEA's expectations and are subject to a number of risks and uncertainties, certain of which are beyond IZEA's control. Actual results could differ materially from these forward-looking statements as a result of, among other factors, competitive conditions in the social media sponsorship segment in which IZEA operates, failure to popularize one or more of the marketplace platforms of IZEA and general economic conditions that are less favorable than expected. In light of these risks and uncertainties, there can be no assurance that the forward-looking information contained in this respect will in fact occur. Please read the full statement and disclosures here: http://izea.com/safe-harbor-statement
Add to Digg Bookmark with del.icio.us Add to Newsvine
Media Contact:
Jennifer P. Brown
248-376-8079
Email Contact


Copyright @ Marketwire
Page: 1
Related Keywords:
IZEA, Marketwire, Inc., , Financial, Email, Other,
---