ITpreneurs Announces the Next Evolution in ITIL Training
ITIL v3 Courses Updated to ITIL 2011
(December 01, 2011)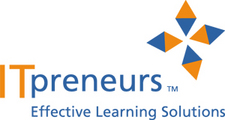 ROTTERDAM, NETHERLANDS -- (Marketwire) -- 12/01/11 -- ITpreneurs is implementing the next phase in the ITIL training evolution, announcing that ITIL v3 courses are being updated to ITIL 2011. The ITIL 2011 update will allow ITpreneurs' global strategic partners to access the most current and relevant ITIL materials for IT professional training.
ITIL 2011 is not a new version of ITIL, but a major upgrade of the existing ITIL v3 material. While the basic ITIL training framework remains the same, enhancements will ensure clear and concise concepts, resolve inconsistencies in text and diagrams, address suggestions from trainers for simplicity and improve publication materials.
"It is our priority to continue creating the best and most up-to-date training materials," said Sukhbir Jasuja, CEO, ITpreneurs. "With these updates, our partners now have immediate access to the highest quality ITIL competence training, eliminating the time and expense of them developing it for their clients."
The official ITIL v3 publications were updated to the ITIL 2011 edition with feedback from ITIL users, professionals in the training community and industry experts. These updates impact IT professionals looking to get trained in ITIL fundamentals, as well as advanced ITIL users looking for Intermediate or Expert certification.
ITpreneurs has already released a number of courses in its ITIL portfolio with the 2011 updates: ITIL Foundation, Operational Support and Analysis (OSA) module of the Service Capability stream and Service Operation (SO) of the Service Lifecycle stream. Additionally, the First Aid Kit and Quick Reference Card have been updated to reflect the ITIL 2011 update. Nine additional courses, the balance of the ITIL portfolio, will be updated in English by the end of December. To accommodate the global audience, portions of the ITIL portfolio are available in 11 languages, and will also incorporate the ITIL 2011 update.
For more information on ITIL 2011 and to register for upcoming courses, please visit this page.
About ITpreneurs
ITpreneurs offers innovative competence development programs for IT best practices to support the educational needs of IT professionals. With expertise in key domains including Cloud Computing, ITSM, IT Governance, Information Security, Process Improvement and Project Management, ITpreneurs provides guidance on disparate frameworks and integrated solutions. Learn more about us at www.ITpreneurs.com.
Add to Digg Bookmark with del.icio.us Add to Newsvine
Copyright @ Marketwire
Page: 1
Related Keywords:
ITIL v3, ITIL 2011, ITpreneurs, ITIL , Marketwire, , Biology,
---