ITRS and Netuitive Deliver Real-Time Composite IT Health Score -- an Industry First
Technology Specialists Join Forces to Deliver Predictive IT Analytics to Financial Institutions
(November 14, 2011)

NEW YORK, NY and RESTON, VA -- (Marketwire) -- 11/14/11 -- Netuitive, Inc., a leading provider of predictive analytics software for IT, and ITRS Group, a leader in real-time proactive application performance monitoring (APM) solutions to the financial community, today announced a strategic technology partnership.
Netuitive and ITRS will collaborate to deliver the industry's first "Composite IT Health Score" (CHS) for financial institutions. Unlike domain-specific heath scores and indices, CHS is the output of comprehensive analysis and correlation of critical IT data, as well as transaction metrics from existing infrastructure and APM toolsets across an organization's IT silos, platforms and vendors.
Powered by its patented Behavior Learning Engine™, Netuitive is an open, predictive analytics platform that sits on top of an organization's monitoring tools and infrastructure. It leverages advanced statistical analysis and algorithms that automatically detect anomalies, forecasting problems before they cascade and cause outages.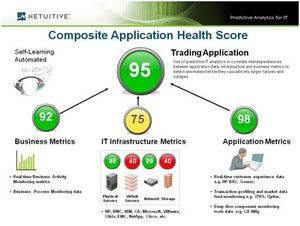 For the first time, large financial institutions can have a complete view of the health of their critical applications based on correlation of real-time data such as infrastructure, application and network statistics, as well as business metrics, such as availability, latency and transaction rates.
Both companies already count 8 of the world's 10 largest banks as clients; by partnering with ITRS, Netuitive will offer the most complete set of interfaces to the services and data feeds on which the financial services IT organizations depend. Netuitive integrates its award-winning behavioral learning technology with application performance metrics gathered by the ITRS Geneos platform. The ITRS Geneos platform collects real-time metrics across an institution's complex trading infrastructure, providing information such as:
Relative latency of high-speed executable price feeds coming directly from exchanges through to the status of underlying valuation pricing and instrument reference data.
Critical insight into real-time transaction flows, incoming market data feeds and underlying technology transport middleware systems.
Real-time operational performance of proprietary market data systems and trading gateways.
Visibility of trading infrastructures by looking inside trading applications to determine that market data updates are occurring as expected.
Monitoring of a wide range of systems, including the industry-standard Thomson Elektron platform, hundreds of commercial and proprietary trading and financial messaging applications, log files, and numerous in-house applications.
"The combination of ITRS and Netuitive will provide clients with the most comprehensive and accurate real-time analytics platform available in the industry today," said Kevin Covington, CEO of ITRS Group. "CHS offers a powerful set of integrated monitoring tools based on advanced levels of predictive, self-learning technology. The joint installations are a natural extension of the capabilities of ITRS Geneos. Together, we will provide highly sophisticated real-time monitoring, as well as correlation of the operational behaviors and interdependencies of the systems and applications within an institution's entire technology stack."
"By combining ITRS Geneos access to financial applications with our ability to correlate complex real time IT and business metrics across silos and domains, we are delivering new levels of cross-platform insight and the ability to significantly reduce service disruptions," said Nicola Sanna, CEO, Netuitive. "This type of actionable intelligence provides an extra level of service assurance required for mission critical apps, particularly in banking and capital markets, to minimize operational risk, reduce failed customer interactions and protect revenue streams."
About ITRS Group
ITRS Group is the leading provider of risk mitigation solutions to global financial institutions. It leads the way in a new discipline which extends real-time monitoring into a comprehensive operational and service management solution. Providing innovative businesses with the visibility necessary to identify, analyze and mitigate risk, ITRS Group has been recognized through industry awards for its innovation and customer support. ITRS's products are specifically designed to reduce service disruption, improve IT efficiency, and ensure that critical operational processes are executed as planned, protecting against both business reputation and trading risks.
Established in 1997, ITRS has offices in London, New York, Hong Kong and Manila supporting clients worldwide including banks, brokers, exchanges, hedge funds and data vendors. ITRS has over 600 Geneos installations, implemented in 60 leading financial institutions, including eight of the top ten global investment banks. ITRS was acquired by The Carlyle Group on the 26th September 2011. For more information visit www.itrsgroup.com or email [email protected], www.carlyle.com.
Facebook: http://www.facebook.com/ITRSGroup
Twitter: http://twitter.com/#!/itrsgroup
LinkedIn: http://www.linkedin.com/groups?gid=3836021&mostPopular=&trk=tyah
About Netuitive
Netuitive provides predictive analytics software for IT. Netuitive replaces human guesswork with automated mathematics and analysis to forecast, identify and resolve IT performance issues before they impact quality of service. Hundreds of customers, including eight of the 10 largest banks, rely on Netuitive to proactively manage the performance and capacity of their IT infrastructures -- physical, virtual and cloud. Industry recognition includes the 2011 CODiE Award for "Best Systems Management Solution," the 2010 EMA Award for "Best Analytics," and "Best of VMworld" Awards in 2007, 2009 and 2011. For more information, visit www.netuitive.com.
LinkedIn: http://www.linkedin.com/groups?gid=2437754&trk=myg_ugrp_ovr
Twitter: https://twitter.com/#!/Netuitive
Image Available: http://www2.marketwire.com/mw/frame_mw?attachid=1798885

Add to Digg Bookmark with del.icio.us Add to Newsvine
CONTACT:
For Netuitive:
Carter Cromley
[email protected]
+1 (703) 464-1587

For ITRS:
Alla Lapidus
[email protected]
+44 (0) 20 7250 4770


Copyright @ Marketwire
Page: 1
Related Keywords:
Netuitive, Hong Kong,Marketwire, Inc., ,Financial,Mathematics,Computer Science,Business,Email,
---