IT Security Exchange Board Offers Refuge for pcAnywhere Users
IT Administrators in Search of a Remote Administration Solution Are Invited to Ask Questions in Order to Assess Different Product Offerings
(February 27, 2012)

MIAMI, FL -- (Marketwire) -- 02/27/12 -- PJ Technologies, Inc., a leading provider of remote administration solutions for IT, has announced today the launch of a Security Exchange Board area where IT professionals can raise their security concerns and questions with regard to their remote administration & remote access implementation.
Symantec's pcAnywhere's recent source code theft has propelled the IT world into a whirlwind of security fear. Hacking has presented itself again with unabashed fear. pcAnywhere is a software tool that allows a user to control computers remotely. In 2006, source code to Symantec's products was obtained by a hacker, alias YamaTough, and published on Pirate Bay's website on February 6th, 2012.
This is a huge impact in the IT security world considering that Symantec is a leader in standalone products for online security, virus protection and client management tools. The theft of the source code to their products leaves the customers wary of cyber security. Latest news claims that pcAnywhere users are at an increased risk of cyber-attacks. This also includes users of various products in Symantec's Altiris family that are bundled with pcAnywhere. To add to the list are also the users of a remote access component of pcAnywhere called the pcAnywhere Thin Host bundled with several Symantec backup and security products. Symantec has advised its users to upgrade to their latest patch. However, since Symantec's source code has been compromised from 2006, the question is: How secure is their software, even with the latest patches?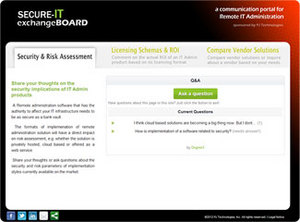 Pascal Bergeot, the C.E.O. of PJ Technologies, stated: "A remote administration solution that has the authority to affect the security integrity of a corporate infrastructure is a business-critical concern." With reference to the latest security patch he continues, "We hope that Symantec can put this issue behind them, however, we recognize the hesitation that the customer feels due to this uncovering."
In a corporate environment, it is commonplace to use a variety of products for remote administration and remote control. However, this amplifies the potential of a security breach. With the market overflowing with options, a customer presented with a secure and comprehensive singular product is surely welcome. A cohesive solution reduces both complexity and attack surface.
The Goverlan solution is a standalone product that has been offered and used since 1998 by organizations where security is of utmost importance, including defense/government agencies and investment banks. The Goverlan solution is comprised of the Goverlan Remote Administration software, Goverlan Remote Control software and WMIX Enterprise desktop management software. Goverlan is an all-in-one solution to perform Active Directory management, system administration, global management, diagnostics, as well as a full range of remote control, access, assistance and monitoring tasks.
Bergeot continued: "All of our product features have a unified low-level security layer in which every transaction is authenticated and authorized using native Windows® security. If either authentication or authorization fails, the transaction simply doesn't go through." Goverlan has a proven track record of stability, ease of use and unmatched functionality.
PJ Technologies has created a special Security Exchange Board area where pcAnywhere users and anyone else can ask questions about security and alternate solutions available on the market. Anyone with concerns regarding their current remote administration / control implementation is encouraged to visit this page and ask questions or provide comments.
The Security Exchange Board can be accessed at http://SecureIT.pjtec.com
About PJ Technologies, Inc.
PJ Technologies is a leading provider of remote administration software, remote control software and Windows Management Instrumentation software (WMI) Enterprise desktop management software.
PJ Technologies' Goverlan and WMIX are all-in-one enterprise solutions with an exceptional range of functionality and robust quality. PJ Technologies' solutions are entirely implemented and managed from within the client's infrastructure, thereby fostering security, integrity and control.
PJ Technologies' solutions are used by customers worldwide to lower the total cost of ownership of their IT infrastructure.
For more information, visit http://www.pjtec.com.
Image Available: http://www2.marketwire.com/mw/frame_mw?attachid=1898385

Add to Digg Bookmark with del.icio.us Add to Newsvine
Contact:
Vyoma Gandhi
PJ Technologies, Inc.
Email Contact


Copyright @ Marketwire
Page: 1
Related Keywords:
pcAnywhere, Remote administration software, remote control software, WMI, Active directory management, Marketwire, Inc., , IT (Information Technology), Security, Family,
---