ISee3D Announces Corrections to Interim Financial Statements
(June 01, 2012)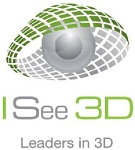 VANCOUVER, BRITISH COLUMBIA -- (Marketwire) -- 06/01/12 -- ISee3D Inc. (TSX VENTURE:ICT) (the "Company") wishes to announce that its interim financial statements and accompanying MD&A for the period ending March 31, 2012 filed on SEDAR on May 30, 2012 (the "Financial Statements") contain incorrect note disclosure regarding a proposed reverse takeover (the "RTO") involving Active Witness Technologies Corporation ("Active Witness").
While the Company has entered into an agreement with Active Witness, the proposed RTO is currently being reviewed by the TSX Venture Exchange and, as such, all terms of the transaction are subject to amendment and revision including termination of the RTO itself.
As such, investors and shareholders are cautioned that they should not rely on any of the note disclosure regarding the acquisition of Active Witness in the Financial Statements. A news release regarding the RTO will be issued in due course once all regulatory issues have been settled. The Company will also be refiling its interim financial statements and MD&A shortly with correct note disclosure.
About ISee3D
ISee3D Inc. (Vancouver BC, Canada) has developed proprietary solutions that markedly increase the performance of new and existing imaging systems by utilizing its unique single lens/camera 3D technology. ISee3D's solutions intrinsically maintain consistent calibration and alignment and directly correct the critical issues of mismatched focal lengths, lens focus and aberrations that are characteristic of current 3D imaging techniques. ISee3D's single lens technology produces perfectly matched images and ensures that the physical and ocular discomfort experienced by surgeons, histologists, pathologists etc., as a result of prolonged 3D image viewing using dual camera techniques, is no longer an issue.
This news release contains forward-looking statements, which relate to future events or future performance and reflect management's current expectations and assumptions. Such forward-looking statements reflect management's current beliefs and are based on assumptions made by and information currently available to the Company. Readers are cautioned that these forward looking statements are neither promises nor guarantees, and are subject to risks and uncertainties that may cause future results to differ materially from those expected. These forward-looking statements are made as of the date hereof and the Company does not assume any obligation to update or revise them to reflect new events or circumstances save as required under applicable securities legislation. This news release does not constitute an offer to sell securities and the Company is not soliciting an offer to buy securities in any jurisdiction in which such offer, solicitation or sale would be unlawful prior to registration or qualification under the securities laws of such jurisdiction.
Neither TSX Venture Exchange nor its Regulation Services Provider (as that term is defined in the policies of the TSX Venture Exchange) accepts responsibility for the adequacy or accuracy of this news release.
Contacts:
ISee3D Inc.
Terry Debono
Chairman and Chief Executive Officer
info@ISee3D.com
www.ISee3D.com


Copyright @ Marketwire
Page: 1
Related Keywords:
ISee3D Inc. , Marketwire, Inc., Financial,
---