IGEN Networks Corporation Files Non-Offering Prospectus
(June 14, 2012)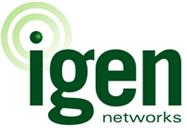 WASHINGTON, DISTRICT OF COLUMBIA -- (Marketwire) -- 06/14/12 -- IGEN Networks Corporation, ("IGEN" or "the Company") (OTCQB:IGEN), the industry leading technology accelerator, is pleased to announce that it has filed, and received receipt for, a preliminary non-offering prospectus with the British Columbia Securities Commission ("BCSC"). The Company anticipates applying to list its common shares on the Canadian National Stock Exchange ("CNSX"). Listing will be subject to the Company fulfilling all of the listing requirements of the CNSX. The Company is currently a fully reporting company in British Columbia and the U.S.
"This is a key milestone for the Company", said Neil Chan, IGEN's Chief Executive Officer. "IGEN has been focusing on steadily and relentlessly pursuing each stage of our growth strategy through to completion and building momentum for the Company. Our team is committed to producing real results for our shareholders and our upcoming national stock exchange listing will provide greater access for Canadian investors. Along with our OTCQB presence, we can soon offer opportunities for investors all across North America to participate in the growth of privately held technology companies through IGEN's active management and support."
The preliminary prospectus has not yet become final for the purpose of the sale of securities. This press release does not constitute an offer to sell or the solicitation of an offer to buy, nor shall there be any sale or any acceptance of an offer to buy these securities in any province or territory of Canada prior to the time a receipt for the final prospectus or other authorization is obtained from the securities commission or similar authority in such province of territory. Copies of the preliminary prospectus will be available on SEDAR at www.sedar.com.
About IGEN Networks Corporation
IGEN invests capital and management expertise in technology companies in complementary business areas. IGEN drives growth and optimizes profitability for technology companies that are providing products and services in industries that are experiencing large global growth: specialized wireless broadband infrastructure, cloud-based Software-as-a-Service (Saas), and Machine-to-Machine (M2M). With a focus on accelerating companies to the next level through a combination of capital and hands-on management, IGEN is not just an investor in companies: it is a builder.
IGEN is a fully reporting company in both Canada and the United States, where it is publicly traded on the OTC market and quoted on the OTCQB. For more information, visit www.igen-networks.com.
Forward Looking Statements
This news release may contain forward-looking statements within the meaning of the U.S. Private Securities Litigation Reform Act of 1995 and Canadian securities law. The terms and phrases "goal", "commitment", "guidance", "expects", "would", "will", "continuing", "drive", "believes", "indicate", "look forward", "grow", "outlook", "forecasts", and similar terms and phrases are intended to identify these forward-looking statements. Forward-looking statements are based on estimates and assumptions made by IGEN in light of its experience and its perception of historical trends, current conditions and expected future developments, as well as other factors that IGEN believes are appropriate in the circumstances, including but not limited to general economic conditions, IGEN's expectations regarding its business, strategy and prospects, and IGEN's confidence in the cash flow generation of its business. Many factors could cause IGEN's actual results, performance or achievements to differ materially from those expressed or implied by the forward-looking statements, including, without limitation: risks related to competition; IGEN's reliance on key personnel; IGEN's ability to maintain and enhance its brand; and difficulties in forecasting IGEN's financial results, particularly over longer periods given the rapid technological changes, competition and short product life cycles that characterize the mobile application industry. These risk factors and others relating to IGEN that may cause actual results to differ are set forth IGEN's periodic filings with the U.S. Securities and Exchange Commission (copies of which filings may be obtained at www.sedar.com or www.sec.gov). These factors should be considered carefully, and readers should not place undue reliance on IGEN's forward-looking statements. IGEN has no intention and undertakes no obligation to update or revise any forward-looking statements, whether as a result of new information, future events or otherwise, except as required by law.
Contacts:
For Investor Inquiries:
IGEN Networks Corporation
John Halme
604.687.5884
[email protected]
www.igen-networks.com

For Media Inquiries:
Magnolia Communications
Phoebe Yong
604.760.3085
[email protected]


Copyright @ Marketwire
Page: 1
Related Keywords:
IGEN Networks Corporation , Canada,USA,Marketwire,Financial,Business,Other,
---