IC Places Begins National Sales Campaign
(October 06, 2011)

HOLLYWOOD, CA -- (Marketwire) -- 10/06/11 -- IC Places, Inc. (OTCQB: ICPA) (owners of www.icPlaces.com) sales force has hit the streets this week in Sonoma County, California. The team is offering restaurants the ability to sign up for its "IC Places Restaurant Profile Pages" (RPP). RPPs give each restaurant the ability to obtain the highest quality first impression possible before people even walk in their doors.
According to recent U.S. Census there are 504,641 restaurants located within the 50 states. To grab a piece of their local markets restaurants need a way to stand out. IC Places RPPs delivers a vivid way for a restaurant to become a part of people's daily conversations when it comes to local dining.
Profiles Pages include...
An HD video interview with the spokesperson for the restaurant. The video brings the restaurant to life and is a powerful tool in telling their story.
Social Media feature which allows a user to share the restaurants with friends through any of a hundred different social media options with just a few clicks.
Menu downloads
Large scale photo gallery
About sections featuring the Bar and Special Events
Interactive large format map
Complete contact information including a link to the restaurant's websites (enhancing their site's SEO)
The ability to make a reservation right from the page.
"A great example of the IC Places 'RPP' in action is the casually elegant Stark's Steakhouse in Sonoma County," said Steve Samblis, IC Places Chairman. "Stark's serves classic fare with a modern approach. When you watch the video interview with Mark Stark and view their online information/profile, you really get a feel for what they are all about. Whenever I look at their RPP I personally want to return there for another fantastic dinner. People looking to visit Sonoma as well as locals that may not have already experienced Stark's can explore when using our site. The RPPs are a win for viewers to our sites and maybe even a bigger win for our restaurant clients. We have priced RPPs in a way that any restaurant, large or small, has the same opportunity, starting as low as $25.00 and ranging to $150.00 monthly. We estimate that RPP sales will be responsible for more than three quarters of our revenue in the next 12 months."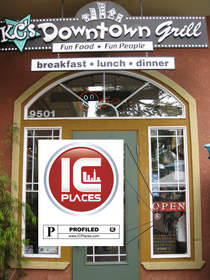 As of this writing, the following establishments have RPPs at IC Places in Sonoma County.
Costeaux French Bakery
http://www.icplaces.com/sonoma/listings/dining/costeaux-french-bakery-0
Ferrari-Carano Vineyards & Winery
http://www.icplaces.com/sonoma/listings/dining/ferrari-carano-vineyards-winery
John Ash & Co.
http://www.icplaces.com/sonoma/listings/dining/john-ash-co
KC'S DOWNTOWN GRILL
http://www.icplaces.com/sonoma/listings/dining/kcs-downtown-grill-0
La Rosa Tequileria & Grille
http://www.icplaces.com/sonoma/listings/dining/la-rosa-tequileria-grille
Mamma Pig's
http://www.icplaces.com/sonoma/listings/dining/mamma-pig's
Snowbunny Frozen Yogurt
http://www.icplaces.com/sonoma/listings/dining/snowbunny-frozen-yogurt
Stark's Steakhouse
http://www.icplaces.com/sonoma/listings/dining/starks-steakhouse
Willi's Seafood & Raw Bar
http://www.icplaces.com/sonoma/listings/dining/willis-seafood-raw-bar
Café Gratitude
http://www.icplaces.com/sonoma/listings/dining/caf%C3%A9%E2%80%99-gratitude
Oakville Grocery
http://www.icplaces.com/sonoma/listings/dining/oakville-grocery
Powell's Sweet Shoppe
http://www.icplaces.com/sonoma/listings/dining/powell's-sweet-shoppe
As part of the company's National Sales and Marketing Program, IC Places sales representatives will be offering RPPs in 350 "local" IC Places city websites across the United States over the next 24 months.
In Instant Restaurant Review News:
After a successful run of beta testing, in the next few weeks IC Places will offer to everyone with an iPhone its Instant Restaurant Review App.
The name "Instant Restaurant Review" says exactly what the app will do; it provides consumers with the ability to instantly share their experience with the world. One very powerful feature included in the app is proximity based controls that will only allow a person to submit a review if they are within 100 feet of the restaurant, thereby all-but eliminating phony reviews from non-patrons. The app will debut on the iPhone and then will be made available on the Android platform.
Restaurants with RPP are excited to see the new app delivered to the marketplace. In a recent press release restaurant owner and business consultant Gary Finnan share the following...
"We are delighted to have our restaurant featured at www.icPlaces.com/Sonoma. It gives us a chance to articulate the experience of dining with us in a completely new way," said Gary Finnan, owner of Mamma Pig BBQ in Windsor, CA. "I really like the notion of having people be able to 'see' our restaurant online before coming in. Then, their being able to review their dining experience with the soon-to-be-released Instant Restaurant Video Review iPhone application... this is going to be huge. At Mamma Pig, we are focused on quality and bringing the local Sonoma Essence to visitors, and we are trying to do something that really stands out as a memorable experience. We are excited that people can share that experience right after, or even during, their meal. I expect that it is going to revolutionize the way people look at restaurant reviews," said Finnan.
About IC Places:
IC Places owns and operates 350 city news and entertainment websites. Each IC Places city website offers a virtual keyhole view of life in each community. Every unique aspect of a city's social, business, and cultural life is available right at each city's IC Places homepage. IC Places provides the entire community a place to talk, do business and get connected. Businesses are given amazing tools to tell their stories in the best way possible and visitors get unfettered access to businesses, events and people in each city. To see one of the IC Places city sites in action, please visit http://www.ICplaces.com.com/orlando.
IC Places Safe Harbor Statement
This press release contains forward-looking statements within the meaning of Section 27A of the Securities Act of 1933 and Section 21E of the Securities Exchange Act of 1934. These forward-looking statements are based on the current plans and expectations of management and are subject to a number of uncertainties and risks that could significantly affect the company's current plans and expectations, as well as future results of operations and financial condition. A more extensive listing of risks and factors that may affect the company's business prospects and cause actual results to differ materially from those described in the forward-looking statements can be found in the reports and other documents filed by the company with the Securities and Exchange Commission. The company undertakes no obligation to publicly update or revise any forward-looking statements, whether as a result of new information, future events or otherwise.
Image Available: http://www2.marketwire.com/mw/frame_mw?attachid=1756100

Add to Digg Bookmark with del.icio.us Add to Newsvine
Media Contact:
IC Places, Inc.
Jeff Thompson
Chief Operations Strategist
800.406.1220 Option 4
Email Contact


Copyright @ Marketwire
Page: 1
Related Keywords:
Samblis, icPlaces, Movies, Trailers, Cooking, Advertising, Entertainment, restuarants, IRR, Instant, USA, Marketwire, Inc., Apple Computer, Financial, Restaurants, Business, Entertainment, Other,
---