IAOP Honors Outsourcing Hall of Fame Inductees and Employee Teams for Global Excellence in Outsourcing
(February 21, 2012)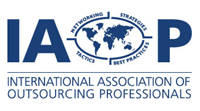 LAKE BUENA VISTA, FL -- (Marketwire) -- 02/21/12 -- The International Association of Outsourcing Professionals® (IAOP®) today inducted two new members into its Outsourcing Hall of Fame and presented employee teams from Procter & Gamble and Cisco with Global Excellence in Outsourcing (GEO) awards.
The professionals were recognized for their achievements by IAOP at its 2012 annual conference, The Outsourcing World Summit®, at a luncheon awards ceremony attended by hundreds of colleagues.
Inducted into the industry's prestigious Outsourcing Hall of Fame were: Wendell O. Jones, Ph.D., chief executive of the Society for Information Management for his work as an outsourcing advisor, and Thomas Meador, president and CEO of Michigan Avenue Real Estate Group, who spent a decade at American Express as an outsourcing customer.
Established by IAOP in 2006, The Hall of Fame continues to grow globally and now has 20-plus members in its ranks. The Hall of Fame is unique in that it recognizes individuals not only for their contributions to the management practice and industry of outsourcing, but just as importantly for their contributions to society at-large through outsourcing.
Recipients of the 2012 GEO awards are: P&G's Global Business Services' Strategic Alliances team for Best Practices, and Cisco's Global Finance Operations in the innovation category.
IAOP started the award program in 2011 to distinguish outsourcing professional teams at customer organizations who have advanced the field's best practices, created innovative solutions and delivered great results for their companies.
Hall of Fame
Jones was recognized as an outsourcing pioneer who has continuously contributed to the body of knowledge for more than 20 years. He led the evaluation and implementation of one of the earliest and largest outsourcing agreements, a $3 billion McDonnell Douglas contract with IBM, in 1991.
Jones has served as a Senior Vice President at National Association of Securities Dealers, with the Council on Competitiveness and the Task Force on U.S. Workers and Technology. He also worked at Digital Equipment Corporation and Compaq (now HP) as the vice president responsible for global delivery of outsourcing services. He has co-authored an IT outsourcing book and presented globally on the topic.
Meador was honored for his work in outsourcing at American Express in the mid-1990s. Meador led a major global outsourcing initiative to transfer global real estate operations to real estate service provider, the Trammell Crow Company, now part of CB Richard Ellis, while the company maintained strategic functions. He also led the reengineering of the procurement organization using some targeted outsourcing.
GEO Winners
P&G's Global Business Services' Strategic Alliances team was honored for creating a simplified, standardized, systemic approach for each stage in the outsourcing lifecycle, from strategy and sourcing to ongoing governance and renewing or ending relationships.
The team harnessed its accumulated knowledge and experience and combined it with the latest industry best practices to develop the process that is holistic, multi-functional and used across its largest and most critical relationships.
The major initiative aligned on common processes more than 300 governance resources spread about 16 large and complex relationships, and developed and deployed solutions to support them.
As a result, P&G has both improved the efficiency and effectiveness of its outsourcing relationships and reduced the risks associated with the use of third party providers to deliver services. The team also broke new grounds in several areas that lacked standard solutions, including joint business planning, performance visualization and innovation portfolio management.
Cisco was recognized for creating an innovative Entity Support Model (ESM) that shifts Cisco's approach to support of accounting, tax and statutory requirements from a country-based, local entity service model to a process-oriented, integrated global entity support model.
The model consists of an Accounting Services team focused on local business support, governance and compliance activities working in partnership with the Global Operations team responsible for operational delivery.
With this change, Cisco centralized accounting processes and is moving toward providing best-in-class front line business engagement and optimized operational delivery. The model also enables Cisco to enter new markets faster, less expensively and with lower business risk.
About IAOP
The International Association of Outsourcing Professionals® (IAOP®) is the global, standard-setting organization and advocate for the outsourcing profession. With more than 120,000 members and affiliates worldwide, IAOP helps companies increase their outsourcing success rate, improve their outsourcing ROI, and expand the opportunities for outsourcing across their businesses. To learn more, visit www.IAOP.org.
Image Available: http://www2.marketwire.com/mw/frame_mw?attachid=1894175
Image Available: http://www2.marketwire.com/mw/frame_mw?attachid=1894178

Add to Digg Bookmark with del.icio.us Add to Newsvine
Media Contact:
Kate Hammond
Manager, Media and Communications
+1.845.452.0600 ext. 122
Email Contact


Copyright @ Marketwire
Page: 1
Related Keywords:
outsourcing, IAOP, Hall of Fame, GEO, Procter & Gamble, Cisco, American Express, Outsourcing World Summit, Office Equipment,Finance,Business Issues,Management,Finance/Accounting,CEO/CFO,Finance/Accounting,USA,Marketwire, ,Business,
---