Hyper Marketing Incorporated (HMI) Alliance Agency MediaWhiz Selects Searchmetrics for Search Analytics
(February 15, 2012)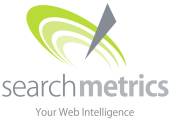 NEW YORK, NY -- (Marketwire) -- 02/15/12 -- Searchmetrics, the world leader in search and social analytics software, today announced that it has been selected by MediaWhiz as a premier search analytics partner. MediaWhiz is an alliance agency of Hyper Marketing Incorporated (HMI), a new entity formed through the merger of SolutionSet MediaWhiz Partnership, the second largest independent marketing services agency in North America, and D.L. Ryan Companies, the nation's largest independent digital, shopper and promotional marketing agency. MediaWhiz will leverage Searchmetrics for their clients' search engine optimization (SEO) programs to meet the growing demand for analytics, measurement and benchmarking of search engine optimization (SEO).
"With Searchmetrics we can merge search metrics with Web analytics and we have ability to benchmark SEO performance for our clients against their competitors quickly and accurately," said Bill Fish, Head of TLA at MediaWhiz. "These are powerful features that set Searchmetrics apart from other SEO software providers."
Searchmetrics' cloud-based solution automates many aspects of SEO management, such as monitoring and reporting and keyword analysis, for agencies and in-house search marketers. The Searchmetrics Suite also provides search performance data and analysis relating to multiple domains, including those of competitors.
"Media Whiz has a strong focus on business results, so we are aligned in our dedication to helping customers succeed," said Dr. Horst Joepen, CEO of Seachmetrics. "We are looking forward to working with their team as we help the partnership's clients achieve excellence in online marketing and search engine optimization."
About the SolutionSet MediaWhiz Partnership
The SolutionSet MediaWhiz Partnership is a leading integrated performance marketing agency network that works with marketers to deliver measurable, tangible and accountable business results. It provides today's leading businesses with a comprehensive offering built around relationship marketing, digital solutions, local marketing (Getmembers.com), data management and media services. The SolutionSet MediaWhiz Partnership works with leading brands, including adidas, AT&T, American Express, AMD, CCA Global, Cisco, Dell, eBay, National Consumer Panel, Nielsen and Office Depot.
About Searchmetrics
Searchmetrics is the global expert in search and social analytics software, empowering marketers to increase visibility and market share on the world's leading search engines. We create value by providing the best quality data on a global scale. Clients and partners worldwide rely on Searchmetrics to maximize return from search investments with actionable insights that help better manage, improve and scale search marketing campaigns.
Searchmetrics' robust search marketing tool, Searchmetrics Suite, is supported by a unique server infrastructure that offers monitoring of over 100 search engines in 36 countries worldwide. Searchmetrics Suite is also home to the Searchmetrics Essentials data modules, SEO+SEM and Social, encompassing the largest, fastest databases for search and social media available.
Headquartered in Berlin, with subsidiaries and offices in New York, London and Paris, the company delivers real web intelligence to a growing international customer base. You can follow Searchmetrics on Twitter @Searchmetrics or on Facebook at www.facebook.com/Searchmetrics. For more information, please visit: www.searchmetrics.com.
Media Contact:
Marina Greenwood
Activa PR for Searchmetrics
415.776.5350
Email Contact


Copyright @ Marketwire
Page: 1
Related Keywords:
SEO, SEM, search engine optimization, SEO tools, Searchmetrics, social media, SEO platforms, , Home,Internet,Digital Media Software,Web,Search,Social Media,Sales & Marketing,Internet,Business Issues,Social Media,Search,Search Engines,Search Engine Optimization,Management,CEO/CFO,Marketwire, ,Marketing Services,Internet Technology,Business,Other,
---