Hundreds More Companies Look to Taleo for Talent Intelligence
In Third Quarter of 2011, SMBs and Enterprises Adopt Full Array of Taleo's Talent Management Solutions
(November 01, 2011)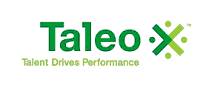 DUBLIN, CA -- (Marketwire) -- 11/01/11 -- The third quarter of 2011 saw hundreds more companies turn to Taleo Corporation (NASDAQ: TLEO), the global leader of SaaS-based Talent Management solutions, to make talent intelligence an integral part of their strategy to recruit, develop and retain the talent they need to drive long-term growth.
During the quarter, Taleo added 25 new enterprise class customers, a 47 percent increase compared to the same quarter from last year, and 245 new small and medium sized business (SMB) customers, which represents an increase of 24 percent year-to-year.
Taleo also set an all-time record for attendance at TaleoWorld, its annual user conference, and launched several new solutions and initiatives. These ranged from a new release of Taleo Enterprise to delivering new mobile and social networking capabilities that help managers, recruiters, employees and candidates engage one another using the devices and networks they rely on all day, every day.
Demand Grows for Learning, Performance and Compensation
Demand for Taleo's learning and real-time performance management solutions was strong during the quarter, with many customers deploying capabilities beyond recruiting. The company also saw robust demand for its compensation management solutions, which deliver real-time insights so managers can make better investments in critical talent.
Taleo Business Edition Continues to See Growth
Taleo's SMB offering, Taleo Business Edition, followed a solid second quarter with another robust showing in the third quarter. An additional 245 SMB customers adopted Taleo during the third quarter. Several adopted the complete Taleo's SMB Talent Management suite, including companies like Rational Energies, Inc. Others, such as AppDynamics, deployed Taleo Perform™, Taleo's performance management solution for SMBs. Still others, like Outreach Financial Services and Undertone Networks, selected Taleo Learn™ to help them develop and grow their talent.
"More and more Taleo customers are recognizing the larger impact on business results that comes from having a consolidated view of their talent across learning, performance management and recruiting," said Michael Gregoire, Chairman and CEO at Taleo. "We saw this phenomenon take shape 18 months ago when we began to sell our real-time performance management suite to the Fortune 100, and now we're seeing it with our Taleo Learn platform as well. And because our SaaS solutions are backed by the world's largest and most scalable Talent Management Cloud, more small- and mid-sized businesses trust Taleo to help them gain insights into their most critical asset -- their people."
About Taleo
Taleo (NASDAQ: TLEO) helps organizations improve the performance of their business by unlocking the power of their people. Taleo is the only company to provide industry leading solutions in every category of Talent Management. Through its cloud-based platform, Taleo optimizes recruiting, performance management, learning and compensation -- and integrates them all so managers have the insights they need to achieve talent intelligence. Customers also plug into Taleo's unique Talent Grid community to harness the power of proven best practices, millions of users, and Taleo-ready partner solutions. From small and medium sized businesses to large enterprises, more than 5,000 organizations rely on Taleo every day to pursue growth, innovation and customer success.
Forward-looking Statements
This release contains forward-looking statements, including statements regarding Taleo's future financial performance, market growth, the demand for and benefits from the use of Taleo's solutions, and general business conditions. Any forward-looking statements contained in this press release are based upon Taleo's historical performance and its current plans, estimates and expectations and are not a representation that such plans, estimates, or expectations will be achieved. These forward-looking statements represent Taleo's expectations as of the date of this press announcement. Subsequent events may cause these expectations to change, and Taleo disclaims any obligation to update the forward-looking statements in the future. These forward-looking statements are subject to known and unknown risks and uncertainties that may cause actual results to differ materially. Further information on potential factors that could affect actual results is included in Part II, Item 1A of Taleo's Quarterly Report on Form 10-Q, as filed with the SEC on August 8, 2011, and in other reports filed by Taleo with the SEC.
Contact:
Caroline Japic
Taleo
9254523833
Cjapic@taleo.com


Copyright @ Marketwire
Page: 1
Related Keywords:
talent management, talent intelligence, recruiting, performance management, learn, Networking, Management, CEO/CFO, Marketwire, Inc., , Financial, Business, Social Networking, Other,
---