Human Resource Executive(R) Names Top New HR Products for 2011
Award Winners to Be Recognized at 14th Annual HR Technology(R) Conference & Expo in Las Vegas
(October 03, 2011)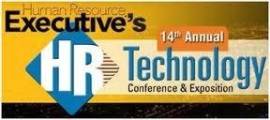 HORSHAM, PA -- (Marketwire) -- 10/03/11 -- The Top HR Products of 2011 Award winners were recognized at a special luncheon on Monday, Oct. 3, 2011, during the 14th Annual HR Technology® Conference & Exposition at the Mandalay Bay Hotel in Las Vegas. Judged by editors of Human Resource Executive® magazine, the top products are selected based on their innovation, user-friendliness and value to the HR profession.
The magazine's top choices for HR products will also be detailed in an upcoming issue of Human Resource Executive® magazine.
The winning products are:
RAVE, by BI Worldwide, is a mobile and web-based platform designed to facilitate communications, engagement, recognition, promotion, incentives, learning and brand management. Built for mobile devices first and web second, it is geared to serve and reach audiences on the go. It also has the capability to share recognitions and announcements with personal Facebook, Twitter and email accounts. Features include customizable mobile learning programs, a secure and private social-networking environment for connecting across an organization, promotions and incentive tools to help product and brand managers drive their messages to the front lines, and alerts and push messages designed to put corporate information into the hands of employees
Manager Ready, by Development Dimensions International (DDI), is DDI's electronic version of its "day-in-the-life" assessment experience that it has been offering at its facility in Bridgeville, Pa., for years. Long in the planning, the interactive and simulated three-and-a-half-hour experience now gives online participants the same opportunities to respond to realistic job challenges -- although only through open-ended emails as opposed to the live assessment's additional role-playing and telephone activities. Like the in-person experience, Manager Ready lets participants come face-to-face with real business problems in the form of videotaped messages and steadily streaming emails from supervisors, subordinates, colleagues and customers -- all of them needing to be prioritized and acted upon. DDI assessors follow up with reports, ratings and development plans for both the participant and his or her manager.
EASy Virtual Customer Simulation, by Employment Technology Corp., uses high-end graphics and a compelling -- yet easy-to-follow -- storyline to immerse applicants into a variety of venues within a hypothetical town, where they meet a cast of characters who help them navigate through the simulation. To complete it, applicants must visit the different venues and provide outstanding service to a variety of customers -- who have varying degrees of unpleasantness -- while mini-games carry the applicant from one venue to another. The assessment also measures applicants' abilities in three competencies: friendliness, conscientiousness and problem-solving abilities.
HireVue Enterprise, by HireVue, enables employers to create a holistic environment for conducting and managing the interview process. Companies can use the platform to deploy video interviews, interview guides, scientifically validated questions, collaborative evaluation and comparison tools, and more. From phone screens to video interviews, all types of workplace interactions can be captured and used to make more informed decisions. The product's authoring tool includes templates and frameworks that enable content to be organized and pushed out to the entire enterprise.
Keas Health Challenge, by Keas, is designed to get employees to take their well-being more seriously through quizzes, challenges and the promise of a cash prize. The product encourages players (employees) to engage in three simple, manageable health actions (such as getting eight hours of sleep each night for a week) and team up with other players into groups of six in order to amass the most points in a given companywide challenge. Players also can see a live news feed of updates from teammates and others in the organization from their own profile page, as well as comment and share advice on health challenges.
Kronos Workforce Mobile, by Kronos Inc., is a time-and-attendance and scheduling application that is designed to run on the native platform of whichever smartphone managers and employees typically use, whether it is an Android-based phone, an iPhone or a BlackBerry. The product lets managers schedule shifts and approve timecards and time-off requests via their phones, while employees can view their schedules, request time off, approve their schedules and punch in and out of work via their mobile devices.
Archived I-9 Comply - Audit & Conversion System, by nowHIRE.com, converts and audits legacy paper Form I-9s to electronic format and audits the documents using a 20-tier, 185-point system that highlights errors for easy review and follow-up. The auditing criteria were developed in collaboration with the law firm of Clark Hill, and nowHIRE claims its algorithms achieve 99.5 percent accuracy in detecting documentation deficiencies.
Saba Social Learning, by Saba, is Saba's cloud-computing-based offering, designed as a social and formal learning solution to enable organizations to spur growth and reduce training costs. The application is designed to give employees access to the learning they need and want via a portal that allows them to learn at their own pace, from onboarding to ongoing training. Features include the ability to connect with mentors through the application's profile-matching and expertise-identification functions, and peer networks that allow users to share both questions and answers to shared challenges.
Candidate Statements, by TotalRewards Software Inc., is a web-based software solution designed to help job candidates easily see a robust, personalized model of their compensation and benefits, both in print and online. This stand-alone application also offers reporting that can be targeted for individual recruiters, recruiting teams and an administrative overview. Recruiters can add company branding, including videos and written messages, as part of the information available to candidates. Customization and branding are also available.
The following two winning entries represent innovative ways to leverage the popularity of Facebook for recruiting:
BeKnown, by Monster Worldwide, is Monster's app for Facebook, creating a professional network within the popular website, allowing individuals to create career connections as well as access Monster career content. Organizations can create company pages to post jobs and create referral networks so recruiters can source and acquire talent.
BranchOut, by BranchOut, is a professional network on Facebook that leverages "friends" to find jobs, recruit talent and strengthen professional relationships. BranchOut offers SocialJob posts that are shared on Facebook and Twitter, and displays an individual's "inside connections" in the job post. It also offers CareerConnect for publishing job postings on a company's Facebook page.
"For the past 23 years, Human Resource Executive® has had the pleasure of recognizing the best, most innovative products in the HR industry. Our judges spent many hours poring over the entries, reviewing product demonstrations and conducting research to make their selections. The competition was fierce, and this year's group of winners represents what the judges consider to be the top solutions that are making HR professionals' lives easier," stated David Shadovitz, founding editor of Human Resource Executive® and co-chair of the conference.
More details about the HR Technology® Conference and Exposition can be found at http://www.HRTechnologyConference.com or call 1-800-727-1227.
About the HR Technology® Conference
Now in its 14th year, the HR Technology® Conference & Exposition is universally acknowledged as the industry's leading event. The complete agenda for this year's conference can be found at http://www.HRTechnologyConference.com and discussions are available at the conference's popular LinkedIn group. Follow the HR Technology® Conference & Exposition on Twitter at @HRTechConf and search hashtag #HRTechConf for further updates.
Add to Digg Bookmark with del.icio.us Add to Newsvine
Copyright @ Marketwire
Page: 1
Related Keywords:
HR, HR technology conference, Human Resource Executive, top products, awards, Displays, Internet, Digital Media Software, Communications, Digital Audio, Web, Graphics/Image Editing, Smart Phone, PDA, iPods, iphone, Search, Training, Research, Video, EMail, Social Media, Internet, Business Issues, Search, Law & Regulations, Career, Training and e-learning, Management, Human Resources, Human Resources, Broadcast, Post/Production, Management, Streaming, Management, Editors, Display, Business, Law, PDA/Smartphone, Authoring/Programming, Internet Media, Authoring, email, Marketwire, Inc., Apple Computer, Internet Technology, Computer Science, Business, Email, Other,
---