Hubspan's B2B Cloud Integration Solution Wins Best in Biz Awards 2011
WebSpan SaaS Integration Platform Honored as Enterprise Product of the Year
(November 21, 2011)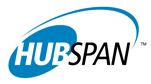 SEATTLE, WA -- (Marketwire) -- 11/21/11 -- Hubspan, the leading provider of B2B cloud integration solutions, today announced it was selected as a silver winner in the Enterprise Product of the Year category in the Best in Biz Awards, the only national business awards program judged by members of the press and industry analysts. Hubspan was selected from a pool of over 150 entries representing an array of public and private companies from a variety of industries, sectors and regions.
"At Hubspan, we've created a culture that is dedicated to delivering superior customer value through innovative technology. That focus is critical to our product success and is the reason we are being honored today," said Trisha Gross, president and CEO, Hubspan. "We will continue to remain focused on building market leading, best-in-class solutions and working with our channel partners to get that technology into the hands of customers."
From its inception in 2000, Hubspan has distinguished itself as an innovative and agile company, by offering on-demand integration solutions built on a net-native (cloud) platform delivered as a managed service. The WebSpan SaaS Integration Platform helps companies address their need for increased integration and automation of business processes with partners throughout the extended enterprise. Across its integration community of 20,000 global connections, focused on industries such as bio-technology, life sciences, accounts payable automation and more, Hubspan is seeing strong growth in customers, connections and transaction volume.
Winners of Best in Biz Awards 2011 were determined by scores from a panel of high-caliber judges from top-tier business and technology publications, as well as analyst firms, including: Channel Insider, Financial Times, Fox News and Wired. The 20 judges on this year's panel boast more than 470 years of combined experience and have written for a combined total of more than 180 consumer, business, financial, trade and technology publications nationwide.
For more information about Hubspan, visit www.hubspan.com or contact webspan@hubspan.com. For a full list of gold, silver and bronze winners in Best in Biz Awards 2011, visit: http://www.bestinbizawards.com/2011-winners.
About Hubspan
Hubspan is the leading global provider of business integration solutions, enabling partners and customers to extend ERP applications and automate B2B business processes throughout their communities. Real time integration of information and processes such as Punchout, for examp, are increasingly critical as organizations look to drive top line revenue and improve efficiencies. Hubspan offers the ability to achieve these goals rapidly and cost-effectively. The Hubspan B2B cloud platform powers integration for many of the world's leading industry networks, ERP applications, and financial services solutions including Ariba, Visa, NetSuite and many more. Thousands of businesses rely daily on WebSpan, the flagship Hubspan solution, for secure, scalable and flexible business integration. WebSpan is available as pre-packaged integration solutions as well as a comprehensive integration platform. For more information, go to www.hubspan.com or email webspan@hubspan.com.
About Best in Biz Awards
Best in Biz Awards recognizes top companies, teams, executives and products for their business success as judged by established members of the press and industry analysts. Best in Biz Awards honors are conferred in two programs covering the U.S. and EMEA (Europe, Middle East and Africa), respectively. For more information please visit http://www.bestinbizawards.com.
Add to Digg Bookmark with del.icio.us Add to Newsvine
Copyright @ Marketwire
Page: 1
Related Keywords:
Hubspan, cloud, cloud computing, Best in Biz Awards 2011, USA, Marketwire, , Financial, Gold, Silver, Business, Email, middle east,
---