Hubspan Named 2012 Great Supply Chain Partner by SupplyChainBrain
Leading Provider of Cloud-Based Business Integration Solutions Recognized for Dedication to Supply Chain Partners
(July 10, 2012)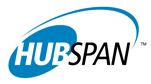 SEATTLE, WA -- (Marketwire) -- 07/10/12 -- Hubspan, the leading provider of cloud-based business integration solutions, today announced that it was selected as a 2012 Great Supply Chain Partner by SupplyChainBrain. This year's list is the culmination of a six-month online poll with supply chain industry experts and represents vendors and service providers whose solutions have made a significant impact with efficiency, customer service and overall supply chain performance. Hubspan was chosen among hundreds of industry trading partners in every aspect of supply chain management.
"The entire Hubspan team is dedicated to the success of our partners to ensure that they receive the highest level of support, reliability, and expertise possible," said Trisha Gross, CEO of Hubspan. "This accolade demonstrates our commitment to understanding our partners' business so we can provide them with solutions that focus on both cost savings and efficiency."
Hubspan was selected to the list due to its commitment to customers and recognition for consistently providing high quality problem solving and expert advice. Previous companies placed on this list include Hubspan's partners Ariba, NetSuite, and SciQuest, as well as other leading supply chain companies like UPS and FedEx.
For more information about Hubspan, visit www.hubspan.com or contact [email protected]. A full list of companies named to the 2012 Great Supply Chain Partners award will appear in the July/August issue of SupplyChainBrain magazine.
About Hubspan Inc.
Hubspan is the leading global provider of business integration solutions, enabling partners and customers to extend ERP applications and automate B2B business processes throughout their communities. Real time integration of information and processes are increasingly critical as organizations look to drive top line revenue and improve efficiencies. Hubspan offers the ability to achieve these goals rapidly and cost-effectively. The Hubspan B2B cloud platform powers integration for many of the world's leading industry networks, ERP applications, and financial services solutions including Ariba, Visa, NetSuite and many more. Thousands of businesses rely daily on WebSpan, the flagship Hubspan solution, for secure, scalable and flexible business integration. WebSpan is available as pre-packaged integration solutions as well as a comprehensive integration platform. For more information, go to www.hubspan.com or email [email protected].
About SupplyChainBrain
SupplyChainBrain, the world's most comprehensive supply chain management information resource, is accessed year round through a wide range of ever evolving multi-media formats by hundreds of thousands of senior level industry executives. In addition to addressing the fundamental principles of supply-chain management, SupplyChainBrain identifies emerging trends, technologies and best practices, forward thinking ideas and cutting-edge solutions -- and continues to write and report about these as they evolve and mature.
Copyright @ Marketwire
Page: 1
Related Keywords:
Hubspan, SupplyChainBrain, 2012 Great Supply Chain Partner, cloud-based business integration, Marketwire,Financial,Business,Email,Other,
---