Hubspan Launches New WebSpan Manager Platform Updates Including Advanced B2B Message Attachments
Both Launches Give Customers and Partners Increased Visibility of B2B Communities
(October 26, 2011)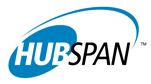 SEATTLE, WA -- (Marketwire) -- 10/26/11 -- Hubspan, the leading provider of B2B cloud integration solutions, today announced a new version of its WebSpan Manager platform and the release of Hubspan Zip & Send -- both aimed at helping customers and partners gain greater visibility of the integration process. WebSpan Manager 2.0 adds advanced search, multi-field tracking, and customized dashboards, while Hubspan Zip & Send simplifies the way companies manage, track, deliver and store attachments related to key business processes. With today's platform enhancements, Hubspan is the only cloud integration provider that offers seamless image and attachment management features as part of the B2B integration process.
Gartner, Inc. recently noted in their Market Trends: Multienterprise/B2B Infrastructure Market Worldwide report from February 2011, that managed file transfer and cloud services integration are among the fastest growing segments in the market. The B2B integration market has shown strong innovation and maturity. Between 2010 and 2015, it's expected that Global 2000 companies will at least double their multi-enterprise traffic, which will have significant impact on the amount of spending that goes towards B2B infrastructures.
Gaining visibility into business processes that extend beyond the firewall, impacting the top and bottom line can be challenging. The complexity and volume of transactions and data, as well as the number of participants involved in any given process can be difficult to manage. With WebSpan Manager version 2.0, filtering and identifying such data is now within reach to any size company.
WebSpan Manager 2.0 introduces the ability to customize views and conduct more granular searches, providing a powerful solution that delivers the information companies need to make better real-time decisions. Hubspan Zip & Send extends that flexibility, enabling customers and partners to automatically batch images and complex document attachments into a zip file that is securely delivered to a destination of choice. For example, with an electronic invoice, customers can now attach supporting images, terms and conditions, payment instructions or other documents. Hubspan Zip & Send preserves the zipped files association to the original electronic document, does not require any new hardware or software, and can use any zip standard a customer prefers to open and read the attachments.
"Integration is about connecting business processes, not just data. Our goal is to listen to our channel partners and customers and provide new capabilities that allow them to do just that," said Trisha Gross, president and chief executive officer for Hubspan. "For example, we have seen a growing need among customers and partners to send multiple attachments related to a business process along with an electronic message. Now, we are answering that need with the release of Hubspan Zip & Send."
Every customer and partner using Hubspan's industry-leading cloud integration platform becomes part of a robust community with access to WebSpan Manager and a choice of managed or self-service capabilities.
Key Features in WebSpan Manager 2.0 include:
Advanced Search: New search criteria fields and conditional filtering for searching within a dashboard or in more detailed reports, enabling specific levels of visibility.
Multi-field Tracking: User-defined fields within an electronic message to track and create specific reports and views.
Customized Dashboards: Customizable dashboard views by arranging fields, hiding or adding fields, and exporting the customized dashboard into a spreadsheet that can be saved or distributed.
WebSpan Manager 2.0 is included as a standard component with any Hubspan B2B integration solution, including partner solutions powered by Hubspan. Zip & Send can be purchased alone or added on to any current Hubspan integration solution, such as Hubspan SnapShot for Invoice, a recently launched product that creates secure PDF images from electronic invoices.
About Hubspan
Hubspan is the leading global provider of business integration solutions, enabling partners and customers to extend ERP applications and automate B2B business processes throughout their communities. Real time integration of information and processes such as Punchout, for example, are increasingly critical as organizations look to drive top line revenue and improve efficiencies. Hubspan offers the ability to achieve these goals rapidly and cost-effectively. The Hubspan B2B cloud platform powers integration for many of the world's leading industry networks, ERP applications, and financial services solutions including Ariba, Visa, NetSuite and many more. Thousands of businesses rely daily on WebSpan, the flagship Hubspan solution, for secure, scalable and flexible business integration. WebSpan is available as pre-packaged integration solutions as well as a comprehensive integration platform. For more information, go to www.hubspan.com or email webspan@hubspan.com.
*Source: Gartner, Market Trends: Multienterprise/B2B Infrastructure Market, Worldwide, 2010- 2015 1Q11 Update, February 10, 2011.
Add to Digg Bookmark with del.icio.us Add to Newsvine
Copyright @ Marketwire
Page: 1
Related Keywords:
Hubspan, cloud, cloud computing, invoicing, B2B integration, Marketwire, Inc., , Financial, Business, Email, Other,
---