Holiday Gifts for the Tech Savvy
(December 01, 2011)
MISSION, KS -- (Marketwire) -- 12/01/11 -- (Family Features) According to a survey conducted by Kelton Research on behalf of Intel Corporation, nearly 65 percent of Americans ages 18 to 44 would prefer to give up their favorite food for a year, rather than their favorite gadgets. This holiday season; consider giving a tech gift your loved one will never part with.
While tablets have been a hot commodity over the last year, many people find the touch-screen keyboards difficult to use. With that in mind, computer manufacturers have designed light-weight, high-functioning devices called Ultrabooks. This new gadget is generating a lot of attention in the tech world.
What Is an Ultrabook?
A new approach to the notebook computer, this tech innovation was designed to work as a combination of laptop and tablet computer. In addition, these devices incorporate the innovative 2nd Generation Intel Core chip, while remaining at a price level below most laptop computers.
For the person who wants to work and play on the go, without having to sacrifice productivity to an on-screen keyboard, Ultrabooks are the perfect combination of both. Here are some of the top Ultrabooks out this season: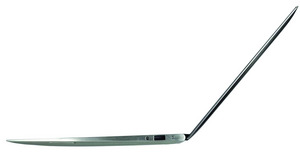 For the Road Warrior: Acer Aspire S3
Super thin with quick boot up time, this Ultrabook is ideal for working on the go.
Specs:
-- 13.3-inch HD LED screen
-- 13mm thick; 3 pounds
-- 320 GB hard disk drive or 240 GB SSD, 4 GB RAM
-- i3, i5 or i7 2nd Generation Intel Core processor, Bluetooth and Wi-Fi compatible
-- USB 2.0 ports
-- 1.3 megapixel webcam
Performance and Features:
-- Powers up in just 1.5 to 2 seconds from sleep mode, 6 seconds from deep sleep mode
-- Connects to the Internet in 2.5 seconds
Battery life:
-- 6 hours; deep sleep mode for up to 50 days with high-efficiency charging
For the College Co-Ed: Lenovo U300s
With RapidCharge battery technology and 3D surround sound speakers, this Ultrabook is dependable for working at the campus library or for streaming videos to share with friends.
Specs:
-- 13.3-inch screen
-- 0.6 inches thick; 2.9 pounds
-- Up to 256 GB solid state drive; up to 4 GB double data rate 3 memory
-- Up to 2nd Generation Intel Core i7 ULV processor
-- USB 3.0 port
-- 1.3 megapixel webcam
Performance and Features:
-- 10.5 second boot time
-- Glass touchpad and a breathable keyboard helps better cool the Ultrabook
-- HD graphics and stereo speakers with SRS Premium Surround Sound
-- Intel Wireless Display (WiDi) to wirelessly stream media to your TV
-- BIOS-embedded anti-theft protection
Battery life:
-- 8 hours; 30 days in standby; Lenovo RapidCharge powers to 50 percent in 30 minutes
For the Working Parent: Toshiba Portégé Z830
With a spill-resistant keyboard, this Ultrabook not only packs a lot of power, but it's great for parents with small children.
Specs:
-- 13.3-inch widescreen HD LED backlit display
-- .63 inches thick; 2.5 pounds
-- Up to 6 GB worth of memory, 128 GB solid state drive
-- Choose between Intel 2nd Generation Core processors i3, i5 or i7
-- 1.3 megapixel webcam
-- USB 3.0 port
Performance and Features:
-- Spill-resistant keyboard
Battery:
-- 8 hours
For more information about Ultrabooks and the 2nd Generation Intel chip, visit www.Intel.com/Ultrabook.
Stay Connected
To ensure your tech-savvy gift recipient is always connected, consider purchasing a Wi-Fi hotspot. Several wireless companies offer models at a variety of price points. Here are a few to consider:
T-Mobile 4G Mobile Hotspot ZTE MF61 -- Allows for Internet access when Wi-Fi can't be reached. The hotspot can also send and receive text messages.


Sprint MiFi 4082 3G or 4G Mobile Hotspot -- Comes with a reasonably priced unlimited data plan and can support up to five separate electronic devices.


Verizon Wireless 4G LTE Mobile Hotspot MiFi 4510L -- Award winning hotspot that can also support five devices. The battery can run for five hours without a charge.


When purchasing a hotspot, do some research to ensure the device you choose will work where you frequently travel by researching wireless provider coverage areas. Keep in mind plans have either limited or unlimited data. In addition, you will also pay a monthly fee similar to your mobile phone bill. Make sure to verify that all of your wireless devices are compatible before the transaction.
To read product reviews, visit http://reviews.cnet.com.
Tech Speak
When shopping for tech devices, it's important to have a basic understanding of the lingo.
Here are some definitions to get you started:
Gigabyte (GB) -- One gigabyte is the equivalent of 1,000,000,000 bytes of disk storage. The more gigabytes you have, the larger your storage capacity. You can also purchase gigabytes in external storage devices or external hard drives as well.
Solid State Drive (SSD) -- Data storage device using electronic disks and microchips.
Sound Retrieval System (SRS) -- Patented audio system that creates 3D sound with just two speakers.
Random-Access Memory (RAM) -- Another form of data storage, RAM allows for the computer to access stored information in any order.
Central Processing Unit (CPU) or Processor -- The part of the computer that actually interprets a computer program and operates based upon the program procedures. Known as the brain of the computer, the quality of a processor is important.
High-tech Accessories
The right accessories can help make your Ultrabook gift even more portable and versatile. http://reviews.cnet.com
Headphones Here are some options by price range:
$299 Quiet Comfort 15 by Bose -- Noise cancelling.
$190 Ultimate Ears 700 Noise-Isolating Earphones -- Includes a traveling case for quick storage.
$99 Bose IE2 Headphones -- Noise-cancelling in-ear buds.
$49 MEElectronics M11P+ Sound-Isolation In-Ear Headphones -- Also features a microphone.
Wireless mouse A wireless mouse can help increase productivity when working for extended periods of time.
$60 Microsoft Arc Touch -- Travel-friendly model featuring a touch-sensitive scrolling tab.
$40 Microsoft Wireless Mobile Mouse 4000 -- Works on most surfaces.
$19 Kensington Ci75m Wireless Notebook Mouse -- Built in USB receiver.
About Family Features Editorial Syndicate
This and other food and lifestyle content can be found at www.editors.familyfeatures.com. Family Features is a leading provider of free food and lifestyle content for use in print and online publications. Register with no obligation to access a variety of formatted and unformatted features, accompanying photos, and automatically updating Web content solutions.
Image Available: http://www2.marketwire.com/mw/frame_mw?attachid=1773154

Wendy MacDonald
wmacdonald@familyfeatures.com
1-888-824-3337 ext. 235
http://editors.familyfeatures.com


Copyright @ Marketwire
Page: 1
Related Keywords:
Intel, Computers/Peripherals, Displays, Family, Internet, Computer, Notebook/Laptop, WiFi/Wireless, Hard Drives, Keyboard, Tablets, USB, High Def (HD), Children, Parents, Family, Computers/Home Office, Communications, WiFi, Web, Tablets, Notebooks, Speakers, Hard Drives & Storage, Accessories, Graphics, Accessories, Children, Family, Research, Broadcast, Streaming, Computers/Peripherals, Internet/Web, Pro Audio, Display, Computer, Workstation/CPU, Input/Output, WiFi/Wireless, Notebook/Laptop/tablets, Internet, Web, Microphone, Speakers, Headphones/Earphones, Anim, Internet Media, Storage, Marketwire, , Television, Lifestyle, Communications Technology, Internet Technology, Internet, Family, Children, Parents, Other,
---