High Net-Worth Millennials Focused on Financial Success and Digital Lifestyles, Tuning Out Old Media; Luxury Institute Survey Shows Generation Y Spending Dozens of Hours Online Consuming and Creating Media on Multiple Devices
(April 05, 2011)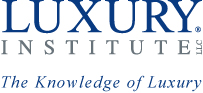 NEW YORK, NY -- (Marketwire) -- 04/05/11 -- A new survey by the independent and objective New York City-based Luxury Institute shows wealthy individuals 35 years of age and younger avidly consuming a wide range of new media on smartphones and tablet computers, and quickly losing the television, radio and print newspaper consumption habits of their parents. Seventy-percent own smartphones (40% iPhone, 24% BlackBerry) and 23% already have an Apple iPad.
More wealthy Generation Y consumers watch online video (78%) than those who regularly read a printed magazine (76%) or newspaper (68%). Their average of 100 minutes weekly spent watching online videos, combined with 227 minutes spent watching DVR playback, exceeds 289 average minutes watching live television. Internet radio is closing the gap, too, with average listening time of 75 minutes per week, compared to 150 minutes for terrestrial radio.
"This is clearly a tipping point, with the rising generation of wealthy consumers consuming media in vastly different ways than anyone did just a decade ago," says Milton Pedraza, CEO of the Luxury Institute. "Luxury firms face a challenge to adapt accordingly but also a tremendous opportunity to engage younger customers," adds Pedraza, noting the propensity of wealthy millennials to create content of their own in the form of blog and video posts, as well as Facebook and Twitter status updates.
For complete details on attitudes, demographics and device ownership of wealthy millennials, visit LuxuryInstitute.com.
About Luxury Institute (www.LuxuryInstitute.com)
The Luxury Institute is the objective and independent global voice of the high net-worth consumer. The Institute conducts extensive and actionable research with wealthy consumers about their behaviors and attitudes on customer experience best practices. In addition, we work closely with top-tier luxury brands to successfully transform their organizational cultures into more profitable customer-centric enterprises. Our Luxury CRM Culture consulting process leverages our fact-based research and enables luxury brands to dramatically Outbehave as well as Outperform their competition. The Luxury Institute also operates LuxuryBoard.com, a membership-based online research portal, and the Luxury CRM Association, a membership organization dedicated to building customer-centric luxury enterprises.
Add to Digg Bookmark with del.icio.us Add to Newsvine
For Further Information, Please Contact:
The Luxury Institute, LLC
Martin Swanson
Vice President
(914) 909-6350
[email protected]


Copyright @ Marketwire
Page: 1
Related Keywords:
luxury, luxury institute, survey, affluent consumer, research, Millennials, media, online, Internet, Parents, Communications, Digital Audio, Web, Smart Phone, iPods, iphone, iPad, Research, Video, Blogs/videoblogs, Social Media, Computer Technology, Internet, Marketwire, Apple Computer, Financial, Television, Internet Technology, Internet, Internet Radio, Parents,
---