High Corporate Cash Levels Aided by the Fed's Monetary Policies, According to Treasury Strategies
(March 08, 2012)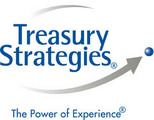 CHICAGO, IL -- (Marketwire) -- 03/08/12 -- Corporate cash in the U.S. remains at historic levels. Aided by several of the Federal Reserve's monetary policies, that trend continued its historical pattern in the first quarter of 2012, according to Treasury Strategies, the leading treasury and liquidity consulting firm. The Federal Reserve today reported corporate cash balances continued to grow last quarter to $2.23 trillion -- an $845 billion increase since Q1, 2009.
"The explosive growth in corporate cash can be attributed to monetary policies including Quantitative Easing, which pumped nearly $900 billion into the market, and Operation Twist, which lowered the cost of long-term borrowing thus encouraging companies to borrow," says Mike Gallanis, a partner of Treasury Strategies.
"In our quarterly conversations with hundreds of corporate treasurers, we hear about the key factors behind changes in cash levels," says Gallanis.
Three early-stage positive trends Gallanis notes:
1. Over the last year, the number of our clients using their cash for capital expenditures is solidly up.
2. In the same period, significantly more clients say they are using cash for acquisitions.
3. We see fewer companies with cash declining due to negative operating cash flow.
"The trends involving capital expenditures and acquisitions clearly demonstrate corporations are beginning to look beyond the recession. The decline in negative cash flow from operations shows many firms that were previously bleeding cash have repositioned themselves for profitable operations," says Chrystal Pozin, a managing director of Treasury Strategies.
Anthony J. Carfang, a partner of Treasury Strategies, offers a sobering view however. "After TARP, Stimulus, two rounds of QE, unlimited FDIC insurance, and Operation Twist, it is disconcerting to see the Fed now discussing 'monetary sterilization.' With so many band-aids, casts and braces in place, it's impossible to know the health of the patient. Overlay this concern with increased regulatory burdens from Basel III, the Volcker Rule and possible additional money fund regulations and we see added uncertainty."
Register for tomorrow's webinar, Treasury Strategies Quarterly Corporate Cash Briefing™, to learn more details behind what's driving corporate cash levels.
About Treasury Strategies, Inc.
Treasury Strategies, Inc. is the leading Treasury consulting firm working with corporations and financial services providers. Our experience and thought leadership in treasury management, working capital management, liquidity and payments, combined with our comprehensive view of the market, rewards you with a unique perspective, unparalleled insights and actionable solutions. Visit TreasuryStrategies.com for more information.
Contact:
Kyle O'Connor
+1 312.628.6927
Email Contact


Copyright @ Marketwire
Page: 1
Related Keywords:
the Fed, monetary policy, flow of funds, z1, coprorate cash, corp cash, hoarding, liquidity, USA, Marketwire, Inc., , Financial,
---