Helping You Access the German Market: The New Eurocode Online Service in English
Beuth Verlag in Berlin Has Launched an English Version of Its Eurocode Online Service That Is Specially Geared to Construction Companies Based Outside Germany; Besides Eurocodes the Service Also Provides Translations of the German National Annexes
(May 08, 2012)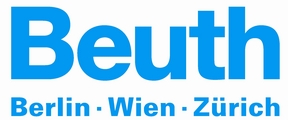 BERLIN -- (Marketwire) -- 05/08/12 -- At www.eurocode-online.eu users have instant access to the full texts of the Eurocodes including the National Annexes, thus keeping the way clear for companies from other countries who wish to build in Germany. The online service enables a smooth transition from the national design standards to their European successors.
Remember: On 1 July 2012 the Eurocodes will be officially implemented in the Federal Republic of Germany. This date marks the end of the transition period, and from this moment on application of the Eurocodes is mandatory.
"Eurocode online" offers subscribers the full texts of the basic standards on structural design in digital form as "packages" at a very competitive price.
The translated Eurocode packages contain standards, corrigenda and amendments and the associated National Annexes. The content of "Eurocode online" is regularly updated.
At the same time Beuth Verlag's English-language online service provides information on the history of the Eurocodes and future developments, and also gives advance notice of important conferences and seminars organized by the DIN Academy on the subject of Eurocodes.
The Eurocode packages at a glance:*
* Packages 1 to 9 each also contain Eurocode 0.
Eurocode 0: Basis
Eurocode 1: Actions
Eurocode 2: Concrete
Eurocode 3: Steel
Eurocode 4: Composite steel and concrete
Eurocode 5: Timber
Eurocode 6: Masonry
Eurocode 7: Geotechnical design
Eurocode 8: Earthquake resistance
Eurocode 9: Aluminium
The online service:
www.eurocode-online.eu
About Beuth Verlag:
A subsidiary of DIN, the German Institute for Standardization, Beuth Verlag provides national and international standards and other technical rules as well as multi-media information services for businesses of all sizes, research and academic organizations, trade associations, service organizations and the trades.
press contact:
Kati Ziegert
Beuth Verlag
DIN-Platz, Burggrafenstrasse 6
10787 Berlin
[email protected]
www.beuth.de


Copyright @ Marketwire
Page: 1
Related Keywords:
Beuth Verlag GmbH, Germany,Marketwire, ,Geology,Other,
---