Hello Music, One Year Later: Conquering Social, Mobile and E-Commerce
New Android App and Savvy, Successful Social Commerce Strategy Are Putting This Musician Marketplace on the Map -- in a Big Way
(May 01, 2012)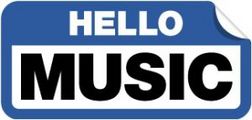 LOS ANGELES, CA -- (Marketwire) -- 05/01/12 -- Hello Music, the leading marketplace and social commerce platform for musicians, turns one-year-old -- a pivotal year that's included a Music Inc. Retail Excellence Award, rapid growth (with the numbers to prove it) and continued community-building and product innovation including the launch of another new mobile platform, Hello Music for Android.
Hello Music's rapid growth.
Hello Music has acquired more than 225,000 members in one year, more than doubling since November of 2011 and currently at a pace of 20% per month, establishing the company as one of the fastest-growing online resources for musicians. Social commerce continues to be a driver of growth for the company, with more than 100,000 Facebook fans, quadrupling since February 2012, and growing at a pace of more than 100% per month. Through opportunities like exclusive giveaways and original content, the Hello Music Facebook page has become a major driver of new members and sales, accounting for nearly 25% of all Hello Music revenue, and making social media an integral part of the Hello Music secret to success.
Data at-a-glance:
Hello Music membership: 225,000 (doubled from 100,000 in November; now growing at a rate of 20% per month)
Facebook fans: More than 100,000 (quadrupled from February 2012, now growing at a rate of 130% per month)
Facebook commerce now accounts for 25% of all Hello Music revenue
Hello Music for Android.
Hello Music is the only music retailer on the market with native smartphone applications (the iPhone last fall and now Android), providing members with the most comprehensive, robust and high-quality buying experience for musicians anywhere on the mobile web. Whether on the road touring, locked in the studio for a recording session or stuck at the office, musicians across the U.S. can now access incredible opportunities from the palms of their hands -- everything from Gear to Artist Development Services to Vintage Products to Accessories.
"Our goal is to be the most valuable resource in the world for musicians. We are committed to serving our community though product innovation including the continued development of our social and mobile platforms," said Rick Camino, CEO of Hello Music. "Through this, we've increased our membership, revenues and industry influence exponentially -- and expect even bigger things to come as we look ahead towards year two."
Both Hello Music membership and the Android app are free; the latter is available immediately, exclusively on Google Play. The iPhone app is also free here.
About Hello Music
Hello Music, a winner of Music Inc.'s Retail Excellence Award, is the leading marketplace and social commerce platform for musicians. As passionate musician advocates, Hello Music democratizes access to opportunities that, until now, have only been reserved for a few top-tier artists. Hello Music works every day on behalf of musicians to negotiate the best deals anywhere on instruments, home recording gear, studio time, marketing and distribution, publishing, touring, and other music-related products and services. Founded in 2011, Hello Music is based out of Los Angeles, California and is a portfolio company of Elevator Labs. To become a Hello Music member, please visit www.hellomusic.com.
About Elevator Labs
Elevator Labs brings ideas from vision to value. Beginning with new business concepts, the Elevator Labs team funds and builds those concepts into fully functioning, revenue-generating businesses. Founded in 2011, the Elevator Labs team is a diverse group of executives from media and technology industries. Headquartered in Los Angeles, California, Elevator Labs is a privately held company and is backed by KGC Capital. For the full Elevator Labs experience, please visit www.elevatorlabs.com.
Media Contact:
LaunchSquad
Lisa Picasso and Katie Dally
415.625.8555
[email protected]


Copyright @ Marketwire
Page: 1
Related Keywords:
hello music, indie, artists, daily deals, flash sales, marketplace, musicians, bands, instruments, Home, Internet, Communications, Digital Audio, Movies & Music, Web, Smart Phone, Accessories, iPods, iphone, Applications, Music, Social Media, Sales, Applications, Marketing, Sales & Marketing, Internet, Business Issues, Social Media, Internet Server Applications, E-Commerce, Finance/Accounting, Sales, Finance/Accounting, Sales, Business, Flash, Marketing, PDA/Smartphone, Graphics/Design, Publishing, USA, Marketwire, Inc., , Apple Computer, Music, Internet Technology, Business, Other,
---