Healthcare Access San Antonio (HASA) Selects Medicity Technology to Give Community HealthCare Providers Secure Access to Patient Health Information
Exchanging Patient Summary Documents Will Give Physicians More Complete Views of Patient Health Information, Improving Patient Care and Safety
(November 14, 2011)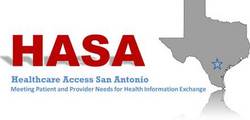 SAN ANTONIO, TX -- (Marketwire) -- 11/14/11 -- HASA announced today they will use Medicity Health Information Exchange (HIE) technology to make patient health information securely available to care providers in the communities it serves.
Medicity's HIE technology will enable physicians at HASA area hospitals and clinics to access and exchange patient information in the form of patient summary documents. These documents -- known as continuity of care documents (CCDs) -- provide a consolidated summary of a patient's care history, including medications, allergies, vital signs, care plan, insurance information and more. Physicians and other providers can use their electronic health record (EHR) or other information system to request and view these documents via HASA's health information exchange platform.
"Our partnership with Medicity is crucial to ensuring that all physicians have access to patient information which will improve collaboration and quality of care, especially as patients transition from one care provider to another," said Bob Collier, HASA CIO. "Extending secure access to patient summary documents across the community is one key to improving patient care and helping to reduce healthcare costs in our community."
HASA will initially implement Patient Referral services using Medicity's iNexx platform throughout the 22 counties to create a referral network. "This referral network will allow providers to quickly engage with referrals and increase productivity even before we are able to fully implement the community HIE," said Gijs van Oort, CEO and Executive Director of HASA. Next, HASA will implement the exchange of patient summary documents between hospitals, clinics and provider offices. These connections will allow HASA to perform in-depth analytics for quality improvement, develop population-based health management programs, connect to other HIEs and Federal agencies, and engage members through a patient portal.
About Healthcare Access San Antonio (HASA)
Healthcare Access San Antonio (HASA) is a 501 (c) (3) community collaborative initiative to enhance access to health and medical care for Central Texas residents through Health Information Exchange (HIE). Supported by major providers in the community, HASA adds to the medical safety net by offering an electronic shared patient record in a safe and secure environment. With this level of connectivity across provider entities, care can be delivered more effectively and conveniently.
About Medicity
Medicity is the leading innovator and largest provider of health information exchange (HIE) technology -- with more than 750 hospitals and 250,000 end users in its connected ecosystem. Medicity's solutions empower hospitals, physicians and HIEs with secure access to and exchange of health information -- improving the quality and efficiency of patient care locally, regionally and nationally. For more information, please visit www.medicity.com or follow us on twitter.com/Medicity.
Add to Digg Bookmark with del.icio.us Add to Newsvine
CONTACT:
Janet Cabibbo
Amendola Communications for HASA
480-664-8412 ext. 15
[email protected]


Copyright @ Marketwire
Page: 1
Related Keywords:
Medicity, HASA, Healthcare Access San Antonio, electronic health record, Bob Collier, Gijs van Oort, HIE, Marketwire, ,Other,
---