Harte-Hanks to Speak at CRMC Loyalty Conference Forum 2012; Focus on Fostering Loyalty Across Multiple Channels
Multichannel Marketing Presents Challenges for Building and Sustaining Customer Engagement, Customer Experience and Loyalty; Client GNC to Present Business Case for 'Customer Centricity'
(May 29, 2012)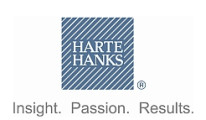 SAN ANTONIO, TX -- (Marketwire) -- 05/29/12 -- Harte-Hanks, Inc. (NYSE: HHS), a worldwide direct and targeted marketing company, today announced its participation at the Customer Relationship Management Conference (CRMC, May 29-31, 2012) in Chicago, IL, where Jeff Simpson, senior vice president, marketing strategy & customer insight, Harte-Hanks, will co-present with an industry-leading Harte-Hanks retail client a session titled "Turning Up the Heat on '360 Degrees' - Making Customer Centricity More Than Just a Buzz Word" (Wednesday, May 30, 2012 9:10 am CDT).
According to Simpson, the two speakers will share best practices around how high performing customer relationship and loyalty programs uniquely focus on the entire customer engagement cycle -- and not simply the more traditional areas of focus such as offers, coupons and prior purchase activity. Through the retailer's story, the audience will gain an understanding as to how the use of strategic analytics, data and insight has had a positive impact on its business.
"Retailers are looking to foster customer loyalty through a variety of online and traditional methods -- but, in doing so, they are presented with huge challenges in the proliferation of channels, the volume of data, data that are often separated in silos, and how to make targeted multichannel engagement practical, feasible and coherent," said Gary Skidmore, president, Harte-Hanks Direct Marketing. "Harte-Hanks seeks to provide value to our retail clients as our solutions make their customer connectivity thrive, and help marketing teams build the business case for customer centricity in marketing."
"One of the most difficult, and frankly, overlooked parts of CRM is the process of building and sustaining internal support to commit to customer engagement and loyalty programs over a long period of time," Simpson said. "Attendees will enjoy getting a peek inside how one leading retailer, with one of the longest running, most effective loyalty programs in the market, leverages customer insight to support its marketing strategy."
During CRMC, Harte-Hanks will also address another element of a comprehensive customer engagement strategy for retailers -- mobile communication. "The Marketer's Mobile-Readiness Boot Camp" (Tuesday, May 29, 11:30 am CDT), featuring Michele Fitzpatrick, senior vice president, strategy & insight, and Jeannette Kocsis, senior vice president, digital marketing, both with The Agency Inside Harte-Hanks, will discuss how to make mobile marketing more engaging and effective.
To arrange a specific time to meet at CRMC or for further information, retailers may contact Harte-Hanks: (800) 456-9748, [email protected], or visit the Web site at: http://www.harte-hanks.com/Resources/Event/CRMC2012
About Harte-Hanks®
Harte-Hanks, Inc. is a worldwide, direct and targeted marketing company that provides direct marketing services and shopper advertising opportunities to local, regional, national and international consumer and business-to-business marketers. Visit the Harte-Hanks Website at http://www.harte-hanks.com or call (800) 456-9748.
This document may contain trademarks that are owned or licensed by Harte-Hanks, Inc. and its subsidiaries, including, without limitation, Harte-Hanks® and other names and marks. All other brand names, product names, or trademarks belong to their respective holders.
Add to Digg Bookmark with del.icio.us Add to Newsvine
Media Contact:
Amy Carey-Stevenson
(978) 436-3396
Email Contact


Copyright @ Marketwire
Page: 1
Related Keywords:
Harte-Hanks, direct marketing, CRMC, loyalty, Jeff Simpson, channels, Sales,Advertising,Marketing,CRM - Customer Relationship Management,Sales & Marketing,Internet,Management,Marketwire, Inc., ,Marketing Services,Internet Technology,Business,Other,
---