Harte-Hanks Releases Technology Purchase Index for Q1 2012
Quarterly Index Reveals an Increase in Technology Purchase Intentions for Buyers of Key Technologies Over Q4 2011
(June 13, 2012)

SAN DIEGO, CA -- (Marketwire) -- 06/13/12 -- Harte-Hanks, Inc. (NYSE: HHS), a worldwide direct and targeted marketing company, has released the June 2012 Technology Purchase Index (TPI), which indicates an overall 1.9% increase in technology purchase intentions between Q4 of 2011 and Q1 of 2012 across a broad spectrum of businesses, government and educational institutions. The Technology Purchase Index provides economists and technology marketers with information they can use to analyze technology buying cycles and predict future buying trends.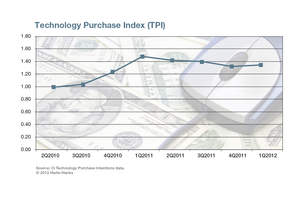 "Essentially, what we're seeing in the technology marketplace reflects the general story about the state of the U.S. economy," says Randy Ilas, general manager of Harte-Hanks Market Intelligence. "There is slow but steady growth."
The TPI focuses on purchase intentions within five key technology areas: cloud computing, virtualization, computer hardware, computer software and communications. The TPI includes a separate index for each of these areas, as well as an overall index.
The June 2012 TPI also indicates other trends between Q4 2011 and Q1 2012:
Cloud computing purchase intentions remain at a high point, with new cloud services and companies still entering the market daily.
The virtualization index shows almost no change, reflecting that the vast majority of companies have already virtualized their servers to some degree, and are now focusing on virtualizing large, enterprise applications.
Hardware and software are holding steady as companies continue to make investments in new virtualization platforms and storage to meet the growing demands of big data.
"The TPI is a forward-looking tool that's based on data gathered from actual buyers," Ilas said. "It can provide an advantage to technology marketers because it illustrates a view of the marketplace that helps them adapt to ongoing changes in the marketplace."
The data underpinning the TPI was gleaned from more than 200,000 interviews conducted by Harte-Hanks in connection with its Ci Pipeline® lead generation service, which identifies technology purchasing initiatives in the United States and Canada. Purchase intentions may be tied to aging equipment, business process improvements, or investments in new business capabilities. As a result, changes in the TPI provide a possible indicator of future purchase levels and overall sector performance.
Harte-Hanks plans to update the index quarterly. For more information about the Harte-Hanks Technology Purchase Index is available at http://www.citdb.com/TPI/1q2012.
About Harte-Hanks®
Harte-Hanks is a worldwide direct and targeted marketing company that provides marketing services and shopper advertising opportunities to local, regional, national and international consumer and business-to-business marketers. Visit the Harte-Hanks Web site at http://www.harte-hanks.com or call (800) 456-9748.
The Harte-Hanks Market Intelligence division monitors installed technology and spending plans at business, government and institutional sites in North America, Asia-Pacific, Europe and Latin America. This technology content is combined with the tracking of IT decision-makers and chief-level executives, allowing its customers to find the right opportunity with the right decision-maker and to act on it efficiently and effectively. Visit http://www.citdb.com or call (800) 854-8409.
Image Available: http://www2.marketwire.com/mw/frame_mw?attachid=2009456

Add to Digg Bookmark with del.icio.us Add to Newsvine
Media Contact:
Kitty Franklin
Harte-Hanks Market Intelligence
(858) 625-4841
Email Contact


Copyright @ Marketwire
Page: 1
Related Keywords:
Harte-Hanks, technology purchase index, technology, Randy Ilas, Cloud Computing, Ci Pipeline, Office Equipment, Sales, Applications, Advertising, Marketing, Sales & Marketing, Storage, Productivity Applications, Internet, Business Issues, Hardware, Software Development, Cloud Computing, Services, Software, Misc, Other Applications, Internet Server Applications, Platforms, Canada, USA, Marketwire, IT (Information Technology), Enterprise Applications, Marketing Services, Internet Technology, Business, Other,
---