Harnessing the Power of Taleo and Social Networks, Hyatt Finds Its Future Leaders
Hyatt's Management Training Program Retains More Than 90 Percent of First-Year Hires
(April 10, 2012)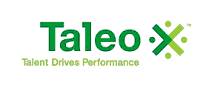 DUBLIN, CA -- (Marketwire) -- 04/10/12 -- To find and acquire the people uniquely qualified to lead its global hospitality operation, Hyatt Hotels & Resorts is combining the direct engagement of social networks with the insights enabled by Taleo Corporation, a global leader of SaaS-based Talent Management solutions, recently acquired by Oracle. The result is a successful management training program that retains more than 9 out of 10 first-year hires.
"We are a hospitality company whose 75,000 employees operate 478 properties in 45 countries. The talented workforce that takes care of our customers is what ultimately makes the biggest difference for Hyatt," said Randy Goldberg, Vice President of Recruiting at Hyatt.
Because managers are crucial to its customer-centric philosophy, Hyatt recently transformed the way it recruits future leaders. Its Corporate Management Trainee (CMT) program hires an average of 300 employees and interns every year -- and the main source of CMT talent is college campuses. So, Hyatt transformed its paper-based application process -- one many students found cumbersome -- to now offer an efficient online experience that fits how college students live and work today.
To identify and engage the strongest candidates from the start, Hyatt targets college students by posting entry-level management positions on its Taleo-hosted career site. Once students apply online, the company's college recruiters use pre-screening tools and assessments integrated with Taleo Recruiting™. The tools allow recruiters to evaluate all candidates based on cultural fit, customer service values and work ethic. Using Taleo helps Hyatt build the Talent Intelligence recruiters need to select the strongest candidates for in-person meetings during campus visits.
Taleo's tight integration with social networks like Facebook and LinkedIn makes it easy for recruiters to build relationships with CMT program candidates after they've interviewed them. In addition, Taleo's support for mobile devices allows recruiters to access the Taleo system while they're visiting campuses. Mobile access to Taleo lets them see which positions are available at any given moment so they can extend job offers on the spot. Hyatt recruiters also have embraced other technologies to engage with students, including text messaging and QR codes, as well as YouTube video challenges for CMT participants that build awareness for the training program.
Hyatt's careful qualification of CMT candidates is paying off: More than 90 percent of program participants remain at Hyatt after their first year, which helps the company keep its pipeline full of potential leaders. Hyatt also relies on Taleo's pre-screening and assessment providers to winnow the best candidates from nearly 2 million job applicants every year.
"Taleo is the backbone of what we do in recruiting," said Goldberg. "The more applications we get, the better choices we can make as to who the best candidate is. This goes back to our primary goal of providing excellent service and taking care of our guests."
About Hyatt Hotels Corporation
Hyatt Hotels Corporation, headquartered in Chicago, is a leading global hospitality company with a proud heritage of making guests feel more than welcome. Thousands of members of the Hyatt family strive to make a difference in the lives of the guests they encounter every day by providing authentic hospitality. The Company's subsidiaries manage, franchise, own and develop hotels and resorts under the Hyatt®, Park Hyatt®, Andaz®, Grand Hyatt®, Hyatt Regency®, Hyatt Place® and Hyatt House™. Hyatt House is changing its brand identity from Hyatt Summerfield Suites®. Hyatt Residential Group, Inc., a Hyatt Hotels Corporation subsidiary, develops, operates, markets or licenses Hyatt Residences™ and Hyatt Vacation Club®, which is changing its name to Hyatt Residence Club™. As of December 31, 2011, the Company's worldwide portfolio consisted of 483 properties in 45 countries. For more information, please visit www.hyatt.com.
About Oracle
Oracle engineers hardware and software to work together in the cloud and in your data center. For more information about Oracle (NASDAQ: ORCL), visit www.oracle.com.
Trademarks
Oracle and Java are registered trademarks of Oracle and/or its affiliates. Other names may be trademarks of their respective owners.
Ally Zwahlen
Senior Director | Corporate Communications
Taleo Corporation
T. 925.452.3394
[email protected]


Copyright @ Marketwire
Page: 1
Related Keywords:
talent management, ROI/business Case Justification, HR strategy & transformation, change management , Applications,Hardware,Management,Human Resources,Human Resources,Marketwire, Inc., ,Family,College Students,Other,
---