Halloween Edition of Impermium Index Finds Ghouls and Goblins Galore in Social Web Spam
It's All Trick and No Treat for Companies as Spammers Move to Social Web, Yet 84% Have No Proactive Defense Strategy
(October 31, 2011)

PALO ALTO, CA -- (Marketwire) -- 10/31/11 -- Web site owners beware: the latest edition of the Impermium Index reveals another round of scary statistics on social web spam trends. The haunting report reveals why social spam is spreading so rampantly and how companies are fighting (or are failing to fight) these rampant attacks.
Below are brief narratives to supplement the infographic linked to this press release, which is available for reuse under Creative Commons attribution license.
Why spammers are getting social
Email spam, though far from extinct, has become significantly less effective in recent years. Why? Because email anti-spam tools are very effective, and consumers are less gullible to malicious email schemes. However, because social web spam can take many forms and appear on a wide variety of sites and social networks, users are easily duped. And that's why spammers are moving to the social web, and making much more money doing so. Impermium calculates that one piece of social spam is 250 times more powerful than one piece of email spam. As proof, Impermium researchers routinely find single social spam posts that yield thousands of impressions before they are caught, while the average email spam is viewed by just one person.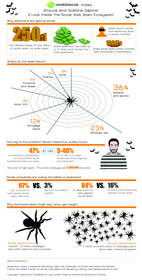 All trick, no treat -- social companies are losing the battle to spammers
Impermium surveyed more than 200 web site managers and owners to see how they are planning to deal with the exponential growth of social web spam. Surprisingly, most are not. Only 16% of those surveyed are proactively addressing the issue, and the rest are responding to it as it comes, predominately using human intervention to fight it. That said, only 3% of those companies are fighting social spam with automated social spam defense systems -- versus more primitive and reactive rules-based approaches.
Your site is getting TP'd by social web punks
Ding dong! Growing hordes of the social web's ghouls and goblins are at your site's front door, says the latest Impermium audit. In one case, Impermium found 47% of all submissions from a prominent social bookmarking site to be spam. In another study, researchers found that up to 40% of a site's signup attempts are fraudulent. And for site owners, this is an expensive fight: for every 5,000,000 users on their site, they should be prepared to dedicate one full-time employee to effectively filter out spam accounts. Even Facebook has more than 30 dedicated staff dealing with their nearly 600,000 daily spam attacks.
Watch out for the 'night of the living dead'
The traceability of Internet spam is dependent on one major factor: account-to-message ratio. Email spammers often send millions of messages from a single source, making it much easier for spam cops to trace. Conversely, social web spammers are much more elusive, often using a more broadly distributed strategy. In many cases, we found social web spammers creating millions of user accounts, and then leaving them dormant for some time. Then all of a sudden, they wake up these "living dead" accounts to send just one or two messages to wreak havoc, and then fade into the night once again. And more than simply evading capture, these techniques can dramatically distort a site owner's perspective of legitimate user behavior.
What's all the spam about?
Consistent with our Summer 2011 Index, social spammers are using less obvious themes for their attacks. The old spam stalwarts -- porn and pills -- made up only 16% of total social web spam. Instead, spammers are focusing attacks on less-taboo consumer needs such as:
Apparel and sports - 36%. We routinely see knockoffs of popular fashion brands -- Uggs, Prada, Christian Laboutin -- appearing at bargain-basement prices in scam campaigns.
SEO/web development - 23%. Thinking of hiring a firm to promote your new web site? Better check their methods, because spam campaigns often involve sneaky Search Engine Optimization tricks that could backfire and get your site booted from search engines and ad services.
Mortgage loans - 12%. With the economy where it is, scammers are preying on the less-fortunate.
The bottom line
Social web spam continues to evolve quickly and wreak havoc on both your users' experience and company's budget. If you're one of the 84% of companies without a plan to protect your site from fraudulent accounts and attacks, it's time to step up. Impermium can help you save your human and financial resources to implement an automated social spam defense that works. The boogeyman may not be hiding under the bed -- but he'll hang out in your site as long as you'll let him.
About Impermium Corporation
Impermium Corporation's patent-pending technology is helping leading Internet sites and services lower the risk and cost of social web spam and abuse. Visit Impermium on the web at http://www.impermium.com or contact us.
Image Available: http://www2.marketwire.com/mw/frame_mw?attachid=1782913

Media Contact
Kurt Foeller
+1 415-488-6390
Email Contact


Copyright @ Marketwire
Page: 1
Related Keywords:
social web spam, Online ID, spam, online spam, online ID fraud, Impermium, security, Internet,Web,Search,Security,EMail,Security,Internet,Security,Search,Search Engines,Search Engine Optimization,Marketwire, ,Sports,Financial,Lifestyle,Internet Technology,Internet,Sports,Spam,Email,
---