GroundLink Rolls ASAP Car Service into SXSW 2011 with $10 Rides Anywhere in Austin
(March 10, 2011)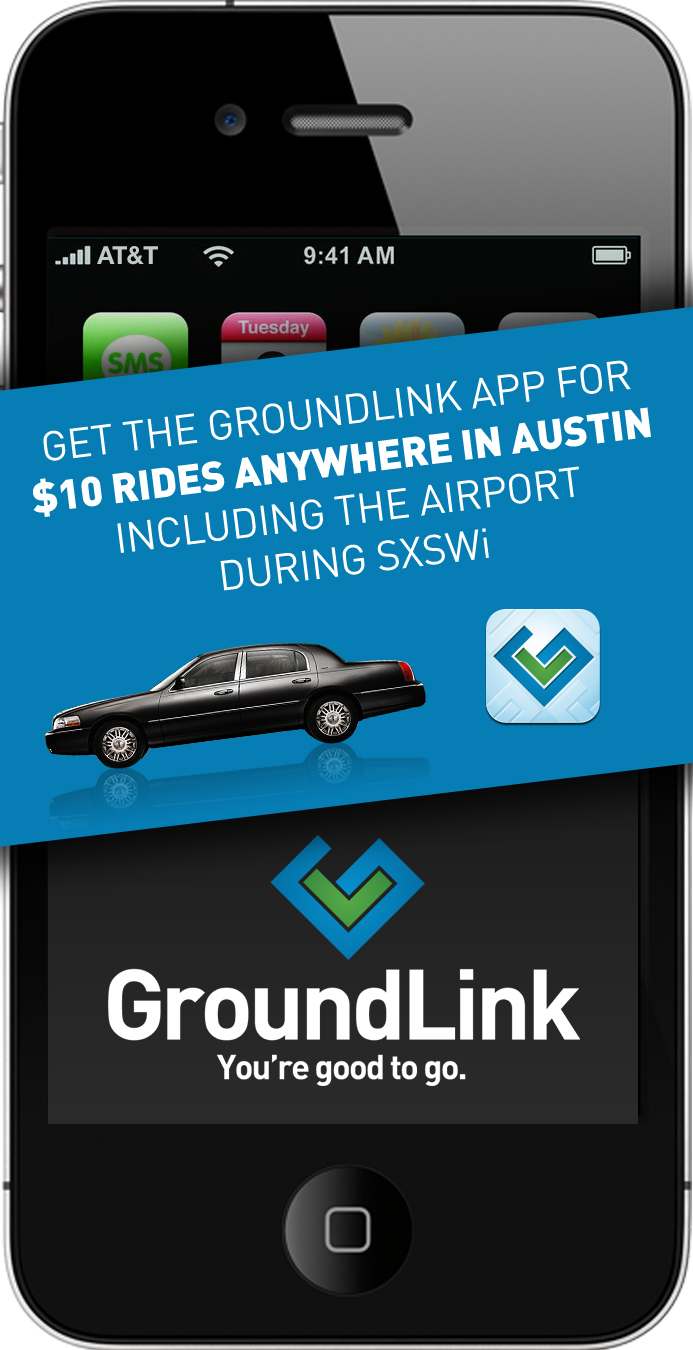 New York, NY (PRWEB) March 10, 2011
GroundLink, the largest marketplace for ground transportation, announced today that they will be officially rolling out the second city to use their ASAP service next week in Austin, TX. The GroundLink iPhone app has already been released in New York, where hundreds of New Yorkers use the service daily to commute. The app allows customers to book car service directly from the iPhones and track the drivers route as they come to pick them up. Other options include booking future rides, seeing the total price of the ride before the trip takes place and sharing the details of the ride with friends and colleagues.
We are very excited to be launching in Austin so soon after New York. We look forward to keeping the momentum going as we add more and more cities you can already make a future reservation in over 5000 cities around the world. To make the most of this opportunity and to give everyone coming to SXSW the chance to use the app, we decided to offer $10 for ASAP rides anywhere in Austin including the airport, said Alex Mashinsky, CEO of GroundLink.
The promotion will be available to anyone using the iPhone app from Monday the 14th through Thursday the 17th. After that, cars will still be available at regular prices. GroundLink will also be offering other giveaways and specials to those attending SXSW (http://www.groundlink.com/sxsw). They will be exhibiting as well at booth 437.
About GroundLink
GroundLink is a travel technology company that aggregates, manages and executes limousine, taxi, shuttle, car-rental & public transportation services worldwide. Through retail websites like Limores Car & Limo Service, mobile apps, APIs and a proprietary marketplace, GroundLink Car Service provides individuals, corporations and partners with a single booking and reservation system for all forms of transportation, worldwide under one-account. With over 45,000 affiliates, millions of transactions per year, and partnerships that include Royal Caribbean, JetBlue, Continental, KAYAK and others, GroundLink is the only true marketplace to seamlessly connect supply and demand for the ground travel industry worldwide.
###
Read the full story at http://www.prweb.com/releases/2011/03/prweb5153694.htm.
Page: 1
Related Keywords:
restraint of trade, international (foreign) trade, trade dispute, trade agreements, trade policy, trade balance, internet, computing and information technology, satellite technology, wireless technology, science and technology, technology (general), identification technology, agricultural research and technology, economy, business and finance, financial and business service, business enterprises, business (general), travel and commuting, tourism and leisure, lifestyle and leisure, tourism, travel and commuting, lifestyle (house and home), economy, business and finance, financial and business service, business enterprises, online,
---