Green Hills Software's INTEGRITY Embedded Cryptographic Toolkit (ECT) Receives FIPS 140-2 Validation
(May 23, 2012)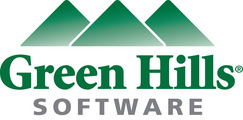 SANTA BARBARA, CA -- (Marketwire) -- 05/23/12 -- Green Hills Software, the largest independent vendor of embedded software solutions and the only provider of an EAL6+, High Robustness NSA-evaluated and NIAP-certified real-time operating system (RTOS), today announced that its ISS Embedded Cryptographic Toolkit received FIPS 140-2 Level 1 (Federal Information Processing Standard) Validation from the National Institute of Standards and Technology (NIST), a federal technology agency that works with industry to develop and apply technology, measurements, and standards.
Built on the secure family of INTEGRITY Operating Systems
This validation is groundbreaking, as Green Hills Software raises the bar by FIPS-validating their proprietary Embedded Cryptographic Toolkit. Green Hills customers now have a "one stop shop" for all their security needs. Delivering FIPS-validated encryption with Green Hills Software's INTEGRITY® family of secure operating systems is the next step in building the most secure embedded systems in the world.
"With our FIPS validation, Green Hills Software is again leading the way to providing the most secure systems," commented Dan O'Dowd, founder and chief executive officer, Green Hills Software. "Our ISS Embedded Cryptographic Toolkit is the only proprietary solution that meets all the NSA's Suite B standards to protect the world's critical infrastructure by keeping private information private for the future."
"Next-generation systems need to meet NSA's Suite B standards to ensure our data is secure for the next 50 Years. Federated ID programs are no exception in building a card reader platform to meet Suite B standards and to protect information and mission-critical data is a requirement," said Thomas E. Corder, president and CEO of BridgePoint Systems. "The availability of a validated FIPS Toolkit reduces our development time, while giving our customers the security they need."
The National Institute of Standards and Technology, as the United States FIPS 140-2 Cryptographic Module Validation Authority, and the Communications Security Establishment, as the Canadian FIPS 140-2 Cryptographic Module Validation Authority, have validated the FIPS 140-2 testing results of the Cryptographic Module identified as: INTEGRITY Security Services Embedded Cryptographic Toolkit by Green Hills Software in accordance with the Derived Test Requirements for FIPS 140-2, Security Requirements for Cryptographic Modules. FIPS 140-2 specifies the security requirements that are to be satisfied by a cryptographic module utilized within a security system protecting Sensitive Information (United States) or Protected Information (Canada) within computer and telecommunications systems (including voice systems).
The Ultimate Open Platform
ISS Security Protocols and solutions are supported on a wide range of operating systems and processor architectures.
NIST has assigned the FIPS 140-2 certificate number #1719 to the GHS HA-ECT module, which has been posted on the CMVP website (http://csrc.nist.gov/groups/STM/cmvp/documents/140-1/1401val2012.htm).
About Green Hills Software
Founded in 1982, Green Hills Software is the largest independent vendor of embedded development solutions. In 2008, the Green Hills INTEGRITY-178B RTOS was the first and only operating system to be certified by NIAP (National Information Assurance Partnership comprised of NSA & NIST) to EAL6+, High Robustness, the highest level of security ever achieved for any software product. Our open architecture integrated development solutions address deeply embedded, absolute security and high-reliability applications for the military/avionics, medical, industrial, automotive, networking, consumer and other markets that demand industry-certified solutions. Green Hills Software is headquartered in Santa Barbara, CA with European headquarters in the United Kingdom. Visit Green Hills Software at www.ghs.com.
Green Hills, the Green Hills logo and INTEGRITY are trademarks or registered trademarks of Green Hills Software in the U.S. and/or internationally. All other trademarks are the property of their respective owners.
Add to Digg Bookmark with del.icio.us Add to Newsvine
Contact:
Green Hills Software
Barbel French
805-965-6044
bfrench@ghs.com


Copyright @ Marketwire
Page: 1
Related Keywords:
FIPS, 140-2, Cryptographic toolkit, FIPS-validated, security, Suite B, high assurance, Applications, Security, Networking, Computer Technology, Business Issues, Telecommunications, USA, Marketwire, , Computer Science, england, Family, Other,
---