Green Hills Software to Exhibit at MILCOM 2011 in Baltimore, MD
(November 01, 2011)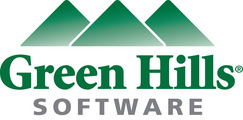 SANTA BARBARA, CA -- (Marketwire) -- 11/01/11 -- Green Hills Software, the largest independent vendor of embedded software solutions, will demonstrate multiple technology offerings focused on trusted handheld, thin client and mobile computing at MILCOM 2011, November 7 - 10, 2011, in Baltimore, MD. The demonstrations will also provide a focus on multicore computing in real-time, embedded environments where safety, security and high reliability are paramount for deployed military communications.
In booth #547, Green Hills Software will demonstrate:
RTI Data Distribution Service (DDS) on INTEGRITY
Green Hills Software will demonstrate its industry-leading MULTI® tools suite, hosted in a Windows guest operating system, virtualized on INTEGRITY® Multivisor™ and build a native INTEGRITY application integrated with RTI's DDS solution and ALT Software's OpenGL Graphics package. The combined application will execute on Freescale Semiconductor's Media5200 demonstrating a glass cockpit with data utilized in RTI's publish/subscribe DDS model.
Green Hills Software Platform for Trusted Mobile Devices
Green Hills Software will demonstrate updates to its leading Platform for Trusted Mobile Devices, including new mobile system-on-chip (SoC) processor and tablet support. The enhanced Platform for Trusted Mobile Devices will be demonstrated on tablets based on Freescale's i.MX and Texas Instrument's OMAP processors. Leveraging NSA-certified INTEGRITY technology, the Green Hills microkernel Type-1 hypervisor, Multivisor, enables tablets to access sensitive government information and networks while making no sacrifices in the availability, privacy, and performance relating to the personal use of multimedia, social, and Internet applications.
INTEGRITY Multivisor for Curtiss-Wright Controls Single Board Computers
Green Hills Software will demonstrate its INTEGRITY Multivisor, hybrid microkernel Type-1 hypervisor, running on Curtiss-Wright Controls SVME/DMV-186 single board computer, featuring the Freescale QorIQ P4080 processor. This platform enables unprecedented levels of consolidation for rugged environments, reducing size, weight, and power (SWaP). The Multivisor allows real-time critical, security-critical, and safety-critical native INTEGRITY applications to run alongside guest virtual machine environments with general-purpose operating systems such as Linux. The marriage of these two technologies provides the ultimate consolidation platform for military applications.
About Green Hills Software
Founded in 1982, Green Hills Software is the largest independent vendor of embedded development solutions. In 2008, the Green Hills INTEGRITY-178B RTOS was the first and only operating system to be certified by NIAP (National Information Assurance Partnership comprised of NSA & NIST) to EAL6+, High Robustness, the highest level of security ever achieved for any software product. Our open architecture integrated development solutions address deeply embedded, absolute security and high-reliability applications for the military/avionics, medical, industrial, automotive, networking, consumer and other markets that demand industry-certified solutions. Green Hills Software is headquartered in Santa Barbara, CA with European headquarters in the United Kingdom. Visit Green Hills Software at www.ghs.com.
Green Hills, the Green Hills logo, MULTI, INTEGRITY, and Multivisor are trademarks or registered trademarks of Green Hills Software in the U.S. and/or internationally. All other trademarks are the property of their respective owners.
Add to Digg Bookmark with del.icio.us Add to Newsvine
Contact:
Green Hills Software
Barbel French
805-965-6044
[email protected]


Copyright @ Marketwire
Page: 1
Related Keywords:
MILCOM, trusted handheld, thin client, mobile computing, virtualization, tablets, Applications,Security,Networking,Computer Technology,Internet,Business Issues,Mobile Devices,Handheld,Architecture,Security,Internet Server Applications,Unix,Linux,USA,Marketwire, ,Internet Technology,Computer Science,Internet,england,Other,
---