Green Hills Software to Demonstrate the Latest in Embedded Virtualization at the 2012 Consumer Electronics Show
(January 06, 2012)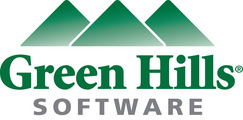 SANTA BARBARA, CA -- (Marketwire) -- 01/06/12 -- Green Hills Software, the largest independent vendor of embedded software solutions, will be supporting several technology exhibits to demonstrate the latest in safe, secure embedded virtualization technology at the Consumer Electronics Show, January 9 - 13, 2012, at both the GENIVI Showcase event and in the Visteon tent.
Green Hills Software will be exhibiting as follows:
Topic: Safe Consolidation of GENIVI-Compliant Operating Systems with Critical Vehicle Safety Functions
Where: GENIVI Penthouse Suite
Trump International Hotel
2000 Fashion Show Drive
Las Vegas, NV
When: January 9-11th, 5:30pm - 8:00pm
Summary: Green Hills Software will show how automotive OEMs and Tier 1s can reliably combine GENIVI-compliant operating systems with real-time safety functions on Intel® Atom™ processors by demonstrating the latest in multi-function infotainment featuring shared accelerated 3D graphics, deterministic real-time services and fail-proof system reliability. Based on INTEGRITY® Multivisor™ secure virtualization, this platform enables the safe, seamless combination of any GENIVI-compliant operating system with time-critical safety applications on a single processor -- delivering significant per unit cost savings, reduced time-to-market, scalable future-proofing and maximum automotive robustness in the head unit.
Topic: Digital Reconfigurable Vehicle Cockpit - Clemson University International Center for Automotive Research (CU-ICAR)
Where: Las Vegas Convention Center
Central Plaza, Visteon Tent (CP20)
3150 Paradise Road
Las Vegas, NV
When: Tuesday, January 10, 10am - 6pm
Wednesday, January 11, 9am - 6pm
Thursday, January 12, 9am - 6pm
Friday, January 13, 9am - 4pm
Summary: Green Hills Software, in support of the CU-ICAR Deep Orange 2 digital reconfigurable vehicle cockpit initiative, will demonstrate a personalized, inter-generational driver-vehicle interaction with numerous controls, including infotainment, climate control and driver information with user preferences stored on a cloud server. A key aspect of this program is the secure and reliable way consolidation of on-board CPUs is accomplished through the use of Green Hills Software's INTEGRITY Multivisor virtualization solution. Such CPU consolidation not only provides the foundation to save hundreds of dollars per vehicle in electronics cost, but it also delivers a proven method for consolidating vehicle functions at varying levels of criticality while supporting maximum system security. The result of this offering, with its advancements in processor consolidation, is a radically new approach to personalized, inter-generational driver interaction with various vehicle, infotainment, and climate controls.
About INTEGRITY Multivisor
INTEGRITY Multivisor is a member of the family of INTEGRITY Secure Virtualization (ISV) solutions. Multivisor consists of the certified INTEGRITY real-time microkernel technology coupled with facilities to execute one or more "guest" operating systems. INTEGRITY Multivisor also provides a native, open standards-based environment for critical applications, such as security functionality, fast-boot real-time apps, and platform/OEM multimedia and communications codecs. The INTEGRITY Multivisor advanced architecture enables virtual machines and critical applications to safely co-exist with guaranteed memory, CPU time resources, and strictly enforced device access control.
To book a meeting at CES 2012, please contact:
Emily Canfield
T: 1-805-965-6044 ext.178
emilyc@ghs.com
About Green Hills Software
Founded in 1982, Green Hills Software is the largest independent vendor of embedded development solutions. In 2008, the Green Hills INTEGRITY-178B RTOS was the first and only operating system to be certified by NIAP (National Information Assurance Partnership comprised of NSA & NIST) to EAL6+, High Robustness, the highest level of security ever achieved for any software product. Our open architecture integrated development solutions address deeply embedded, absolute security and high-reliability applications for the military/avionics, medical, industrial, automotive, networking, consumer and other markets that demand industry-certified solutions. Green Hills Software is headquartered in Santa Barbara, CA with European headquarters in the United Kingdom. Visit Green Hills Software at www.ghs.com.
Green Hills, the Green Hills logo, INTEGRITY and Multivisor are trademarks or registered trademarks of Green Hills Software in the U.S. and/or internationally. All other trademarks are the property of their respective owners.
Add to Digg Bookmark with del.icio.us Add to Newsvine
Contact:
Green Hills Software
Barbel French
805-965-6044
bfrench@ghs.com


Copyright @ Marketwire
Page: 1
Related Keywords:
GENIVI, infotainment, Visteon, CU-ICAR, vehicle safety, CES, virtualization, automotive electronics, Family, Family, Digital Media Software, Communications, Graphics/Image Editing, Applications, Security, Networking, Computer Technology, Business Issues, Server Hardware, Server Computers, USA, Marketwire, , CES Attendees, Lifestyle, Consumer Electronics, Computer Science, england, Family, Other,
---