Green Hills Software and Curtiss-Wright Controls Bring Secure Virtualization to Rugged Environments
INTEGRITY Multivisor for SVME/DMV-186 and VPX6-187 SBCs Delivers Unprecedented Levels of Consolidation, Reducing SWaP and Cost
(November 07, 2011)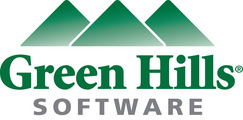 BALTIMORE, MD -- (Marketwire) -- 11/07/11 -- MILCOM Conference, Booth 547 -- Green Hills Software, the largest independent vendor of embedded software solutions, and Curtiss-Wright Controls Embedded Computing (CWCEC), a business group of Curtiss-Wright Controls and a leading designer and manufacturer of commercial off-the-shelf (COTS) VME, OpenVPX™, VXS and CompactPCI products for the rugged deployed defense and aerospace market, today announced the availability of the INTEGRITY® Multivisor™ for CWCEC's SVME/DMV-186 and VPX6-187 single board computers (SBCs).
INTEGRITY Multivisor is Green Hills Software's multicore, microkernel-based Type-1 hypervisor. INTEGRITY Multivisor provides the software foundation for safe and secure consolidation and separation of disparate real-time critical, safety-critical, and security-critical applications running alongside potentially untrusted guest operating system environments. CWCEC's SVME/DMV-186 and VPX6-187 SBCs feature the eight-core Freescale QorIQ P4080 processor, enabling unprecedented levels of consolidation and providing significant reductions in size, weight, and power (SWaP). The INTEGRITY Multivisor has been optimized and tuned for the Freescale QorIQ P4080 processor, taking full advantage of the hardware-assisted virtualization features of the silicon. Initial support is available for Freescale Linux as a guest operating system. Multivisor also provides native support for the P4080's advanced networking engine, the Data Path Acceleration Architecture (DPAA). DPAA provides hardware-accelerated packet processing for high performance networking and communications.
Embedded virtualization plays an increasingly important role in military control and communications equipment as legacy systems are updated to new hardware environments with new features and capabilities. Multivisor preserves legacy software infrastructure by allowing the migration of legacy applications from outdated hardware into compartmentalized virtual machines running on new, high performance platforms. Today's platforms are able to accommodate multiple legacy systems from a diverse supplier base and still have room for growth in future capabilities. INTEGRITY Multivisor enables this secure, reliable consolidation and expansion.
"We're pleased to be partnering with Curtiss-Wright by delivering secure virtualization for their high performance COTS hardware platforms," commented Gordon Jones, vice president and general manager, INTEGRITY Secure Virtualization, Green Hills Software. "Together, the INTEGRITY Multivisor and Curtiss-Wright SBCs provide the ultimate platform for safe and secure consolidation of aerospace and defense applications, independent of their mission criticality."
"Green Hills Software brings proven secure software virtualization to critical computing applications," said Lynn Bamford, vice president and general manager of Curtiss-Wright Controls Embedded Computing. "The combination of their INTEGRITY Multivisor software and our high performance multi-core single board computers delivers performance-critical, security-critical and safety-critical solutions to our aerospace and defense customers."
Availability
INTEGRITY Multivisor for SVME/DMV-186 and VPX6-187 is available today.
About Curtiss-Wright Controls, Inc.
Headquartered in Charlotte, North Carolina, Curtiss-Wright Controls is the motion control segment of Curtiss-Wright Corporation (NYSE: CW). With manufacturing facilities around the world, Curtiss-Wright Controls is a leading technology-based organization providing niche motion control products, subsystems and services internationally for the aerospace and defense markets. For more information, visit www.cwcontrols.com.
About Green Hills Software
Founded in 1982, Green Hills Software, Inc. is the largest independent vendor of embedded development solutions. In 2008, the Green Hills INTEGRITY-178B RTOS was the first and only operating system to be certified by NIAP (National Information Assurance Partnership comprised of NSA & NIST) to EAL6+, High Robustness, the highest level of security ever achieved for any software product. Our open architecture integrated development solutions address deeply embedded, absolute security and high-reliability applications for the military/avionics, medical, industrial, automotive, networking, consumer and other markets that demand industry-certified solutions. Green Hills Software is headquartered in Santa Barbara, CA, with European headquarters in the United Kingdom. Visit Green Hills Software at www.ghs.com.
Green Hills, the Green Hills logo, INTEGRITY and Multivisor are trademarks or registered trademarks of Green Hills Software in the U.S. and/or internationally. All other trademarks are the property of their respective owners.
Add to Digg Bookmark with del.icio.us Add to Newsvine
Contact:
Green Hills Software
Barbel French
805-965-6044
[email protected]


Copyright @ Marketwire
Page: 1
Related Keywords:
Virtualization, SBC, Curtiss-Wright, SVME, VPX6, DMV-186, hypervisor, rugged environments, DPAA, Manufacturing, Office Equipment, Applications, Manufacturing/Production, Computers, Manufacturing, Security, Networking, Computer Technology, Business Issues, Hardware, Unix, Linux, USA, Marketwire, Inc., , Business, england, Other,
---